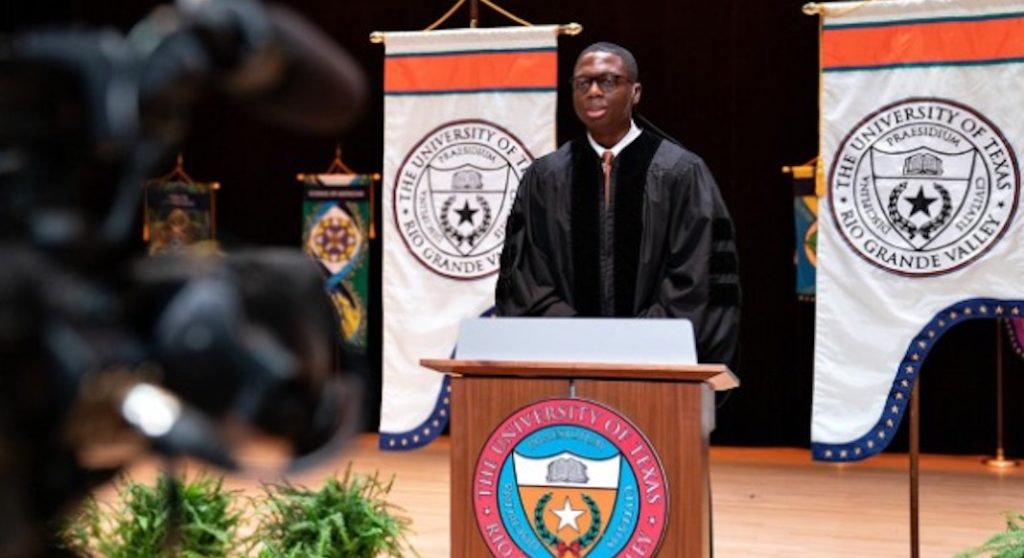 Mega Doctor NEWS
By Dimitra Trejo
RIO GRANDE VALLEY – The University of Texas Rio Grande Valley School of Medicine Class of 2021 will mark their graduation day Saturday, May 8, on the Brownsville Campus.
The ceremony will offer graduates and their families the opportunity to attend graduation both in person and virtually as the School of Medicine celebrates the achievements of 51 UTRGV medical students and seven Master of Science in Bioethics students.
M. Roy Wilson, M.D., M.S., president of Wayne State University, will serve as keynote speaker. Wilson's research has focused on glaucoma and blindness in populations from the Caribbean to West Africa. He holds elected memberships in the National Academy of Medicine (Institute of Medicine), the Glaucoma Research Society, the American Ophthalmological Society, and the Society of Medical Administrators.
Working toward this moment for 10 years, Lauren Muenchow Bayliss, a fourth-year medical student from Seguin, Texas, said she is looking forward to her big day.
"Crossing the finish line on May 8will be extremely rewarding," said Bayliss. "I'm feeling excited, proud, relieved, and thankful to God and all the people and organizations who made it possible for me to make it this far."
Dr. John H. Krouse, dean of the UTRGV School of Medicine and executive vice president for Health Affairs, said commencement day is always a testament to the UTRGV School of Medicine's efforts in creating opportunities for students passionate about careers in medicine.
"Congratulations to all of our 2021 graduates from the UTRGV School of Medicine. These 51 medical students and seven graduate students represent our school as outstanding examples of our educational programs and will be exceptional ambassadors for UTRGV as they move forward in their professional careers," he said. "On behalf of the School of Medicine, and from me personally, I want to wish each of them best wishes as they graduate this month."
NOTE: COVID-19 precautions will be taken at the commencement ceremony. Please come prepared with a mask and visit our UTRGV Commencement 2021 site for further COVID-19 restrictions and safety guidelines at https://www.utrgv.edu/school-of-medicine/education/commencement/index.htm.