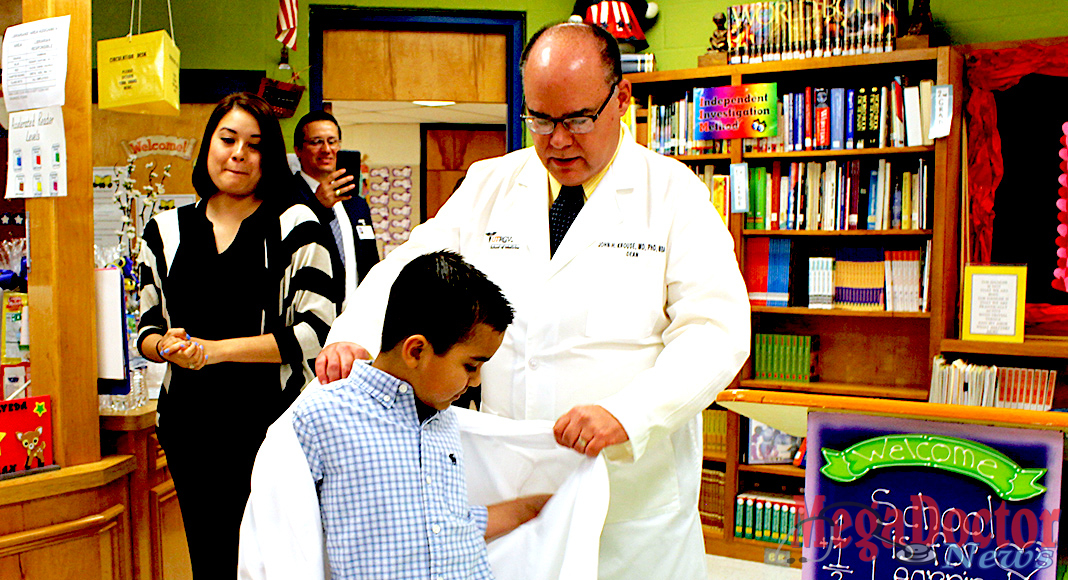 Mega Doctors News
- Advertisement -

Justin Maya is a fourth-grade student at Escandon in McAllen
By Jennifer L. Berghom 
McALLEN, TEXAS – MARCH 28, 2018 – He hasn't completed elementary school yet, but aspiring neurosurgeon Justin Maya received his first white coat on Wednesday, March 28, from Dr. John H. Krouse, dean of the UTRGV School of Medicine and executive vice president for Health Affairs at UTRGV.
Justin, 9, a fourth-grader at McAllen ISD's Escandon Elementary School, has spoken at the school district's convocation and at the City of McAllen's State of the City about his desire to pursue a career in neurosurgery. It was at the State of the City that Krouse heard Justin speak, and knew he had to meet him.
"Given the fact that Justin is so passionate about being a neurosurgeon, we really would love to have him come and join us at the UTRGV School of Medicine," Krouse said before presenting the coat to Justin.
Krouse explained how medical students begin their journey toward becoming physicians by participating in a White Coat Ceremony, where they receive their first white coats and take the Hippocratic Oath.
"They become part of a profession that's one of the oldest professions in the world," he said. "We would like to, on this day, welcome Justin on his first step to being a physician."
- Advertisement -

In addition to presenting Justin with his white coat, Krouse spoke to the school's fourth-grade class about the benefits of becoming a doctor, and encouraged them to do well in school.
"It takes a long time but it's something that, if you're committed to doing it, is probably the best thing that you can do," he said. "It's important that, whatever your dreams are, whatever you want to be, this is the time to study hard, to read, to learn math, to learn science, to learn how to write well, because these are all skills that are very important for you in your careers as you move forward."
Krouse also told the students about the need Texas has and will continue to have for more doctors to treat an ever-growing and aging population. According to theTexas Medical Association, Texas ranks 45th in the nation in its physician to patient ratio. That ratio is even lower in the Rio Grande Valley.
"We're going to need lots of doctors and nurses, pharmacists and physician assistants, and many people in all the health professions, to take care of our children and our parents and our grandparents as they get older," Krouse told the students. "We're here at UTRGV to be your university and your medical school to help you along that way."
Justin said he expected to receive his first white coat much later in life, and was overwhelmed and excited by having the opportunity to meet a real-life physician.
"It feels really awesome, motivating, inspiring, all the good stuff," Justin said.
Asked why he chose neurosurgery as a career path, Justin replied, "I love saving lives, I love challenges."
The visit coincides with National Doctors' Day, which is observed every year on March 30. Because National Doctors' Day falls on Good Friday this year, many schools throughout the Valley will be closed. National Doctors' Day was established in 1933 to celebrate the contribution of physicians who serve our country by caring for its citizens, according to the National Doctors' Day website, www.doctorsday.org.