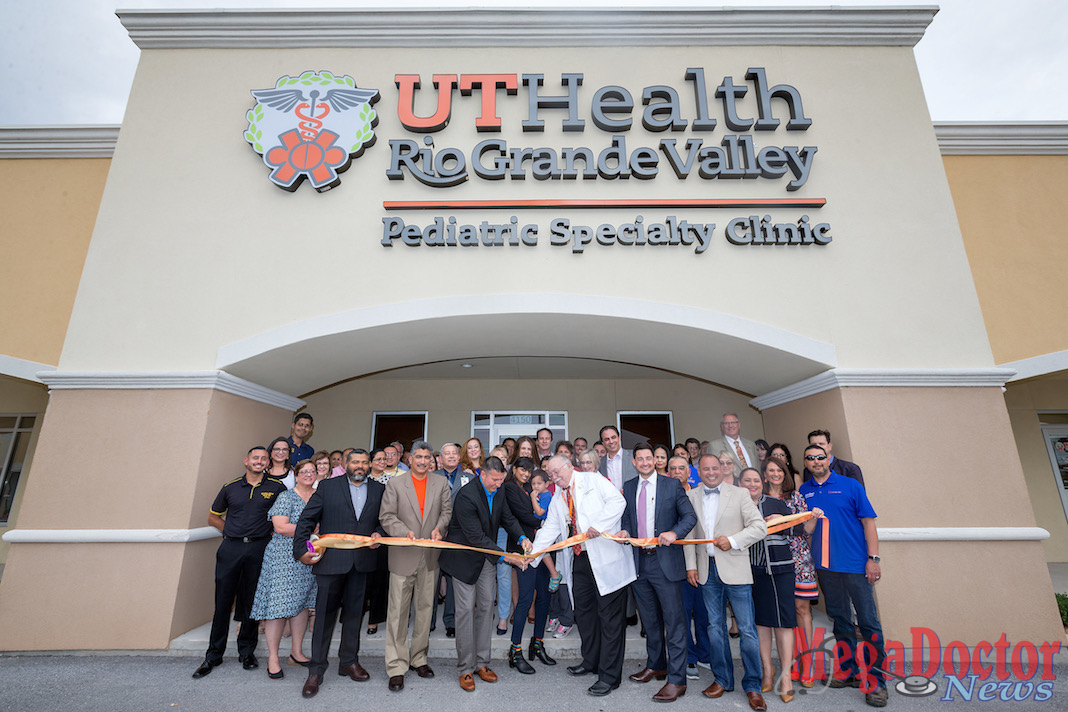 Mega Doctor News
- Advertisement -

By Jennifer L. Berghom
Edinburg, Texas – The University of Texas Rio Grande Valley School of Medicine hosted a grand opening of its UT Health RGV Pediatric Specialty office, Wednesday, April 25, at 4150 Crosspoint Blvd. in Edinburg.
"This practice is a long time coming for our medical school," Michael A. Patriarca, executive vice dean for Finance and Administration, told a lobby of guests that included Texas Rep. Terry Canales (Dist. 40), Edinburg Mayor Richard Molina and Edinburg Mayor Pro Tem David Torres. "One of the primary missions of the School of Medicine is to bring to the community the much-needed subspecialties by bringing on board current doctors who are already in the Valley and bringing to the Valley those subspecialties that haven't exist here. This clinic represents both."
UT Health RGV Pediatric Specialty aims to close gaps in access to general and specialty care for children. Services include general pediatrics, pulmonary, developmental, environmental health, and metabolic and genetic disorders.
Until now, families have had to travel several hours north to Corpus Christi, Houston, or San Antonio to seek treatment for their children for some of these pediatric specialties.
Dr. Robert Nelson, chair of the Department of Pediatrics and senior associate dean for Faculty Affairs, said the UTRGV School of Medicine and UT Health RGV Pediatric Specialty will work with area pediatric practices to develop programs that will expand pediatric services to Valley children so families won't have to travel outside the area for care.
"What matters to the health of your children is what matters to us," Nelson said.
- Advertisement -

UT Health RGV Pediatric Specialty will also serve as a training site for its residents and medical students, he said.
Molina, the Edinburg mayor, expressed the community's excitement about the pediatrics practice bringing much-needed care to the region.
"Families are not going to have to travel anymore to Corpus Christi or San Antonio or Houston," he said. "Now they can come to UT Health RGV Pediatric Specialty Clinic and get the very best medical care close to home. "As your mayor, I couldn't be more proud to say, it's one more step toward a healthier community."
The office includes:
27 exam rooms, which include eight pediatric exam rooms and one procedure room.
Reception area.
Waiting area.
Nurses' station.
Physicians' work area.
Conference room.
Laboratory
Injection prep room.
Two private consulting rooms.
Restrooms
Storage
A staff breakroom.
The grand opening included a ribbon-cutting ceremony and tours of the facility.