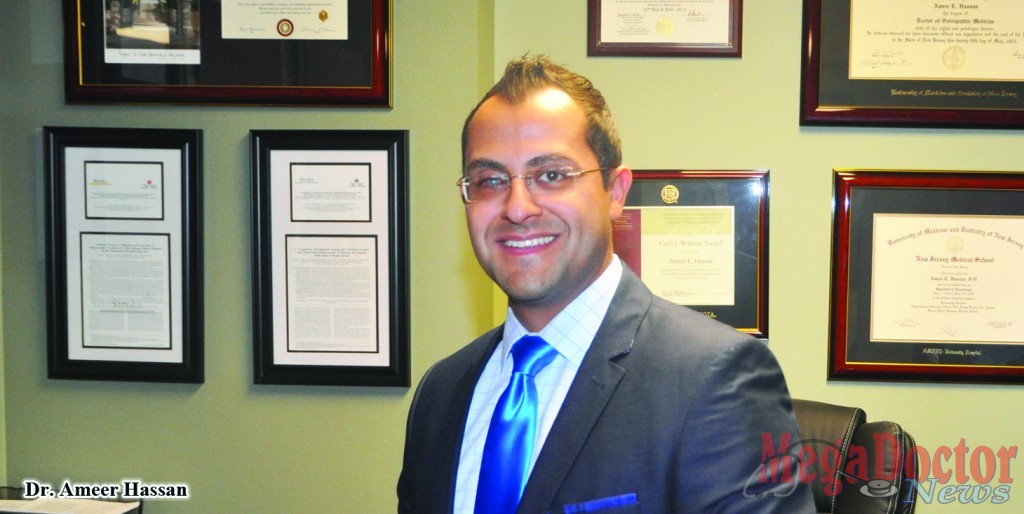 Study by Dr. Ameer Hassan of Valley Baptist-Harlingen presented at International Stroke Conference
- Advertisement -

Mega Doctor News
Harlingen – New research shows that Hispanics in the Valley and elsewhere along the Mexican border are less likely to receive medications to treat strokes and 30 percent more likely to die from "brain attacks" than non-Hispanic patients.
The research, which was conducted by six neurologists — including Dr. Ameer Hassan and Dr. Wondwossen Tekle with Valley Baptist Medical Center in Harlingen — suggests that Hispanics in border states may be waiting too long to come to the hospital for treatment of stroke, which is similar to a heart attack – except to the brain.
A stroke is a medical emergency in which it is critical to call 911 immediately after the patient first experiences symptoms.  The longer the patient waits before going to the hospital, the more brain tissue will die – meaning such patients could become permanently disabled or die.
"Our research suggests that many Hispanic patients along the border may be 'sleeping on a stroke' – figuring that they will feel better in the morning," Dr. Hassan said. "As a result, they are not getting to the hospital in time to be treated with the stroke-reversing medication tPA in the Emergency Room."
At most Valley hospitals, treatment with the tPA "clot buster" medication is limited to within 3 to 4 ½ hours after the initial onset of symptoms of a stroke.  However, Valley Baptist in Harlingen has extended the time window by introducing new endovascular stroke procedures in a specially equipped "bi-plane" neurovascular angiography suite in the cardiac catheterization laboratory.  At Valley Baptist-Harlingen, stroke patients can be treated with tPA through a catheter or with retrievable metal "stent" devices up to 8 hours or more after symptoms begin.
"This enables us to double the time window for treatment – and to treat many more stroke victims," Dr. Hassan said. "Basically, we are giving people a chance – people who otherwise would have poor outcomes after a stroke.  But of course it's still critical to get to the hospital as soon as possible – the sooner treatment begins, the more brain cells we can save."
- Advertisement -

Valley Baptist is the only hospital south of San Antonio with two specially trained endovascular neurologists who are able to provide 24-hour coverage for patients needing specialized treatment for stroke in a bi-plane neurovascular angiography suite.  As a result, the hospital has been treating stroke patients who are transferred from other hospitals as far away as Corpus Christi and Rio Grande City.
"Before Valley Baptist introduced endovascular stroke procedures to the Valley in 2012, we were only able to treat 3 to 5 percent of our patients with the stroke-reversing medication," Dr. Hassan said. "Now we are able to treat up to 30 percent of the patients — by taking many of them to the cath lab, if they come in too late to be treated in the Emergency Room."
The treatment helps to clear blockages in the blood vessels leading to a patient's brain — allowing blood and oxygen to once again reach the brain.  In many cases, this can help save the patient's life and prevent or minimize disabilities from the stroke.
Dr. Hassan's research looked at several recent studies and 2011 data from a nationwide sample of 34,904 Hispanic patients who were admitted to hospitals with ischemic stroke.
Of 21,130 Hispanic stroke patients in states along the Mexican border (Texas, New Mexico, Arizona and California), only 4.8 percent were able to receive treatment with stroke-reversing "thrombolytic" medications, compared to 5.7 percent of non-Hispanic patients in those states.
"After adjusting for age, gender, and other confounding risk factors, Hispanics were 30% more likely to suffer in-hospital mortality versus their non-Hispanic counter-parts in Border States," Dr. Hassan and his fellow researchers stated.  "This disparity was not apparent in the non-border states."
The research on Hispanic stroke patients was presented at the American Stroke Association's recent "International Stroke Conference" in San Diego, California, and highlighted by the American Heart Association in the "News Tips" section of their website.
Dr. Hassan serves as Clinical Director of Endovascular Surgical Neuroradiology and Neurocritical Care and Clinical Neuroscience Research at Valley Baptist, as well as Assistant Professor of Neurology and Radiology with the University of Texas School of Health Sciences-San Antonio.   He has authored or co-authored more than 50 articles in national medical journals.
Along with Dr. Hassan and Dr. Tekle, two other physicians are serving Valley stroke patients at the Valley Baptist Brain and Spine Network – Dr. Victoria Parada, Board-Certified Vascular Neurologist and Clinical Director of Neurosciences and the Stroke Program at Valley Baptist-Harlingen, and Dr. Felix Rivera, Neurologist.
Dr. Hassan said it's critical for Valley residents to learn the warning signs of stroke — and to call 911 immediately if they or their loved one experiences symptoms.  Residents should use the "FAST" method for responding to a possible stroke, according to the American Stroke Association:
FACE:  Ask the person to smile. Does one side of the face droop?
ARMS:  Ask the person to raise both arms. Does one arm drift downward?
SPEECH: Ask the person to repeat a simple phrase. Is their speech slurred or strange?
TIME:   If you observe any of these signs, call 9-1-1 immediately.
Only 15 percent of stroke victims reach the hospital within the first three hours after stroke symptoms, according to statistics from the American Stroke Association.  Every minute spent without treatment means more brain cells die.
Dr. Hassan stressed that Valley Baptist has a committed stroke team willing to make every effort "to help our patients to restore functioning and prevent disability."
Dr. Hassan serves as Clinical Director of Endovascular Surgical Neuroradiology and Neurocritical Care and Clinical Neuroscience Research at Valley Baptist, as well as Assistant Professor of Neurology and Radiology with the University of Texas School of Health Sciences-San Antonio.   He has authored or co-authored more than 50 articles in national medical journals.   MDN