Mega Doctor News
- Advertisement -

EDINBURG – In preparation for high school and post-secondary pursuits, Region One Education Service Center (ESC) 8th grade GEAR UP students began their health science summer internship Tuesday, May 30 at the Edinburg Conference Center at Renaissance.
The internship is a component of a collaborative, four-year program by Region One ESC and the DHR Health Institute for Research and Development. The first year of the internship spans four days and analyzes the daily operations of health care professionals through simulations and interactions with medical experts.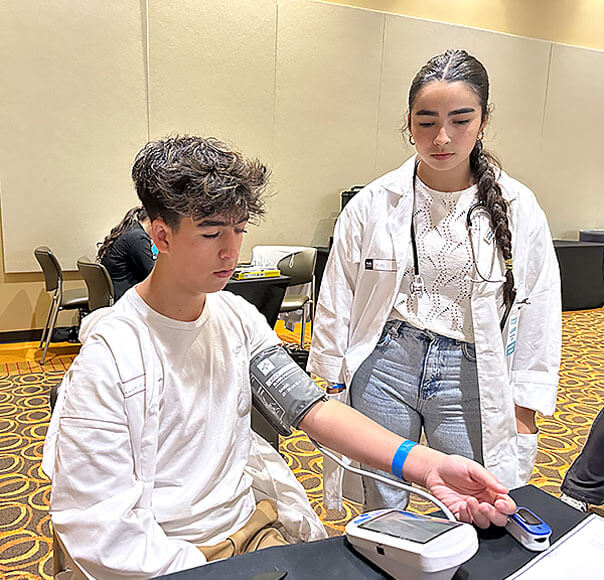 Region One ESC GEAR UP Specialist Beatrize Valenzuela said the internship aims to introduce students to careers in health science via hands-on, small group learning.
"Region One GEAR UP wants to provide students with learning opportunities that will fortify their content knowledge and their confidence to successfully complete their degrees and pursue a career in the medical field," Valenzuela said. "While they learn the fundamentals of health care, they will also become aware of a wide variety of in-demand medical careers besides the traditional pathways, such as nursing."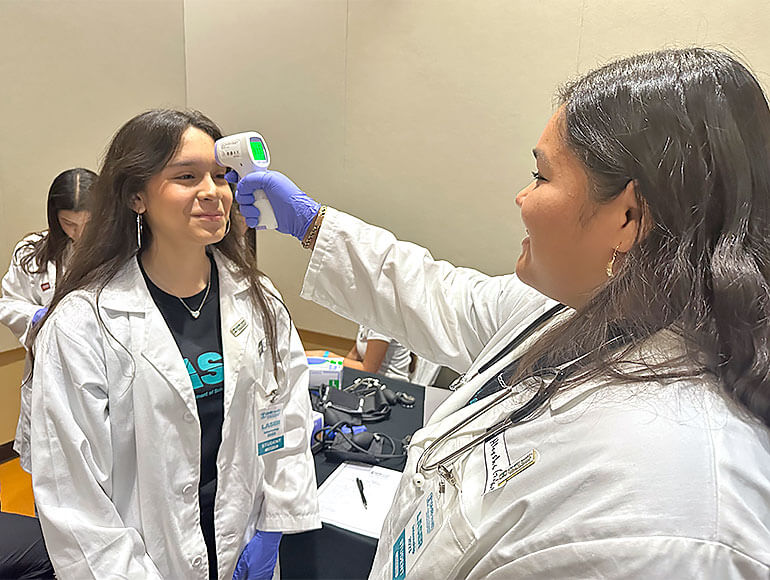 During the all-day learning experience, students worked with medical professionals to understand and simulate patient consultations and preliminary assessments, such as checking vitals and establishing clinical history.
"Students are receiving multiple benefits from the internship," said Claudia Peñuelas, GEAR UP Facilitator at La Joya ISD Memorial Middle School. "They are receiving first-hand knowledge from experts and growing as students and individuals. They are developing a sense of pride and humility that they would not be able to get in the classroom setting."
Jeremiah Sol, an 8th grade student at McAllen ISD Homer J. Morris Middle School, said he was inspired to become a doctor by his desire to help others.
- Advertisement -

"Since I was little, I've always wanted to be a doctor," Sol said. "It's what I am meant to do."
The 8th grader said he plans to use the experience and knowledge to gain a head start in his post-secondary endeavors.
"The internship is more hands-on and specific to what I want to be in the future," Sol said. "It will help me with getting into the college I want to study at and the hospital I want to work in."
The U.S. Department of Education Gaining Early Awareness and Readiness for Undergraduate Programs (GEAR UP) grants are designed to increase the number of low-income students who are prepared to enter and succeed in post-secondary education.
The GEAR UP: Pathways to the Future! cohort consists of over 5,000 8th grade students from 13 Region One school districts: Brooks County ISD, Brownsville ISD, Donna ISD, La Joya ISD, Lyford CISD, McAllen ISD, Mission CISD, Rio Grande City Grulla ISD, San Isidro ISD, San Perlita ISD, Sharyland ISD, Valley View ISD and Webb CISD.
Currently, the Region One ESC Office of College, Career and Life Readiness operates three GEAR UP projects: GEAR UP: College Now-Career Connected!, GEAR UP: College Ready, Career Set! and GEAR UP: Pathways to the Future!