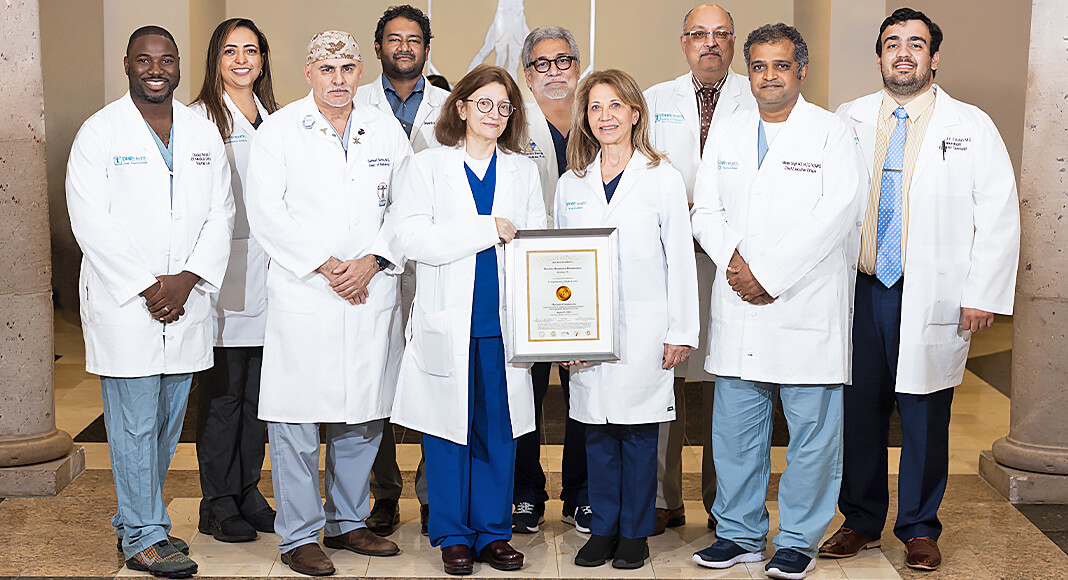 Mega Doctor News
- Advertisement -

Edinburg, Texas – DHR Health has earned The Joint Commission's Gold Seal of approval once again as an Advanced Comprehensive Stroke Center by demonstrating continuous compliance with its performance standards. The Gold Seal is a symbol of quality that reflects a health care organization's commitment to providing safe and quality patient care.
DHR Health underwent a rigorous, unannounced review, during which time, a team of Joint Commission reviewers evaluated compliance with Advanced Comprehensive Stroke Care Center standards spanning several areas including:
24/7 availability of specialists such as neurosurgeons, interventional neuro-radiologists, intensivists, and neurologists, adhering to rigorous clinical protocols,
Performing high volumes of procedures,
Demonstrating excellent clinical outcomes,
Commitment to stroke-related research

DHR Health remains proud to offer patients in the Rio Grande Valley the highest level of specialized care. A Level I Comprehensive Stroke Center, DHR Health joins an elite group of hospitals that can provide highly-specialized stroke care. DHR also provides pre-hospital evaluation through a digitally connected regional Stroke network, thereafter expediting the access to state-of-the-art neuro-interventional suites, and a dedicated neuroscience intensive care unit to a large number of patients in the RGV. 

"According to the American Heart Association/American Stroke Association stroke is a leading cause of death and disability in the United States, and its particular high incidence in the Rio Grande Valley makes cerebro-vascular diseases a serious regional health care problem. Stroke patients have the greatest chance to make a functional recovery when treatment is started immediately after the onset of symptoms and comprehensive stroke centers play a critical role to provide timely advance stroke care. The renewal of The Joint Commission Comprehensive Stroke certification is a recognition of the Doctors Hospital at Renaissance multidisciplinary team which provides excellence in stroke care by delivering 24/7 advanced diagnostic and medical, interventional, and surgical therapies to stroke patient," says Patricia Fernandez M.D., Medical Director of the DHR Health Stroke Program.

"We congratulate DHR Health for this outstanding achievement," says Nancy Brown, chief executive officer, the American Stroke Association. "This certification reflects the commitment to providing the highest quality of care for stroke patients."
- Advertisement -

DHR Health's Neuroscience Institute provides care for patients affected by a stroke, epilepsy, multiple sclerosis, movement disorders, brain and spine injuries as well as other neurological issues. It has a dedicated neuroscience intensive care unit with advanced monitoring and EEG capabilities in each patient room. Within the institute, the Comprehensive Stroke Center provides multidisciplinary care, including neurology, neurosurgery, physical therapy, occupational therapy and speech therapy, as well as case management.

Stroke is the number five cause of death and a leading cause of adult disability in the United States, according to the American Heart Association/American Stroke Association. On average, someone suffers a stroke every 40 seconds; someone dies of a stroke every four minutes; and 795,000 people suffer a new or recurrent stroke each year.

DHR Health focuses strong efforts on educating the community on the signs and symptoms of a stroke and when to call 911. To do this, they consistently raise awareness of the acronym
F.A.S.T
F – face drooping
A – arm weakness
S – speech difficulty
T – time to call 911 

To learn more about the Comprehensive Stroke Center at DHR Health, call the DHR Health Neuroscience Institute at (956) 362-8500.