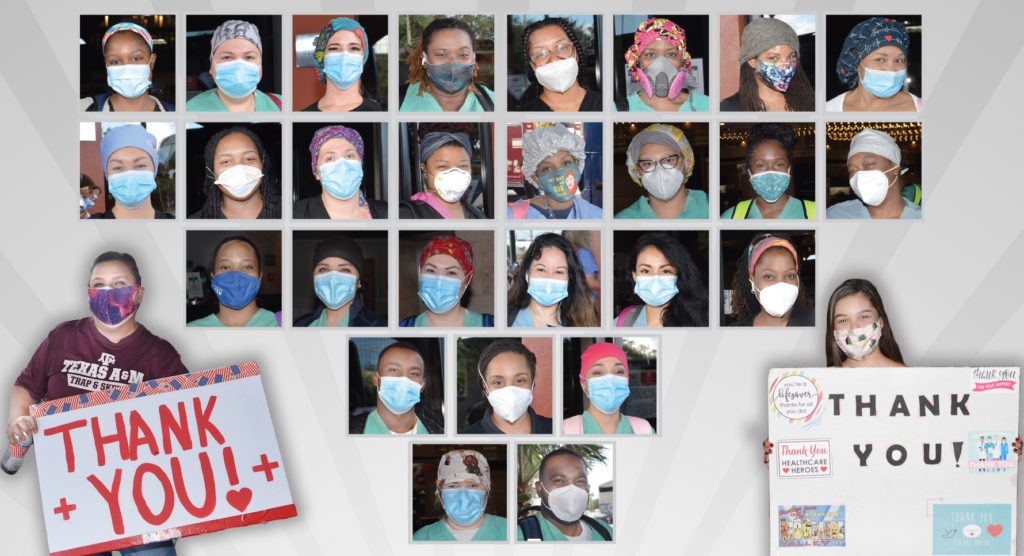 Mega Doctor NEWS
In times as difficult as these, a 'good face' is the best answer. An expression of Thank You goes a long way. This is how Andrea Rodriguez of DoubleTree Suites by Hilton McAllen thought of it. The hotel has hosted as guests approximately 170 to 200 warrior nurses in the fight against COVID-19. Andrea saw the efforts of these nurses and invited the community to join her in saying Thank You.
This expression is rarely expressed when we see a policeman, a soldier, a firefighter, a doctor or a nurse. But thanks to Andrea, now many in the community have had the opportunity to say it. However, they went beyond the words and sent food, drinks, and Thank You cards; they were very generous.
In this issue, learn more about this "Thank You" event for these wonderful warrior nurses.
COVID-19 UPDATE
As we were writing this Publisher's Word, it was announced that an additional 24 people died in Hidalgo County from complications related to COVID-19. It is sad to say it; our most condolences go out to their families.
Sunday August 16, 2020 also marked the first time that negative tests surpassed the 100,000 mark with a total of 100,332 negative tests out of a total of 122,858 tests administered since the pandemic began.
Hidalgo County officials also announced that they are seeing the number of hospitalizations down from just a week ago. "The one number that continues to haunt this community is the number of people dying from this disease," stated Hidalgo County Judge Richard Cortez.
The total number of fatalities as of the date above is 955, at the rate people are dying from this disease it will have surpassed one thousand soon, and that's very sad.
The community is advised to employ safe practices by staying at home when at all possible and to avoid crowds. Remember masks are the crucial weapon in the fight against COVID-19, but you can also wear a bandana, and wash your hands often.
It got my attention when I read a comment in Facebook that "78% of COVID-19 patients show signs of heart damage after recovery."
Fortunately, there was also a response by Dr. Arie Blitz; he is a thoracic surgeon in from the Rio Grande Valley. He has been in practice for more than 20 years.
Dr. Blitz wrote that cardiac involvement and myocardial inflammation are common in recovered COVID-19 patients, according to a new study published in JAMA Cardiology.
The authors studied cardiac imaging results of 100 adult patients included in the University Hospital Frankfurt COVID-19 Registry. All the patients had confirmed cases of COVID-19 but passed a swab test after at least two weeks in isolation. They were recruited for this analysis between April to June 2020.
Dr. Blitz also said the team wrote that cardiac involvement appears to occur independently of the severity of the original COVID-19 infection. Additional research with a larger cohort is necessary, they added. The full study from JAMA Cardiology is available here.
More inside this issue, Enjoy!