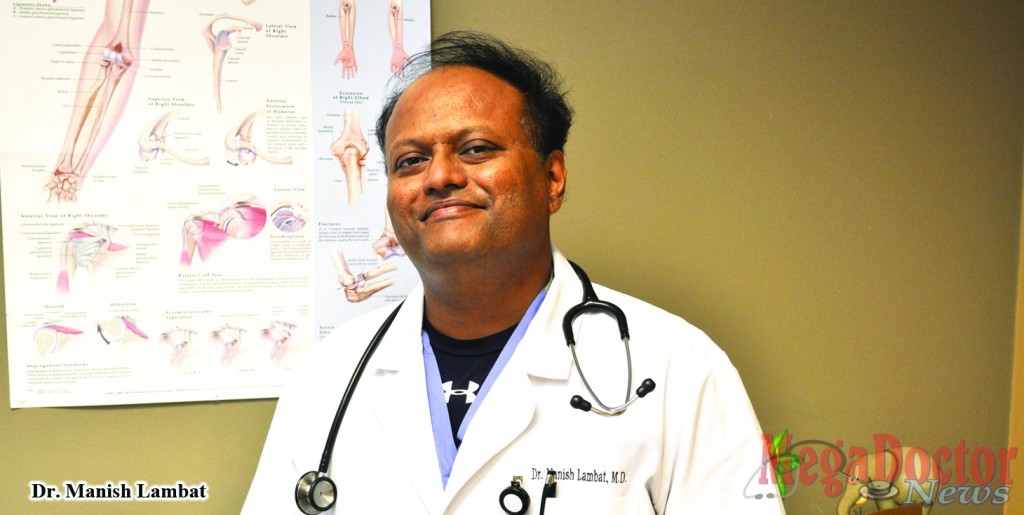 - Advertisement -

Mega Doctor News – 
By Roberto Hugo Gonzalez,
Dr. Manish P. Lambat is a unique and very dedicated pediatric orthopedic surgeon. He is a doctor who takes care of children with musculoskeletal problems; that means any child with a bone, joint, muscle problem, or disease and certain nerve problems and diseases.
He told Mega Doctor News that he treats kids from one month old to 20 years of age. "As they cross 15 years of age, there is a lot of overlap, so the adult orthopedic surgeons also come into the picture and take care of them as well."
Dr. Lambat was born in 1976 in Nagpur, a city better known as "Zero-Mile City" because it is the center of India. He attended medical school in India, and what he says is the best orthopedic residency. "I did two fellowships in India in pediatric orthopedics and in joints, then I came to the United States in 2007."
He pointed out that since then he has completed three fellowships in the United States. "The first fellowship was in pediatric orthopedics at the Louisiana State University Health Science Center (LSU HSC), which is a children's hospital." He said, "I did a fellowship in pediatric spine and adult spine in the Hospital for Special Surgery in New York City, which is supposed to be the best hospital in the United States for orthopedics." Dr. Lambat also did a fellowship in adult spine and pediatric spine at the University Of Louisville/ Norton Leatherman Spine Center in 2011. Afterward he came to the Valley to work in 2012.
What board certifications do you have? "Currently I don't have any but I am working on it.
- Advertisement -

Which one are you working on right now? "Orthopedic surgery. Since I didn't do residency here I have to be in practice for five years before I become eligible for board certification. This is my fourth year practicing in this field."
Dr. Lambat did most of his training in India and when he came to the United States it was because he wanted to pursue a more specialized higher education.
He said, "This is my first job in McAllen. I started in May 2012 and I have completed three years." He continued, "I'm starting my fourth year now."
Dr. Lambat is satisfied because he has received a good response from the local pediatricians in the area. "I'm the only practicing pediatric orthopedic surgeon in the Valley," he says. "There are a lot of other orthopedic surgeons who do some pediatric work, but most of them, for some reason or another, try not to do it."
He told Mega Doctors News that for that reason it was not difficult for him to settle down in the Rio Grande Valley. "I'm getting patients even from Laredo and from Brownsville, which is very interesting," he said.
What brought you to the Valley? "As you know, I'm from India. I came here on a work Visa, and it was more like a student Visa. When you come on a student Visa you have to work in a medically underserved area for three years. The reason that brought me here was a job offer.
Believe it or not, McAllen is considered medically underserved. I never understood why because there are so many physicians. I needed an employer, and I needed to work in this area for three years.
Dr. Lambat said, "I might continue practicing here as I have now completed the three years. I have pretty much an established practice and I like this area."
You can call 956-618-4440 to set up an appointment with Dr. Manish Lambat.  MDN