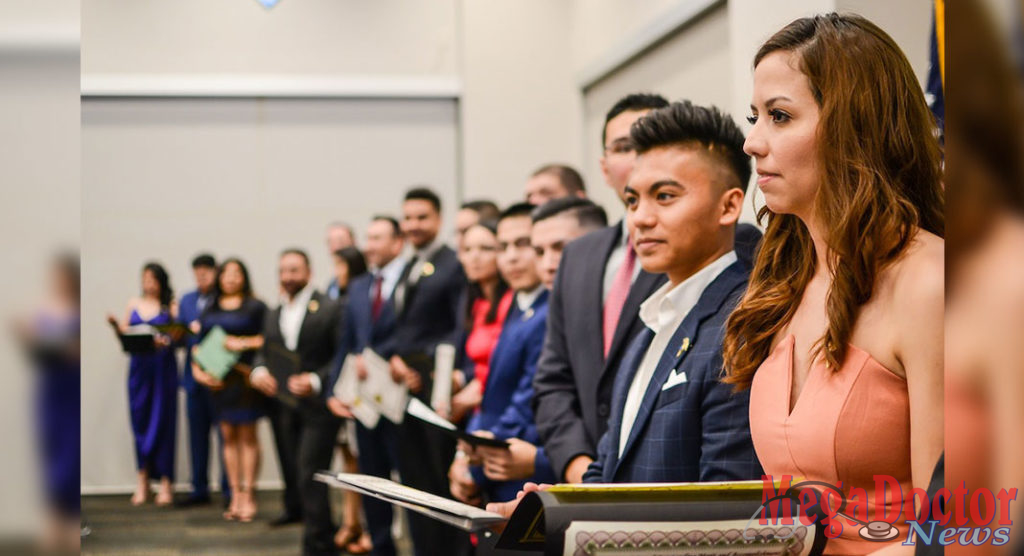 Mega Doctor NEWS
McAllen, Texas – Their pinning ceremony represented a dream more than two years in the making for graduates of South Texas College's Physical Therapist Assistant Program. 
In what has been a long-standing tradition with STC's PTA Program, faculty asks students to create "Incentive Pages" during new student orientation consisting of pictures, words of advice, scripture or mementos that will serve as motivation as they move through the rigorous program.
The pages are displayed in the classroom throughout the students' two-year journey on their way to becoming professional and patient-focused physical therapist assistants, according to PTA faculty.
The pinning ceremony on May 21 was held to recognize each student and allow them time with their friends and families to celebrate their achievement. STC honored 19 graduates from the PTA Program, its largest graduating class in the program's 20-year history.
"This is an event that students have been dreaming about for the last two years," said PTA Program Chair, Diana Hernandez. "At orientation, we asked new students to bring what we call incentive or inspiration pages, which is essentially a sheet of paper filled with a variety of things designed to motivate them.
"We placed these in an area where each student could see theirs every day in the classroom," Hernandez said. "As much as we are here to honor them the graduates, we are also here to honor you the family members, whose images and words of encouragement filled their pages with inspiration. We truly appreciate you."
In attendance at the pinning ceremony was Dr. Jayson Valerio, Dean of Nursing and Allied Health, as well as PTA Program staff and faculty.
Dr. Michael Auer, Director of Rehabilitation Therapy Services at Doctors Hospital at Renaissance Health System in Edinburg served as keynote speaker at the event.
"You have now become part of an elite and rewarding profession that will empower you to truly change the lives of the patients that you serve," Auer told graduates at the ceremony. "Patients will come to you mad, scared, and vulnerable and they are going to be depending on you to get them to their goals. They are going to look to you not only as a physical therapist assistant, but they are going to look to you as a listener, a counselor, a motivator, coach, and a shoulder to cry on. That's part of the job. But with this empowerment comes responsibility. You have to dig deep, know your obstacles, and continue to push the envelope."
The Physical Therapist Assistant Program at South Texas College is accredited by the Commission on Accreditation in Physical Therapy Education to offer a two-year Associate of Applied Science degree that upon completion will enable graduates to take the National Physical Therapist Assistant Licensing Examination.
The PTA program at STC boasts a 100 percent pass rate on the licensure exam and a 100 percent employment rate for graduates seeking employment within 12 months of passing the exam. These figures have been maintained for all 20 PTA Program graduating classes to date.
PTAs are licensed skilled health care providers who work under the direction and supervision of a physical therapist to provide treatment programs to help restore or improve function, relieve pain, encourage independence, and educate patients and their families.
"This is such an exciting time to move forward in our profession as PTAs," said PTA Class President, Joseph Ruiz. "I encourage future graduating classes to take the time when you are on campus and look at your incentive pagesand remember your why. I share with you the fact that my parents and family have instilled my life motto, 'Hard work pays off'. You will learn in the few weeks to come that it's not all about you, it's about the patient, the team, and working hard together to do what's best for each patient and for the future of the profession."