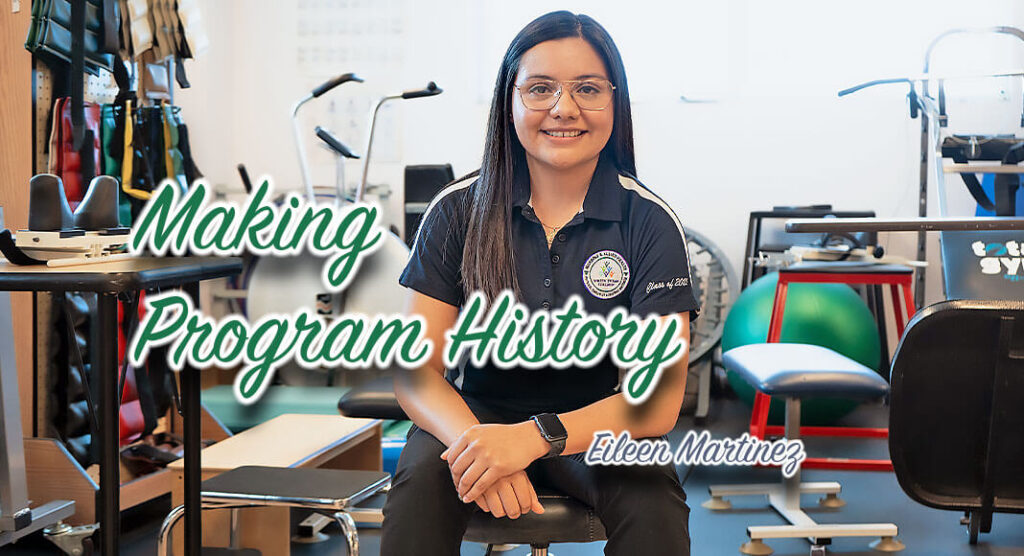 - Advertisement -

Mega Doctor News
By Joey Gomez
McALLEN, Texas – South Texas College Physical Therapist Assistant (PTA) program graduate Eileen Martinez has become the first student to obtain a perfect score on the National Physical Therapy Examination (NPTE).
Since graduating in May 2022, Martinez said she has become employed at Doctor's Hospital at Renaissance in an acute care setting and has been working as a part-time tutor in the Center for Learning Excellence at STC's Nursing and Allied Health Campus while she considers the next move in her career.
And although Martinez came to STC with a bachelor's degree in Kinesiology and minor in Biology from the University of Texas Rio Grande Valley, it was one life-changing moment that led her to enrolling in STC's PTA program.
"It was no secret about what it took to get where I am. It was all about having a plan to talk to my advisors, knowing the route for my success, and keeping in mind that it was a marathon, not a sprint," she said. "Succeeding in this program and achieving a perfect score on this historically difficult exam forced me to be steady and focus on what's in front of me. Every task was a little closer to reaching my goal."
As a student in high school, Martinez recalls the moment when she became involved with the care of her grandmother, who in addition to serious health issues had also been diagnosed with cancer, leaving her permanently disabled.
Martinez said she was devastated as her grandmother's condition worsened, but was amazed by the work of health care professionals, especially those physical therapists who never gave up on caring for her through her final days.
- Advertisement -

"My motivation started with my grandmother who from a young age was always dealing with illnesses like osteoporosis and later with cancer…I get flashbacks often of what she went through, seeing my grandmother become debilitated and in a wheelchair from a very young age," Martinez said. "But it also allowed me to witness those physical therapists who came into our home to treat my grandmother. I remember being inspired by them as they did the best they could to help my grandmother regain strength and mobility. They are born with the special gift to help people."
Now Martinez works with critically ill patients of all ages. She is their first contact, and that inspires her to give them the best patient care and experience possible, all in honor of her grandmother.
"I did my four years of college but decided to get into the workforce as a physical therapy technician in order to get more experience in the field since this is where I wanted to be," she said. "I think working as a technician became a great opportunity to understand the profession, work with an amazing physical therapist who taught me about having the heart to be a clinician and to help these patients that are already in distress. I did that for a few years, and then I applied to the (STC) PTA program."
Faculty with the PTA program singled out Martinez as a student who has natural organizational skills as well as compassion and empathy, which helped her manage the program workload effectively and find success.
"She was intent on achieving her goal of becoming a PTA and had the intensity, drive, and commitment necessary for success. Eileen's productive persistent nature not only served her well but also enriched the learning environment for others," said PTA Department Chair Diana Hernandez. "Eileen's accomplishment uncovered a new possibility, and reset the bar for what an STC graduate can achieve. Like many students, her path toward becoming a PTA included personal challenges, so this level of success is proof of the power of hard work, and motivation for other students to set goals and stay the course."
For more information about STC's Physical Therapist Assistant Program please visit nah.southtexascollege.edu/pta/.