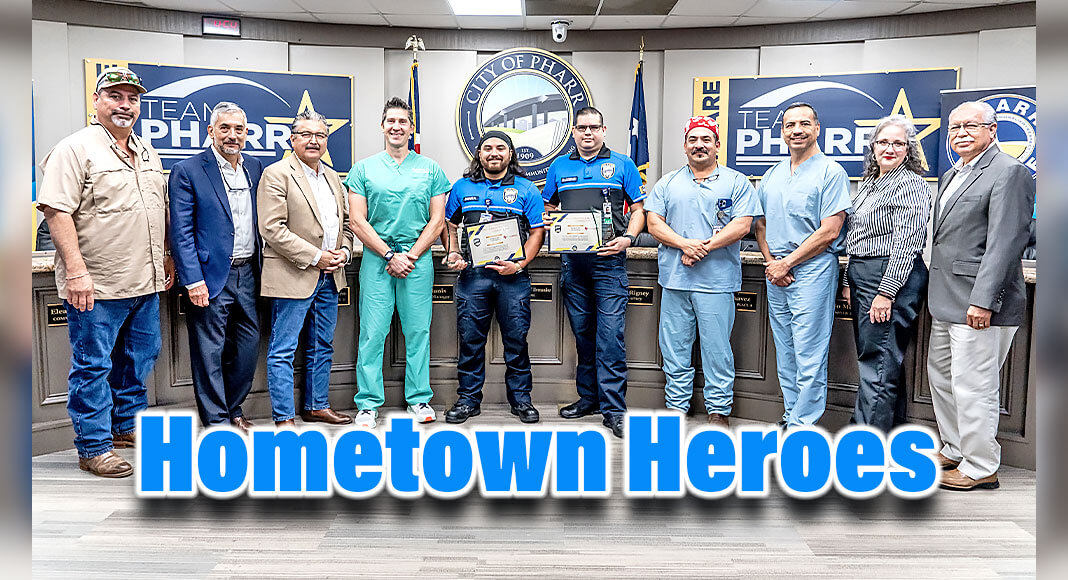 Mega Doctor News
- Advertisement -

In the United States, there are more than 356,000 out-of-hospital cardiac arrest cases annually, according to the American Heart Association. Nearly 90% of them are fatal.
In the event of cardiac arrest, it's important to call 911 immediately to receive swift medical attention. Patients can make a full recovery after prompt CPR and, if necessary, defibrillation, according to health experts.
It's that type of swift medical attention that helped save the life of a Canadian man visiting the Rio Grande Valley who recently went into full cardiac arrest and lost consciousness. Just four minutes later, he was fully alert again, thanks to the actions of two emergency medical technicians with the City of Pharr Emergency Medical Services. Due to their swift action, the man was able to walk out of South Texas Health System Heart only a few days later. and this week, they were honored for their life-saving efforts.
During a City of Pharr commission meeting on Monday, April 17, South Texas Health System presented the two advanced emergency medical technicians (EMTs) — Aaron Sierra, 27, and Jesus Balderas, 33 — with its Hometown Heroes award for their quick response to the cardiac arrest call last month.
On March 23, Sierra and Balderas responded to a 911 call of a man experiencing chest pain and shortness of breath at a golf course in Pharr. When they arrived, the man was fully alert. It wasn't until they started going through their questionnaire and getting him onto a stretcher that he began to lose consciousness.
Once they got him inside the ambulance, he went into full cardiac arrest and the two EMTs took immediate action. They followed their protocol by administering advanced cardiac life support, or ACLS. They started compressions, gave him a shock via defibrillation and began ventilation.
Within four minutes, the man was revived. They were able to get a pulse back and the patient conversed with Balderas as they transported him to STHS Heart.
- Advertisement -

After four days of treatment at the facility, the patient was released and was able to return to Canada.
During the city commission meeting, the physicians who treated the patient praised Sierra and Balderas' ability to remain focused in a stressful situation.
"Whether you're at a Level 1 Trauma Center or you're in Kingsville, Texas, when you see that first cardiac arrhythmia where you know if you don't act, something bad is going to happen, it doesn't matter how many years of experience you have, you just freeze and these guys didn't freeze," said Dr. Gerald Banks, an emergency services physician with South Texas Health System. "It makes my job really easy."
Despite the tense situation, Sierra and Balderas said their training kicked in and they went to work.
"We've been partners for a while already. We've worked before in other companies so we're very comfortable working with each other," Sierra said. "Once somebody starts doing one thing, you kind of take over and start doing the other things that need to be done and so since he was already taking care of the airway, while I started doing everything else that needed to be done – putting a patch that delivers the shock on the patient and prepping to start an IV — just started going with the flow of what usually happens on a cardiac arrest call."
While cardiac arrest calls are quite common for the pair, they said what made this case unusual was how quickly the patient had returned to consciousness and began speaking. Sierra noted they typically administer CPR until they get to the hospital.
"This time, he woke right back up and started talking to us, so that's what made this call very different and something and that rarely happens," Sierra said.
The situation was so unusual that even the doctors at the hospital had a hard time believing what had happened, Balderas said.
While both are grateful for the recognition, they said they are even more grateful that the patient was able to recover.
"That's the best part, that makes me happy — that he was able to go home, that's a big thing," Sierra said. "More than anything, that's what I'm grateful for."
Jason Waller, Chest Pain and Trauma Coordinator at STHS Heart, pointed out that that positive outcome is not always a given despite best efforts.
"All of us get into this line of work to try to make people's lives better but it's extremely rare that you actually get to truly say you saved someone's life," Waller said. "That's a very rare thing, even amongst people that stay in it for their lifetime so kudos to you guys."
But one doesn't need to be a first responder to save lives. Community members can also play a role in obtaining life-saving resources for someone in distress. Among the ways to do so, Sierra advises the public to engage in training to recognize strokes and learn CPR.
Balderas added that reacting quickly by calling 911 when needed can make all the difference.
"In this case, we got there right at the perfect time," Balderas said. "If he would have waited five or six more minutes, then it would have been a whole different story so early activation is what really helps, even if it's at 3 or 4 in the morning. It could mean saving your life."