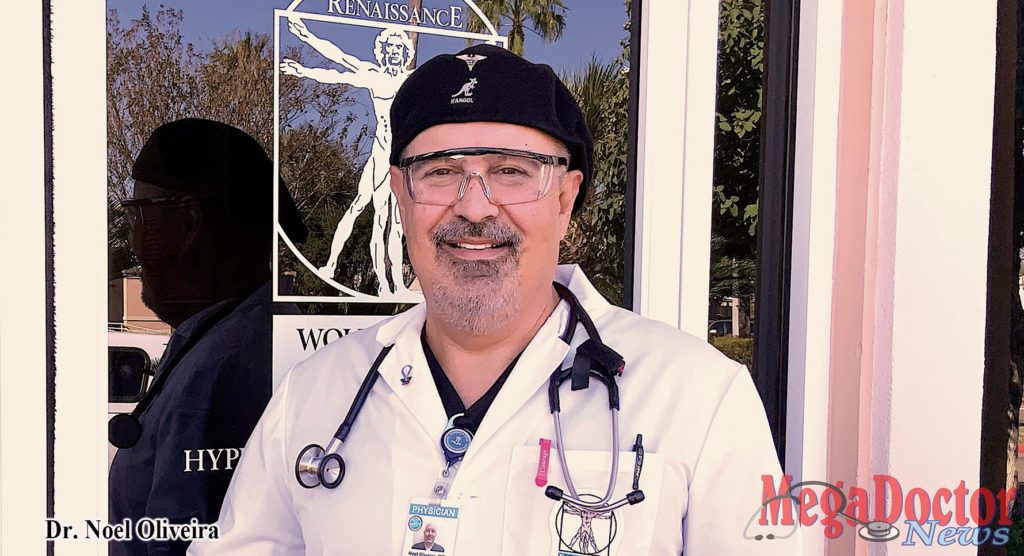 Mega Doctor NEWS
Dr. Noel E. Oliveira is one of the most-renowned wound care specialists in the state. He has accumulated twenty-seven years of expertise in this field alone. He is a uniquely experienced Certified Wound Care Specialist Physician.
In addition to his multiple responsibilities as a wound care specialist, Dr. Oliveira is the Chairman of DHR Health, Continuing Medical Education Committee. He and a group of very dedicated physicians and professionals created the sophisticated "Inaugural Neuroscience Conference" event.
This, first of its kind for DHR Health, educational symposium is of great significance for area medical professionals. It provided them with an opportunity of enhancing their medical knowledge without leaving the Valley.
On another matter: On the heels of breast cancer awareness month, men are encouraged to grow their beards and mustaches during the month of November. Affectionately referred to as "Movember," (a diminutive word for moustache, "mo" and "November") as a reminder to stay vigilant against prostate cancer.
Affecting the prostate – a part of the male reproductive system located just below the bladder – prostate cancer can be a concern for all men.
Great News! The Hidalgo County Commissioners Court approved a proclamation in support of epilepsy awareness. There are 15,667 citizens living with epilepsy in Hidalgo County.
Hidalgo County Commissioners Court encourages people to become more understanding of those living with this neurological disorder and supports epilepsy education, programs, and services.
Finally! As of October 15, the Associate Degree Nursing (ADN) program at South Texas College has received official accreditation from the Accreditation Commission for Education in Nursing (ACEN).
ACEN is a prestigious national accrediting body recognized by the U.S. Department of Education (USDE) and the Council for Higher Education Accreditation (CHEA) for nursing education programs in the U.S. The designation makes STC's ADN Program the only ACEN-accredited program in the Rio Grande Valley region.
"Accreditation is a status which shows the public that the program has met a high level of standards set by the accrediting agency, which is the ACEN," said ADN Department Chair Dr. Christie Candelaria. "It takes a village and a culture, the STC way, to achieve and maintain excellence in the Associate Degree Nursing Program."
Outstanding! On December 7, the South Texas Juvenile Diabetes Association (STJDA) will hold its Annual Gala at the Knapp Conference Center in Weslaco. The event will spotlight STJDA's mission to empower children living with diabetes. This year's Platinum Sponsor is Prime Healthcare, which serves the Rio Grande Valley through Mission Regional Medical Center (MRMC), Knapp Medical Center, and Harlingen Medical Center.
Kane Dawson, CEO of MRMC and Prime Healthcare in the Rio Grande Valley said, "Prime Healthcare is pleased to support STJDA as this year's Platinum Sponsor. As a network of community-based hospitals, Prime Healthcare is deeply invested in the health and wellbeing of the Valley. By supporting families of children living with diabetes, and helping to prevent Type 2 diabetes, STJDA perfectly reflects our values. We are proud to partner with them in these efforts."
Unbelievable, however, is true: Starting in Spring 2020, The University of Texas Rio Grande Valley will launch its new Physician Assistant Career Track (PACT) program, designed for South Texas high school students moving toward a Master of Physician Assistant Studies.
The objective of the early assurance program will help increase the number of students who enroll and complete their undergraduate studies at UTRGV while securing a seat in the UTRGV College of Health Professions' Physician Assistant Studies Program.
There is more in this issue. Enjoy.