- Advertisement -

By Roberto Hugo Gonzalez
As originally published by Mega Doctor News newsprint edition November 2011
Valley physician, Dr. Noel E. Oliveira, is one of the most-renowned wound care specialists in the state, with an accumulated twenty-seven years of expertise in this field alone. He is a uniquely experienced physician with a specialty in family medicine.
Dr. Oliveira is the director of the Wound Care Center for DHR Health in Edinburg, Texas. Before joining DHR, he became a pioneer with the opening of the first wound care center in the Rio Grande Valley in 1992. With hard work, dedication, and above all, with excellent outcomes, he managed to position himself as a vital professional in the wound care field.
Dr. Oliveira knows that it is easy to say twenty-seven years, however, to be able to work them, and last is another matter. He doesn't shy away from the challenges of this profession.
He said, "I am like the godfather of wound care, almost for the United States. There's only a handful that had been doing it 100% like me for this long," he told Mega Doctor News.
When asked about the type of patients he treats, he replied, "Let me give you an example of what I saw this past Friday. I opened my morning with a patient who had a large wound of necrotizing fasciitis."
Necrotizing fasciitis is commonly known as flesh-eating disease. Treating patients in this field of medicine is very challenging. He said, "Yes, very difficult. The disease went all the way down into the very deep muscles of the pelvis in a patient who has diabetes, is morbidly obese, and on hemodialysis. So, the wound was big enough to fit a basketball into it. We have the challenges of getting the infection out of there and then facilitating good tissue so that the wound can close."
Dr. Oliveira went on to explain that this is a rare type of bacterial infection that affects the soft tissues of the body. It can appear suddenly and spread rapidly and may cause death. Symptoms may include severe pain, fever, and red or purple skin in the areas affected. The patient may experience vomiting as well.
Such a delicate wound can be severe enough that it requires an accurate diagnosis and treatment with antibiotics and surgery, when necessary. There have been advances in wound care over the past decade that can bring about healing. However, absolute attention to stopping the infection is a must. 
For Dr. Oliveira, it does not stop there just because he saw a problematic case. Right after, his next patient had almost 70% of his body burned. This patient, a child, had been undergoing multiple skin grafts, and now a release of contractures for his muscles as he grows.
"The child was burned when he was two years old. Now at 14, he has developed wounds from the braces and the contractures; those are challenging, but we're working with him as well," he said.
Those are just two of the patients that he is currently treating. Still, at the top of the list are patients that are diabetic, and patients with venous and arterial ulcers; those are the other tough challenges that he encounters daily.
He told Mega Doctor News that about 70 to 80% of his patients on any given day have diabetes. "Even if their wound is not diabetes related, they have diabetes as an underlying co-morbidity, which automatically renders that wound as a complicated wound." He continued, "Especially if their diabetes is uncontrolled, then we have to get it under control." Counseling is also provided on their diet and nutrition and getting their blood sugars under control, then their vasculature and circulation can be maximized. This last part, he said, is essential to get the maximum amount of blood flow to the wound area, which helps the patient to get better overall.
The conversation with Dr. Oliveira took place during the Inaugural Neuroscience Conference put together by DHR Health. The educational symposium is of great significance for area medical professionals. It provides them with an opportunity of enhancing their medical knowledge without leaving the Valley.
In addition to his multiple responsibilities as a wound care specialist, Dr. Oliveira is the Chairman of the Board of the Continuing Education Department at DHR Health. He and a group of very dedicated physicians and professionals created the sophisticated "Inaugural Neuroscience Conference" event. Attendance was free.
The symposium was a success; it conveyed best practices, providing practitioners with the knowledge to be able to recognize, diagnose, and manage common neurological problems. The speakers at the event presented advancements and updates in Neuroscience. This was the very first in its category for the Rio Grande Valley.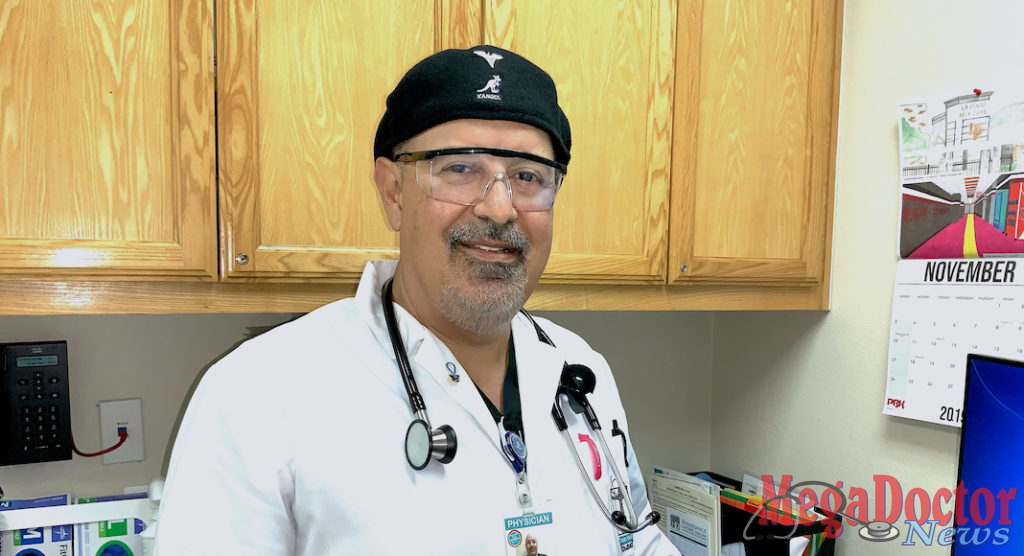 He noted that several speakers made a point of how important it is for family to accompany a patient either to see a doctor or to receive treatment. "I strongly encourage family members to participate. The patient has a much better chance of getting well when he or she has company."
Diabetes is more often the cause of the amputation of a lower extremity, which is not due to trauma. The family's role is significant, equal to saving somebody's leg, and the patient's ability to walk out with two legs, as opposed to an amputation. "It's gratifying, mostly for the patient, but also for my staff and myself; and at the end of the day, it is a happy day."
Getting back to his profession, the challenge that he points to is the evolution from written notes to electronic medical records. "From one health care method created by one president, to another by Congress and the Senate, and another one by a president. For the medical community, it has been a roller coaster."
Dr. Oliveira graduated from The University of Texas at Austin College of Pharmacy where he won the outstanding graduate award. He then graduated from The University of Texas Medical Branch at Galveston, Texas, where he earned his medical doctorate in 1988.
"I returned to the Rio Grande Valley as Director of Trauma and Emergency Medicine at Rio Grande Regional Hospital in McAllen." He said, "We opened the first wound care center in 1992."
He has done this for so long that he is considered an authority in this profession. He treats the severe nonhealing or recalcitrant wounds or the wounds that otherwise do not heal with either primary care, surgical intervention or both. He said, "Those are the types of wounds that are referred to the Wound Care Center. Then, from there, we do a full head to toe evaluation of the patient, including a history and physical exam to determine what is best for the particular wound that is not healing."
Dr. Oliveira is appreciative and thanks DHR Health, for the exceptional facilities they have made available to treat patients. "Also, we can provide these great and fantastic medical conferences." He said, "DHR Health is a blessing to this community and certainly a blessing in my life for allowing me to be a part of it. Thank you so much," he finalized.
Personal Life
On the family side, he has been married to Lisa for 28 years; they have two children, Mark and Michell. Dr. Olivera told us that he has known his wife since they were children.
While Dr. Oliveira was the master of ceremony for the neuroscience's symposium, he received a text from his mom requesting that he come over her house and help in a garage sale. "My mother just turned 90, and we all think we know everything until she walks in the room, and then we all sit still and let her tell us what is going to happen."  
The text read, "I need help with my garage sale; I need you to come over." He replied, 'Mom, first, I've got a neuroscience conference at DHR Health.' To which she replied, 'Okay, when is that over?' "And I'm like, well, mom, it's going to take most of the day. Could you get my brother to help you?"
Dr. Oliveira is a member of a very well-educated family. His brother, Dr. Victor Oliveira, is a Surgical Pathology physician, he has a second subspecialty in Cancers of the Heart. He worked at St. Luke's hospital in Houston for many years until he retired.
Dr. Victor Oliveira's wife, Dr. Nancy Oliveira, is a Psychopathology physician who worked for MD Anderson for many years. She retired two months ago, and they now enjoy their retirement in Houston.
Dr. Noel Oliveira's brother, Oscar, is an engineer who moved to Seattle. He was working under a consulting firm servicing Boeing when he was invited by a group to become a commercial real estate broker. He said, "I don't have any real estate experience." They said, "No experience needed. We'll get you trained; you take the certifications." And he did that several years ago. Now he lives in the same neighborhood, not the same size house, but the same neighborhood and goes to the same country club where Jeff Bezos from Amazon and Bill Gates from Microsoft are members. Oscar often runs into them, especially Bill and Melinda Gates.
His brother, David Oliveira, is a well-known attorney in South Texas. He is also collaborating with the University of Texas. He serves on the Chancellor's advisory board and was recently appointed by Governor Greg Abbott to a council of lawyers that oversee the appointment of judges in Texas. "David is very excited about being selected by the governor to be part of it and to serve," Dr. Oliveira said.
He also has a sister Elizabeth Bauer, a businesswoman. "We always call her Betty. She and her husband, Benjy, were recently recognized as the philanthropists of the year in Waco, Texas. They own several businesses and donate time and effort to help children and education. Their monetary donations are exclusively to support noble causes. They graciously agreed to accept the award, but not before saying that they didn't want the recognition for their giving. 
"My brother Ray is here; he is the one who saved me by helping my mom with the garage sale. He kept finding some interesting items, including music items that he had forgotten, were there. Ray found a belt with a name on it, very seventies style," he said. "I know you love your mom, your brothers, and sister, but I think you like your guitar more," I told him.
"My guitar," he said. "I love playing with the Renaissance Rockers." He plays the guitar and sometimes drums. Dr. Oliveira is part of this rock band, which performs to raise funds to help the community. 
- Advertisement -