Taking Care of It Is Not an Easy Thing
By Roberto Hugo Gonzalez
As originally published in Mega Doctor News newsprint edition April 2018
Dr. Eduardo Candanosa is a board-certified medical doctor in the field of family practice. He recently opened a new doctor's office by the name of Specialized Family Clinic in McAllen, Texas. He says, "Living a healthy and long life is all about choices we make, the food you eat, the physical activity you participate in, the medical care you seek, and whether you follow your doctor's advice.  It is all up to the individual."
Dr. Candanosa received his medical training in two countries and worked as an ER physician as well as a hospitalist physician for several years in the Rio Grande Valley before opening a practice. As a hospitalist physician, he is the doctor responsible for managing the care of hospitalized patients in the same way that primary care physicians are responsible for the care of outpatients.
He is originally from Monterrey, Nuevo Leon in Mexico, a populous industrial city less than three hours from South Texas. The fact that he was a doctor, first in Mexico and then in the United States, puts him in a different category; he is double trained in medicine. Also, his work as a hospitalist gave him the experience of dealing with hundreds of patients in multiple scenarios of chronic diseases.
"I started medical school in 1994 in Mexico," he told Mega Doctor News. "The medical program in Mexico is six years, so I graduated in 2000." He pointed out that after that, he did one year of social services in a small town called Villa Aldama in the same state of Nuevo Leon.
Once he obtained his medical doctor license in Mexico, he proceeded to continue his studies to become a general surgeon. "I completed four years in that specialty."
During the time he was doing his residency for general surgery in Mexico, he met his wife, Laura. They married and started the process of moving their practices to the United States. Laura is originally from McAllen and is currently revalidating her medical studies in the States.
Dr. Candanosa arrived here in 2009 and started the process of revalidating his studies in the U.S. "I took the board exams, Step 1, 2, and 3; I passed everything revalidating my general practice title and received a diploma. In 2011, I started the residency program."
Is it hard to revalidate a profession? "I did it in two years, which is the standard, others take longer depending on the pace they chose to do it." He added, "It's very intense, and when you finish that process then you need to look for a spot in the residency program."
According to Dr. Candanosa, this is not an easy process. "Fortunately, I got a spot in the McAllen Family Residency Program which was sponsored by the Health Science System in San Antonio. I started in June 2011, and I finished in June 2014," he said.
After all the hard work and dedication, in the year 2014, he graduated from the McAllen Family Medicine Residency Program.
This Program was established in 1977 to help train and educate family medicine physicians in South Texas and the Rio Grande Valley under the sponsorship of the University of Texas Health Science Center San Antonio. Since the development of the Family Medicine Residency Program, over 200 physicians have been trained.
In April 2015, the McAllen Family Medicine Residency Program became part of a new sponsoring institution, the University of Texas Rio Grande Valley (UTRGV).
What attracted you to this profession? "Well I don't have any doctors in my family. But when I was a kid, and my parents took me to the doctor, I was just attracted by how a doctor behaves and the importance of a doctor to families." He continued, "I didn't have a direct role model to follow, I just relied on my family doctor at that time. I mean I always wanted to serve; to me, that feels good."
The scope of family practice encompasses all ages, both sexes, each organ system, and every disease entity. That is what Dr. Candanosa is now offering to his patients.
What was the challenge you remember as you were looking for certification? "When I was in the process of certifying as a doctor, the biggest challenge was thoughts of failure and not accomplishing the goal." He continued, "There were all the studies that I needed to do to get it done, and the stress to take the board exams."  After certification, now as a doctor, he says, the challenges are different because it involves his patients.
Do your patients follow doctor's instructions? "Many do, some don't." He said, "Nowadays everyone works. They have one hour in the middle of the day to grab something to eat and then just go back to work. It's difficult. I understand that those are the challenges."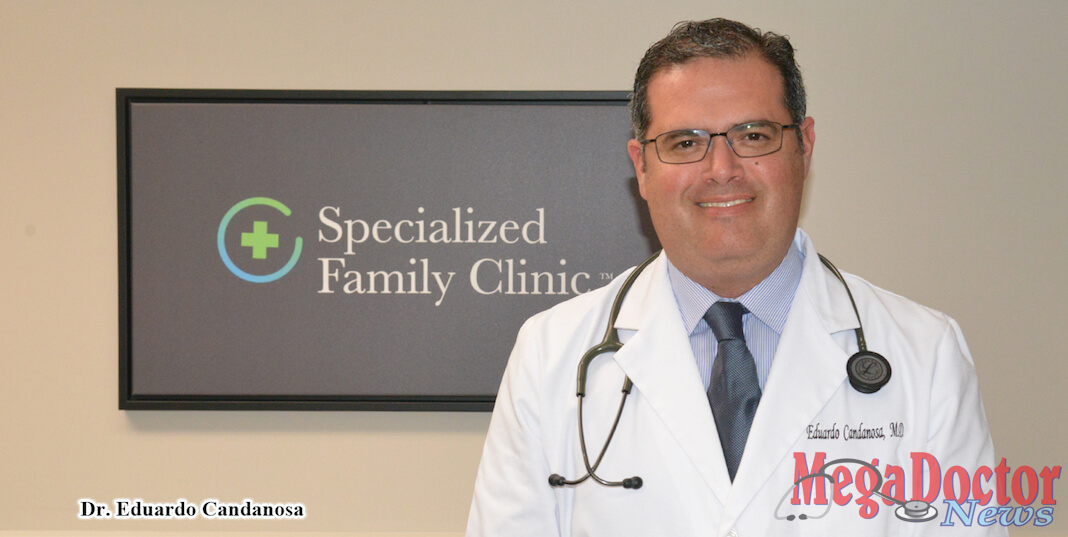 Dr. Candanosa worries because the Rio Grande Valley is an area where diabetes is a widespread chronic disease. He said that a lot has to do with genetic conditions, the other is excessive eating and low physical activity or none. "Yes, I know that it's difficult to lose weight and it is very difficult to follow a healthy diet. But under critical circumstances, people have to obey the doctor's order and follow a plan."
The services that he provides includes Preventive Medicine with annual health evaluations and screenings for individuals of all ages. This includes flu shots, and immunizations, physical exams for sports, school and summer camp, and Pediatric Medicine.
He also offers adult medicine and geriatrics, treatment of long-term medical conditions including diabetes, high blood pressure, dyslipidemia, women's health including pap smears, pelvic and breast exams, joint injections, palliative care, laboratory testing, minor surgery, biopsy and excision of skin lesions, incision and drainage of abscesses, and treatment of minor injuries such as lacerations, burns, and sprains.
Dr. Candanosa is meticulous with the treatment of his patients. He says that when he sees a patient and then he prescribes, it doesn't end there. "I review the patient's chart and I check all the medicines and re-check again. I'm thinking about what else I can do for my patient," he said.
Personal Life
Is your wife also a doctor? "No, she is a Psychologist.  She finished her process of bachelor revalidation and she already finished the master's in clinical psychology at UTRGV."Now she needs 3000 supervised hours to be eligible to get the Texas license in psychology. "It's difficult to specialize in psychology. It's quite difficult," Dr. Candanosa said.
Who are your parents? "My father, Eduardo Candanosa passed away in 1997. He had skin cancer at the age of 42.  We had a hard time at that time. My mom, Lucia Candanosa was a middle-school teacher all her life. Now she is retired and lives in Mexico."
Dr. Candanosa is the oldest of four brothers; they are all professionals. One of his brothers is a lawyer, another is a mechanical engineer, and the youngest is an accountant.
Do you have any hobbies? "I do, my biggest hobby is fishing. I have three children all boys, nine, six and eight months." He said that at any given time, he takes the 9 and 6-year old boys with him to fish. He said, "I like to go to the areas of Port Isabel and South Padre Island."
Are you a good fisherman? "I would like to be better. It's a great hobby because you do it with your children, your friends, and family. "He also enjoys cycling and uses a mountain bike when he hits the Mission, Texas trails.
Eduardo Candanosa, M.D. is Board Certified in Family Medicine. His practice, Specialized Family Clinic TM is located at 801 E. Nolana Ave, Suite 3 in McAllen, Texas. He was selected as the Mega Doctor for this issue for his genuine desire to motivate his patients in the Valley to make better choices.
Dr. Candanosa says, "Taking care of your health is not easy, but it is the most important thing you have. It requires time and is the most important decision you can make to help you live a healthier and longer life."
- Advertisement -