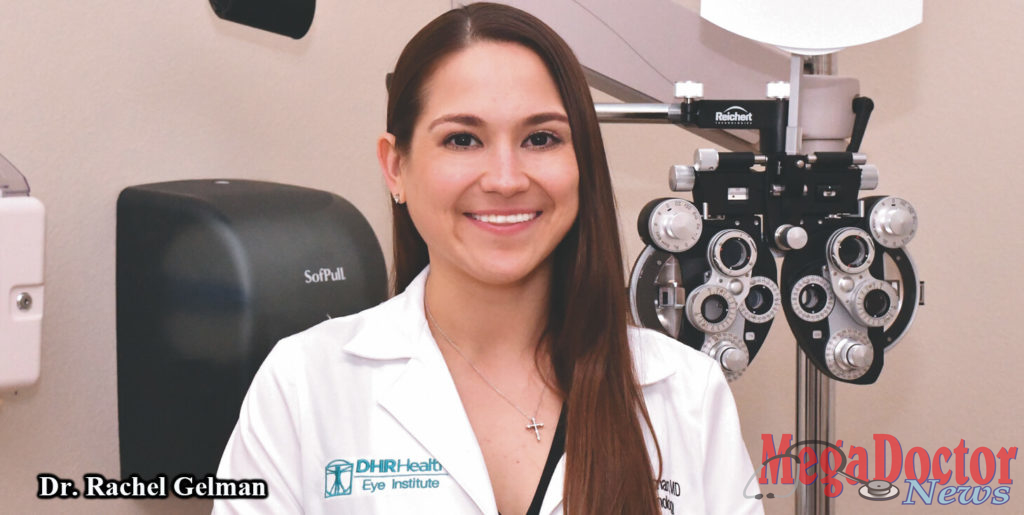 Mega Doctor NEWS
As originally published by Mega Doctor News in its newsprint edition February 2019
The procedure of cornea transplantation, especially the one that requires replacing solely the layer of the cornea that's damaged with a healthy donor layer of cells, is now in the Valley. This is possible thanks to Dr. Rachel Gelman, an ophthalmologist surgeon, and McAllen native who decided to come back to the Valley and serve her community of south Texas.
Dr. Gelman is with DHR Health Eye Institute, but before that, she attended some of the best universities to make her a medical doctor in this specialized field. At a very young age, she is making a name for herself. The surgeries she is able to perform are delicate but revolutionary and bring vision back to her patients.
Read the feature story about Dr. Gelman in this issue.
Breaking News:For more than two decades and through molecular studies, the Instituto Politécnico Nacional(IPN), proved the elimination of 100% of the Human Papilloma Virus (HPV), located in the uterine cervix of 29 women from Mexico City. These women were treated with a non-invasive photodynamic technique, which may be an effective method to prevent this neoplasia, a malignancy that constitutes the second greatest cause of death among Mexican women.
On another note:Valley Baptist Medical Center – Harlingen is one of the first in Texas to treat a patient for a cerebral aneurysm, using the Surpass Streamline Flow Diverter device.
"We are excited to have successfully implanted one of the first Surpass flow diverters in Texas, right here in the Rio Grande Valley," said Dr. AmeerE. Hassan, DO, FAHA, FSVIN, Head of the Neuroscience Department, Director of Endovascular Surgical Neuroradiology, and Director of Clinical Neuroscience Research at Valley Baptist Medical Center – Harlingen.
Great news:Specialized services for diabetes, thyroid cancer, and other patients have expanded in the Mid-Valley and throughout the Valley with the addition of three specialized endocrine surgeons at the UT Health RGV / Knapp Family Health Center in Mercedes and a new endocrinologist who is practicing in Weslaco.
Michael Sander, M.D., a fellowship-trained orthopedic surgeon who is board-certified in orthopedic sports medicine, has joined the faculty at the UTRGV School of Medicine as an assistant professor in the Department of Surgery and the division chief of Orthopedic Surgery.
Medical Academy in Olmito wins first place at ECAHP competition, all team members belong to eight
Valley high schools. Read more inside.
One door closes as another opens: On January 31, 2019, leaders for Hidalgo County EMS / South Texas Air Med said they are finalizing a plan to provide helicopter air ambulance service to area hospitals, an announcement that came hours after Air Evac Lifeteam in McAllen ceased operations.
What Screenings Do You Need to Keep Your Heart Healthy? Healthy eating, exercise, and good sleep habits are all important to maintaining heart health. But the following routine screening tests are also a key step to taking care of your heart. More inside.
Fueled by the desire to provide health services to communities in need, a PSJA Southwest Early College High School alumna and a current University of Texas at Austin Pre-Med student recently spent part of her winter vacation serving families in the Dominican Republic.
Adaylin Alvarez, who is currently a sophomore at UT, was one of 25 Global Medical Training volunteers who traveled to the Dominican Republic to provide health aid.
There is more inside this issue; I know you will enjoy it!