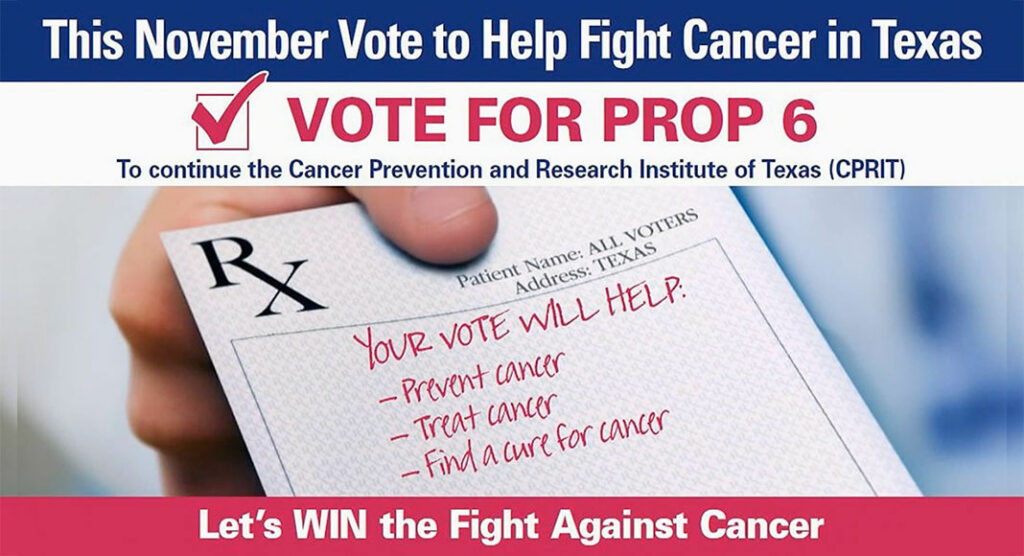 Mega Doctor NEWS
The bottom line: Texas physicians are urging Texans to head to the polls on Nov. 5 to support future cancer research and prevention in Texas. Proposition 6, one of 10 constitutional amendments on the ballot, extends Cancer Prevention and Research Institute of Texas (CPRIT) funding for another 10 years. Texas physicians are calling for a "yes" vote to support CPRIT and the battle against the deadly disease.
Billions of dollars in cancer-fighting grants, research, and preventive care are on the line when Texas voters go to the polls on Nov. 5. Physicians and other supporters hope voters will elect to continue funding the state's cancer-fighting agency, the Cancer Prevention and Research Institute of Texas (CPRIT).
Proposition 6, one of 10 constitutional amendments on the ballot, would authorize the legislature to increase by $3 billion the maximum bond amount for CPRIT. Without new funding, the agency's ability to award grants that promote cancer prevention and research will end by 2022. Former Rep. John Zerwas, MD (R-Richmond), who co-authored the Texas House of Representatives' joint resolution this past legislative session that led to the Proposition 6 vote, said he is hopeful voters understand the need to extend CPRIT funding.
"It's in the voters' hands, and that's where it should be," Dr. Zerwas told Texas Medical Association (TMA) Fall Conference physician attendees. "Proposition 6 is an incredibly important thing to all of us, and it puts Texas in a place no other state can claim in terms of making great strides in cancer research and actually curing these diseases. I'm pretty confident that voters are going to see the value of it."
TMA's October Texas Medicine magazine reports that in 2007, Texas voters overwhelmingly approved the constitutional amendment to establish CPRIT and authorize the state to issue $3 billion in bonds to fund groundbreaking cancer research and prevention programs and services in Texas. CPRIT began operations in 2009. Since then, CPRIT has handed out 1,380 cancer-fighting grants, totaling $2.3 billion, to Texas physicians and researchers at 100 academic institutions, nonprofits, and public companies throughout the state's health care system.
CPRIT also helped recruit 175 top cancer researchers and their labs to Texas, including James Allison, Ph.D., the winner of the 2018 Nobel Prize in Physiology or Medicine. One-tenth of CPRIT funding goes to prevention efforts, such as screening programs that have detected more than 3,300 cancers and 16,200 cancer precursors, and gives low-income and uninsured people the opportunity to participate in clinical trials and studies.
"Because of CPRIT, health care providers are able to provide cancer screening and diagnostics, not only for cervical cancer, but for other cancers that can ultimately impact millions of Texans," said Marian Y. Williams-Brown, MD, chair of TMA's Committee on Cancer and an assistant professor of obstetrics and gynecology at The University of Texas at Austin Dell Medical School.
CPRIT's prevention efforts also save money by helping patients avoid the expensive medical costs of prolonged, often fatal illnesses, said TMA Committee on Cancer consultant and Houston family physician Lewis Foxhall, MD. "It's hard to put a price on helping someone avoid getting cancer," Dr. Foxhall said.
If voters do not approve Proposition 6, CPRIT's future will be uncertain. The next opportunity to fund CPRIT would be during the 2021 legislative session, and Dr. Zerwas warns Texas lawmakers would have to find other ways to fund CPRIT in a challenging political environment.
"Today, we look back and say was that a sound investment? Without question, it was a sound investment," Dr. Zerwas, a TMA member, said. "Incredible things are happening, and these are all things that can be talked about, but they can't be talked about and they can't be a reality unless we get out and vote this in on Nov. 5."
TMA is the largest state medical society in the nation, representing nearly 53,000 physician and medical student members. It is located in Austin and has 110 component county medical societies around the state. TMA's key objective since 1853 is to improve the health of all Texans.