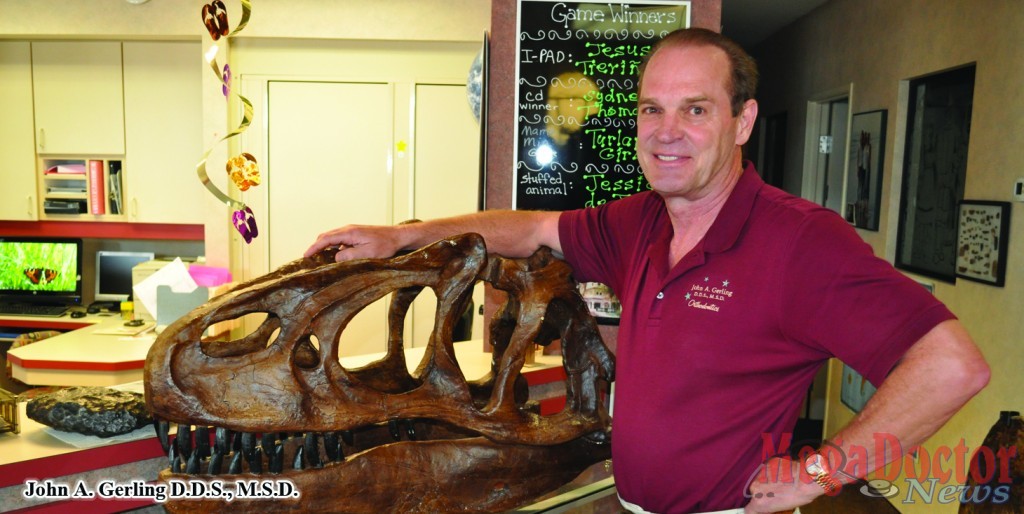 By Roberto Hugo González
As originally First published by Mega Doctor News newsprint Edition
When people have the opportunity of meeting Dr. John A. Gerling, they have a unique learning experience. He is one individual that enjoys life through his profession, and different and interesting hobbies.
Dr. Gerling was born in Houston but lived in Dallas before moving to the Valley to open a private dental practice. His parents, the late John H. Gerling and his mother Dorothy, who still lives south of Dallas, were instrumental in teaching him the value of honesty and fairness.
He told Mega Doctor News that his father was in the sticky business, selling 55-gallon containers of industrial adhesive glue.
He said, "What made me come and open up shop in McAllen was the weather, the size of the city, and South Padre Island." According to him, Dallas was already a very large city for him and the wintertime had just become too cold. So it was not difficult to select the Valley's subtropical weather and the proximity of beautiful South Padre Island.
"The winters in the Valley are a great attraction; you can be outdoors 12 months a year, and have strong ties to the community." He added that Dallas for him had too many traffic jams, consequently too many irate people.
"I graduated from the University of Texas at Austin in 1973 with a degree in biology and worked for three and half years in the medical equipment business," he told Mega Doctor News. In 1978, he attended Baylor Dental College in Dallas Texas and graduated in 1981 with a D.D.S. degree (doctor of dental surgery).
He pointed out that half way thru the Baylor Dental curriculum he decided that orthodontics was what he really wanted to do. "I immediately enrolled in Baylor Dental College program in orthodontics and graduated from there with a Master of Sciences in Dentistry in 1983.
Upon graduation, Dr. Gerling headed to the Rio Grande Valley to start his practice. When he first came to McAllen, he took over a satellite office of Dr. Jack Wetzel, which had 75 active patients.
During those two years he worked along with Dr. M. B. Smith and afterward, he built his office and focused on growing the practice to the point that in 1999 he moved from 22nd street to north 10th St. "I feel that this is a better location," he said.
He also pointed out, "What inspired me to become a dentist was that I like helping people, I have a high level of dexterity, and a steady hand."
What kind of challenges have you had in your practice? "The biggest challenge is the penetration of corporate influence into private practice. Corporations now own a number of practices and it's coming between dentist/patient relationships in a big way. I choose not to participate in any way in that but I do see it ongoing in the profession."
What worries Dr. Gerling about his patients is, "Lack of cooperation," he said. "It can break my heart when you work very hard to get a patient an excellent result and patients just won't brush adequately and they get stains on their teeth for not brushing. I hate to see that and it is hard to deal with as well."
The most fulfilling part about his profession is when he sees his patients smile after he has taken out their braces.
Mega Doctor News asked him, is there a cure for tooth decay? "No one has been able to cure tooth decay, except for good hygiene, good brushing, and flossing," he explained.
Dr. Gerling told Mega Doctor News that he had the good fortune to marry Becky; they are already working on their 40th anniversary. "She put me through school, she has been a guiding light in my life. She is a wonderful person" They have a daughter Megan, and she works with the Parks and Recreations Department for the City of McAllen.
Dr. Gerling has many hobbies, but paleontology is the one thing that excites him so that in his next life he hopes to be Indiana Jones. "I like paleontology, the study of ancient life forms, and I like astronomy. I have conducted several star parties for the members of the community. I love art and science. I am a cyclist, and I like hiking and anything that promotes physical fitness.
"The greatest wealth is your health, everybody knows that the lack of exercise is detrimental to your health so I do my best to stay fit and trim. I have a hobby of doing metal work from time to time so I made a solar system display."
Dr. Gerling is heavily involved with the community; he believes that it's important to give back. For this reason his involvement is substantial.
He has served with the International Museum of Art and Science Board; he was a board member for eleven years and board President for three years. He believes that education is the key for success and wants his legacy to be that he provided a meaningful impact on the educational abilities in the Valley.
"I am currently with the McAllen Economic Development Board, that is another organization that strives to bring economic prosperity to this area," he said. He has served with the Palm Valley Animal Center Board for five years and was instrumental in helping them to set up their major fundraiser. He was one of the original board members of the Palmer Drug Abuse Program.
Dr. Gerling has worked diligently serving his community and was named the '2012 McAllen Chamber of Commerce Man of the Year' for volunteering countless hours, serving on committees and boards supporting worthy causes, and making a positive impact on the community.
"Currently I am the chairman for the Quinta Mazatlan Board, another wonderful facility that the city operates to promote sustainability, ecology, and education." And if that is not enough, he has also participated in five dental mission trips to Honduras.
He feels blessed to know that he has helped many people, locally, and throughout the world. "I could not ask for a better job, or better people to spend my time with," he concluded. MDN
Written by Roberto Hugo Gonzalez the 2009 SBA Journalist of the Year Award Winner & The 2009 and 2012 Paul Harris Award recipient.