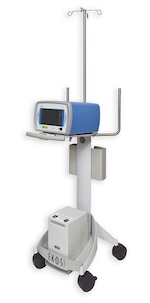 Mega Doctor News
- Advertisement -

Many people never hear about Deep Vein Thrombosis (DVT) or Pulmonary Embolism (PE) until they have one of these conditions. But they are not uncommon:  an estimated 600,000 new cases of PE are diagnosed each year in the U.S.
When a blood clot forms in a deep vein, usually the leg, it is called Deep Vein Thrombosis.  The clot blocks blood flow to the area, usually resulting in soreness and swelling.   If the blood clot breaks off and makes its way through the heart to the lung, blocking one or more arteries, it is called a Pulmonary Embolism.  PE results in about 60,000 at least deaths each year and is the third most common cause of cardiovascular-related death in the United States. Some common symptoms of PE may include chest pain, shortness of breath and coughing, but symptoms can vary greatly among patients and overlap other diseases.  With compounding symptoms, Pulmonary Embolism can rapidly become fatal.
Dr. Clay Padginton, Interventional Radiologist with Valley Baptist in Harlingen and Brownsville stated that up until now, PE had been underdiagnosed, and because of the risk of large dose intravenous therapy, undertreated.
A new method, approved by the FDA for the treatment of DVT and PE is now available in the Rio Grande Valley to help treat these conditions.  Used for the first time in the Valley at Valley Baptist, the EKOS® System uses targeted ultrasound waves and medication to deal with these serious problems.
About 55 percent of PE cases are clinically quiet with a low mortality rate, and patients usually do well on the anticoagulant medication.   About 5 percent require emergent intravenous agents to help dissolve the clot and prevent heart failure.  The remaining 40 percent of patients do not respond well to anticoagulation therapy, so intravenous therapy is risky due to the possibility of hemorrhagic stroke and the potential for rapid progression to heart failure or long-term disability.
"These patients benefit from the new minimally invasive treatment using EKOS®," said Dr. Padginton.
Using the Ekosonic® Endovascular System, a special catheter is run directly through the clot, which delivers clot-dissolving medication as well as low power, high-frequency sound waves.  This "intelligent" catheter delivers the appropriate amount of power and medication to maximize effectiveness and is left in place for as little as 6 hours. Once the clot is dissolved, it is released into the bloodstream.
- Advertisement -

"There are really two parts to the story," said Dr. Padginton.  "It starts with the legs, with DVT, which is uncomfortable and most certainly can affect your quality of life. But the second part of the story is the more dangerous part, the pulmonary embolism.  Through a CT scan we can actually see a clot in the pulmonary artery, and so can diagnose the presence of a pulmonary embolism. Now, with this new treatment, we have a way to rapidly, safely and effectively treat it."
Joey Govea, Director of Radiology at Valley Baptist in Harlingen and Greg Ruiz, Radiology Director at Valley Baptist in Brownsville echoed these thoughts.
"We are working on developing a 'Pulmonary Embolism Response Team' to hardwire the steps we need to take when a PE is suspected," Govea said.
Ruiz said continued education on pulmonary embolism is key.
"It's important to elevate the importance of this topic in our community so that people can start to recognize potentially dangerous symptoms and get to the emergency room quickly," he said.