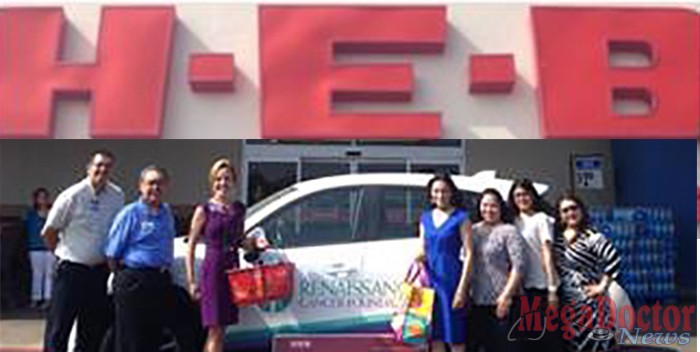 Mega Doctor News
- Advertisement -

The Renaissance Cancer Foundation will be offering free nutritional care packages to cancer patients.
Edinburg, TX- 05/28/2014- The Renaissance Cancer Foundation would like to thank H-E-B for their generous contribution of $5,000.00 that will go towards purchasing groceries and household items for local cancer patients through our new service line: We will be offering nutritional care packages in our effort to promote healthy eating habits that lead to a healthy life for cancer patients and their families.
Through this program, our goal is to serve local residents with the help of H-E-B and Morrison. We would like to encourage patients to participate in this new service line, so that they can achieve better eating habits and a healthy living.
The nutritional care package will include fifteen (15), Spanish and English, easy to prepare recipes using a maximum of five (5) food items as well as, the food items to prepare these meals for a whole family, and household cleaning items valued at $250.00. A social worker, patient navigator or CNA will be going to deliver these care packages to cancer patients at their homes.
Through the help of contribution from the community and organizations like H-E-B we are able to provide services like this to cancer patients and their families completely free of charge. The Renaissance Cancer Foundation is a 501 (c) (3) tax exempt non-profit organization whose purpose is to provide support for cancer patients in the Rio Grande Valley. The Renaissance Cancer Foundation main focus is to build community awareness while providing cancer education, emotional support, and financial assistance or guidance for underserved patients.
This service line will kick-off in June, so if you see the Renaissance Cancer Foundation's vehicle around town please wave.
If you are interested in donating to the Renaissance Cancer Foundation or volunteering you time with us, please contact Anabel Arellano Rodriguez at (956)217-7050.