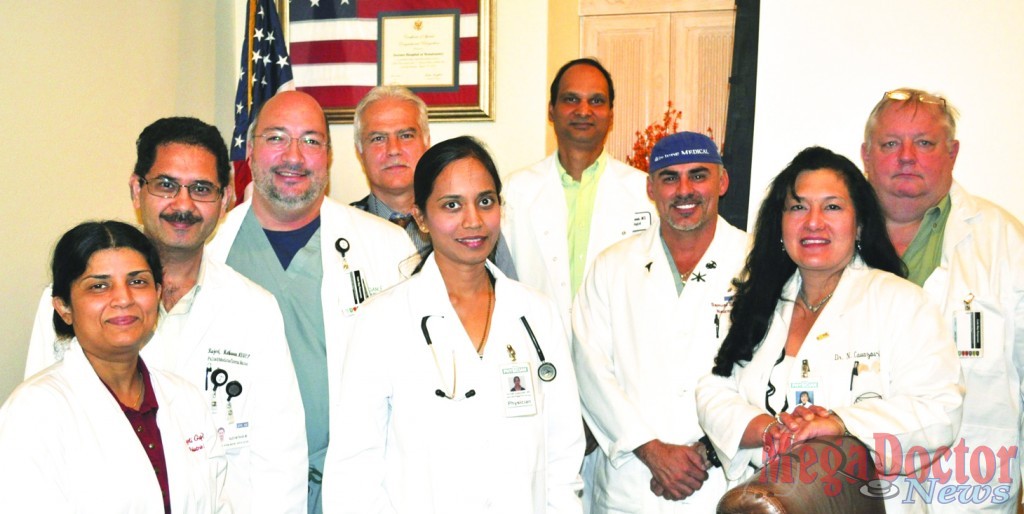 Webinar technology is used to connect cancer treatment specialists
As originally published First by Mega Doctor News newsprint edition March 2013
Edinburg, TX- Dr. Eugenio Galindo medical director of the Cancer Center at Renaissance said that the centerpiece of their cancer program are the tumor boards, where specialists from Surgery, Medical Oncology, Radiation Oncology, Radiology and Pathology evaluate and discuss patients for whom a multidisciplinary approach is being considered. The multidisciplinary group collectively designs the best course of action for each patient.
For this reason, the physicians at Doctors Hospital at Renaissance (DHR) joined with specialists at the Cancer Therapy and Research Center (CTRC) at The University of Texas Health Science Center San Antonio to create a "virtual tumor board," wherein DHR patients get the attention of specialists spanning the region without ever having to leave home.
Tumor boards enhance patient care by bringing the experience and unique perspective of many specialists together to discuss individual patient cases. This helps to improve care for cancer patients and, at the same time, provides education for treatment staff.
Cancer is a complex disease, and sometimes it takes more than one doctor to determine the best plan of treatment. In order to address some of the most complex cancer cases in our community, teams from the Cancer Center at Renaissance and the Cancer Therapy and Research Center (CTRC) at The University of Texas Health Science Center at San Antonio gathered in what are called "tumor boards" and discussed possible patient treatment plans.
These monthly virtual tumor boards, which occur the fourth Wednesday of every month at 5:15 PM, use webinar technology to connect cancer treatment specialists, including physicians, nurses, and other staff. Patients benefit from the collective experience of several specialists and the research prowess of a nationally renowned academic medical center. Along the way, they gain improved opportunities for remission or cure.
Dr. Eugenio Galindo, medical director of Cancer Center at Renaissance, states, "When the diagnosis is cancer, patients want the best possible treatment options. Through tumor board meetings, physicians who specialize in diagnosing and treating cancer come together with one goal in mind — to share their expertise and recommend the optimal treatment plan for each patient."
The virtual tumor boards allow the physician who is coordinating the patient's treatment to gain input from many healthcare professionals in many specialties.
Through the collective knowledge of the tumor board, the best possible ideas relevant to each patient's care are thoroughly evaluated before treatment recommendations are made. Anand Karnad, M.D., hematologist-oncologist at CTRC, said the virtual tumor board presentations are very thorough.
"DHR radiologists and pathologists provide useful images," Dr. Karnad said, "and we've listened to the patients' stories through their treating physicians. Either we acknowledge that the challenges are the same ones we face here [in San Antonio], or we are able to help provide expert knowledge so that DHR's patients benefit from the insights we've gained over the years." MDN