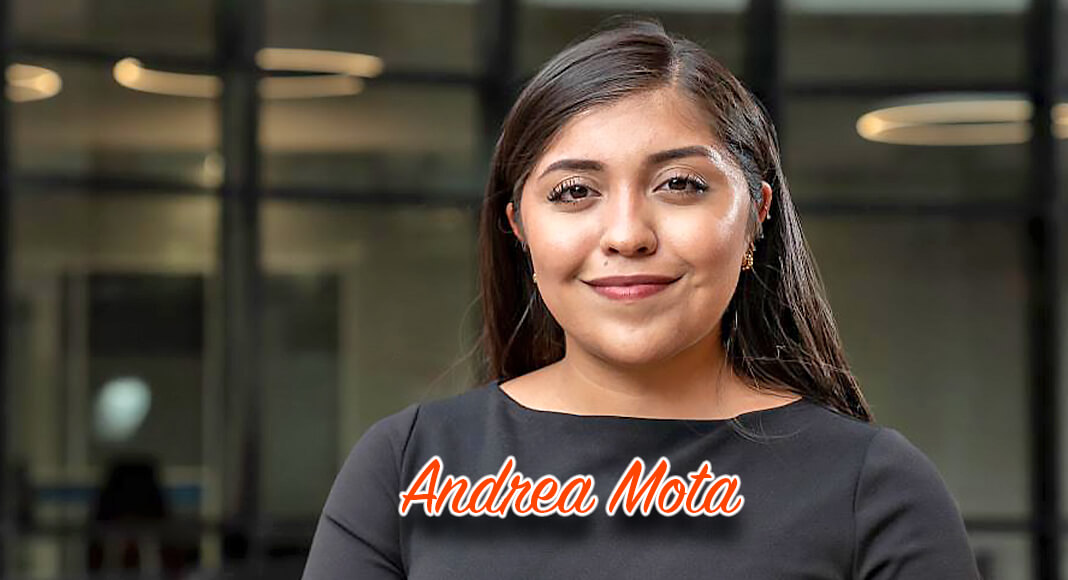 - Advertisement -

Mega Doctor News
By Victoria Brito Morales
RIO GRANDE VALLEY, Texas – An alum from The University of Texas Rio Grande Valley is making the most of a gap year.
Andrea Mota, of Mission, has begun a fellowship with the National Institutes of Health in Bethesda, Maryland, working with Dr. Robert Crouch, senior investigator for the National Institute of Health Intramural Research Program.
She has been working in the lab since March, focused on physiological, biochemical and molecular genetic events of recognition, and resolution of RNA/DNA hybrids.
"Sometimes, in replication – when cells are dividing – the DNA and RNA get connected and create a hybrid where there shouldn't be a hybrid," Mota said. "Those hybrids mess up the whole process and the cells can't recognize how to regulate. That in turn messes up the sequence. We're learning how to fix the hybrids and, why they are forming when they shouldn't."
The malfunction leads a disease called Aicardi-Goutiers syndrome, or AGS, an autoimmune disease that effects the brain, spinal cord and immune system of newborns and can result in premature death.
"This opportunity appealed to me because the NIH is very collaborative and you have the chance to network and take part in special research labs," Mota said.
- Advertisement -

A 2019 graduate of the UTRGV Math and Science Academy, Mota went on to earn a bachelor's degree in Biology with a concentration in Biological Sciences from the UTRGV College of Sciences. She graduated cum laude in Fall 2021, and decided to take a gap year before transitioning to the NIH fellowship.
"I am still really young, so I wanted to have some gap years to be able to grow and experience other research areas that maybe I haven't had a chance to explore," she said.
LONG TIME IN THE MAKING
When she arrived in Bethesda, she had several years of research experience under her belt, having worked in two labs in the Rio Grande Valley.
Since her graduation from the MSA, she participated in research in the lab of Dr. Pushpa Soti, assistant professor in the UTRGV School of Earth and Environmental Sciences, working there for two years on understanding the relationship between weed species and soil nematode communities.
She also applied to the Empowering Future Agriculture Scientists (EFAS) program, and was paired with Dr. Olufemi Alabim, associate professor and extension specialist of Plant Pathology and Microbiology at the Texas A&M Agriculture and Life Sciences Extension in Weslaco. Mota worked in that lab with virus discovery and characterization of a disease outbreak seen in okra plants grown in the Valley. She was a part-time research technician in the Texas A&M Agriculture and Life Sciences Extension in Weslaco until March 2022.
She participated in the Research Experience for Undergraduates at Texas A&M in summer 2021, in a highly competitive 10-week program working with Dr. Ry Young, distinguished professor of Biochemistry and Biophysics at A&M. She worked in a lab that researched identifying signals that allow bacteriophage N4 to delay cell lysis, which is the disintegration of a cell. Bacteriophage N4 kill virus at a more long-term rate, and the lab examines why this phase is delayed.
Mota said she is committed to a research-driven career.
"My career goal, ideally, is to be a physician scientist doing research related to health – like conducting clinical trials and evaluating the effectiveness of different drugs for various diseases or discovering superior treatments," she said.
When her fellowship ends, she said, hopes to pursue an M.D. to Ph. D. degree, then plans to return to the Valley to enter the medical workforce.