By Roberto Hugo Gonzalez
The COVID 19 outbreak, which originated in Wuhan, China, in December 2019, spread quickly to every corner of the globe. It has sickened millions of people, and by now also millions have died.
The Rio Grande Valley was not an exception; the region lost thousands of lives because of this novel coronavirus that got entirely out of hand, here and everywhere else.
Fortunately, during the Trump administration, the plans to fight this formidable enemy moved very fast. Using the federal government's resources and the U.S. private sector, Operation Warp Speed (OWS) accelerated the testing, development, and distribution of safe and effective vaccines, therapeutics, and diagnostics that counter COVID-19 as of December 2020.
This is where DHR Health came into action. While waiting for a vaccine approved by the CDC and released, DHR Health issued educational press releases of guidance to the public. It established a visiting protocol at their hospitals following CDC rules and procedures. Once the vaccine was approved and available, they started working from a designed emergency program to inoculate thousands of Valley residents.
Among the many fighting against the disease were Dr. Manish Singh, DHR Health chief executive officer, Dr. Carlos Cardenas, chairman of the board at DHR Health, and Dr. Robert D. Martinez, the Chief Medical Officer. The three doctors thanked everyone who is taking part in the efforts to vaccinate the Valley residents. One person, in particular, is Sherri Abendroth, CHEP, the Director of Emergency Management at DHR Health.
Sherri told Mega Doctor News that she had been ready for the last 20 years when she wrote the emergency plan. "As a disaster manager, I study disasters, and I read white papers and studies and information on what works, and what doesn't work."
She pointed out that the plan for vaccination, or mass prophylactic type clinic is a plan she wrote. "It's scalable so it can get bigger, or it can get smaller. It's nice to see, in action, that it works."
Sherri said that they were ready as of December 17, 2019 but activated their command center for COVID-19 on March 12, 2020.
"In an emergency like this one, there are many fronts," she said. In her mind, she thought that, in a way, she had to close the loop. The first thing she needed to find is where to do clinics, what kind of staffing she would need, and who would be available. "Where can we do this but continue all of the other operations happening in the hospital."
Once she selected the venue, most vaccination took place at the Edinburg Conference Center at Renaissance, and a couple of vaccination events took place at the Bert Ogden Arena. Still, the primary site was at the conference center.
Sherri had many challenges, but there is one that stands alone. All the time was spent finding a way to do as many vaccines as possible.
"We're pushing out between 2,500 to 3,000 shots a day, and I want it to be more." She said, "I haven't found a way yet to make it bigger."
She also said that it's going to take time, but yes, everyone will have an opportunity to be vaccinated.
Currently, in her command team, she is aided by four members. Initially, she had eleven, but some of them went back to do their regular job.
Concerning receiving vaccine supplies, she said they never had a problem until the Freeze. Texas is still reeling from a winter storm that left more than 50 Texans dead from hypothermia.
Sherri said that during the winter storm, some of the vaccine deliveries were delayed. "The shipping got held up. Uh, it took me about three days to find out where it was. And then, we coordinated with our drivers and UPS to get it. And we went and grabbed it and brought it to us," she explained.
The 100,000th Recipient of Vaccine by DHR Health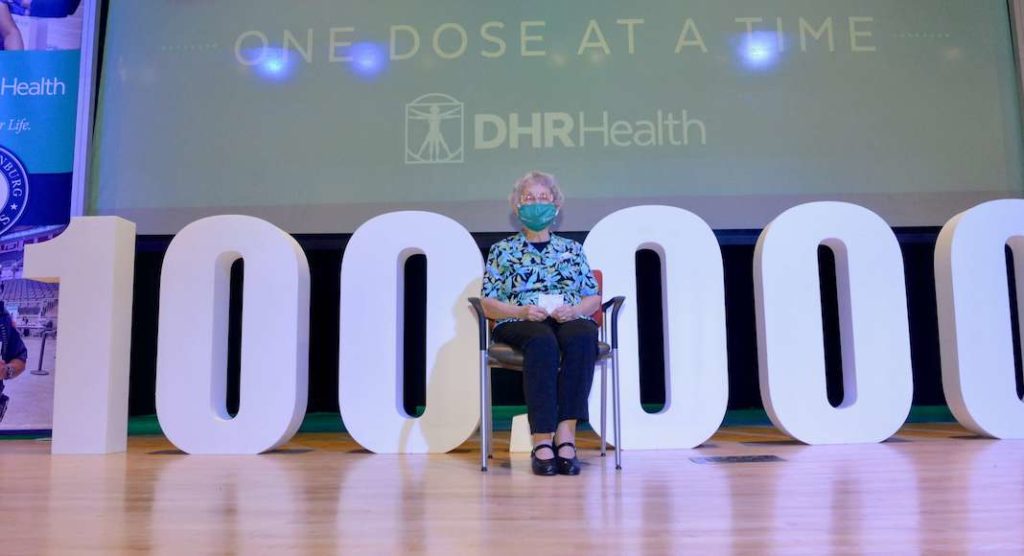 On March 18, 2021, during a milestone celebration, Dr. Carlos Cardenas, chairman of the board at DHR Health, spoke about the importance of being vaccinated. He mentioned the British doctor Edward Jenner, a physician and scientist, who figured out a vaccine for smallpox in 1796. He also pointed out Polio, another public enemy that paralyzed children all over the world.
Dr. Cardenas said, "Lots of comorbid conditions gave birth to the March of Dimes, and we as a community had to come together again and again, and again, to defeat what we can't see." He continued, "A year and four days ago, we began this journey with a hope and a prayer that we would have a vaccine that would give us the sword to help knock this disease on its butt."
Dr. Cardenas was preparing the audience to let them know that they were celebrating an extraordinary occasion. He compared the vaccine to an early Christmas present which was nothing short of a miracle. "I am proud to announce our 100,000th vaccine recipient." He said, "Marjorie Porter is 93 years of age; she has been a lifelong resident of the Rio Grande Valley. Mrs. Porter will be 94 in June and is our 100,000-vaccine recipient."
As Mrs. Porter was administered the vaccine in front of all the guests, she said, "Thank you, I am very excited to be here. I wish everybody could be here to get a shot. It doesn't hurt."
Sherri Abendroth created the vaccination program, but as she said, "It was a team effort that made it happen. None of these accomplishments would have been possible without the organization and leadership at DHR Health, incredible tenacity, and the ability just to get it done," Abendroth said.