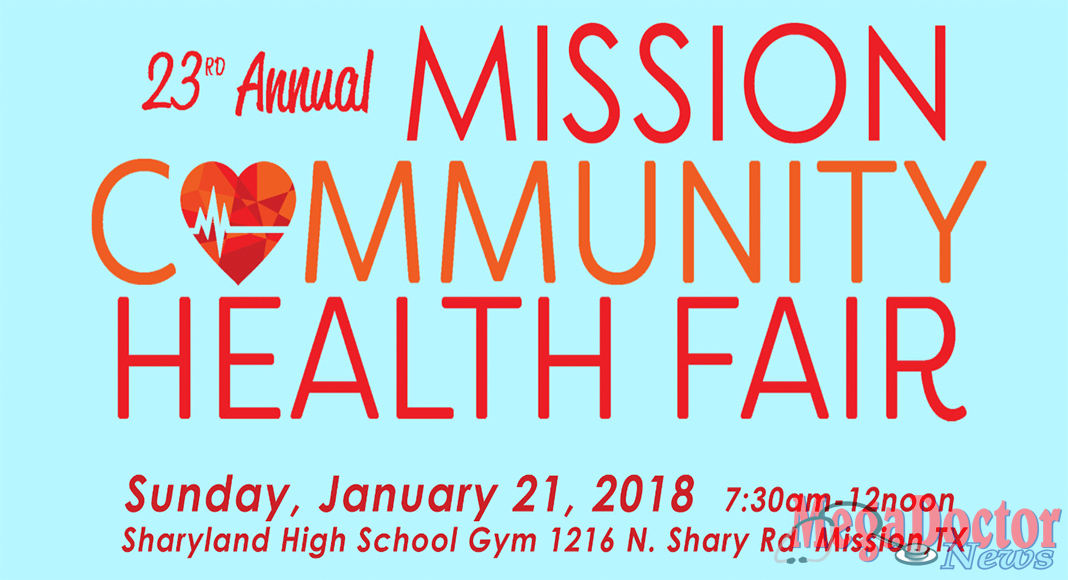 Mega Doctor News
- Advertisement -

MISSION, Texas – The Greater Mission Chamber of Commerce (GMCC) and the Mission Regional Medical Center (MRMC) will be collaborating once more in its 23rd Annual Mission
Community Health Fair that will be held at the Sharyland High School Gymnasium. The health fair will be on Sunday, January 21, 2018 from 7:30 a.m. to 12 p.m. This event will be free to the public.
The event will be held in hopes of providing free health screenings, awareness, and education to low-income individuals and families. Blood tests for the first 500 people will be provided by the laboratory team of Mission Regional Medical Center. A 12-hour fast is required for those interested in a blood screening.
The following free screenings and services that will be included at the Health Fair: bone density, cholesterol, diabetes, liver and kidney function, flu vaccines, and much more.
"The clinical tests and health information we're providing let people know if they're on the right track with their health and wellness. We're proud to be able to offer these services for free during the Annual Mission Community Health Fair," said Nick Espinosa, Business Development and Marketing Director for Mission Regional Medical Center.
"We are happy to see our local organizations and Chamber business members coming together to help educate our community," said The Greater Mission Chamber of Commerce President & CEO, Robert Rosell. "When local businesses come together and focus on the health of our residents, then we are making a big difference on the quality of life in Mission— and that's important to us"
This event is made possible through the generous contributions of our sponsors, Mission Regional Medical Center, Shah Eye Center, and Mission CISD.
- Advertisement -

"Mission Regional Medical Center is steadfast in its commitment to improve the health of the communities we serve. It is our mission as a community hospital to provide access to these health services and to be the hospital of first choice for patients, employees, and physicians," said Espinosa.