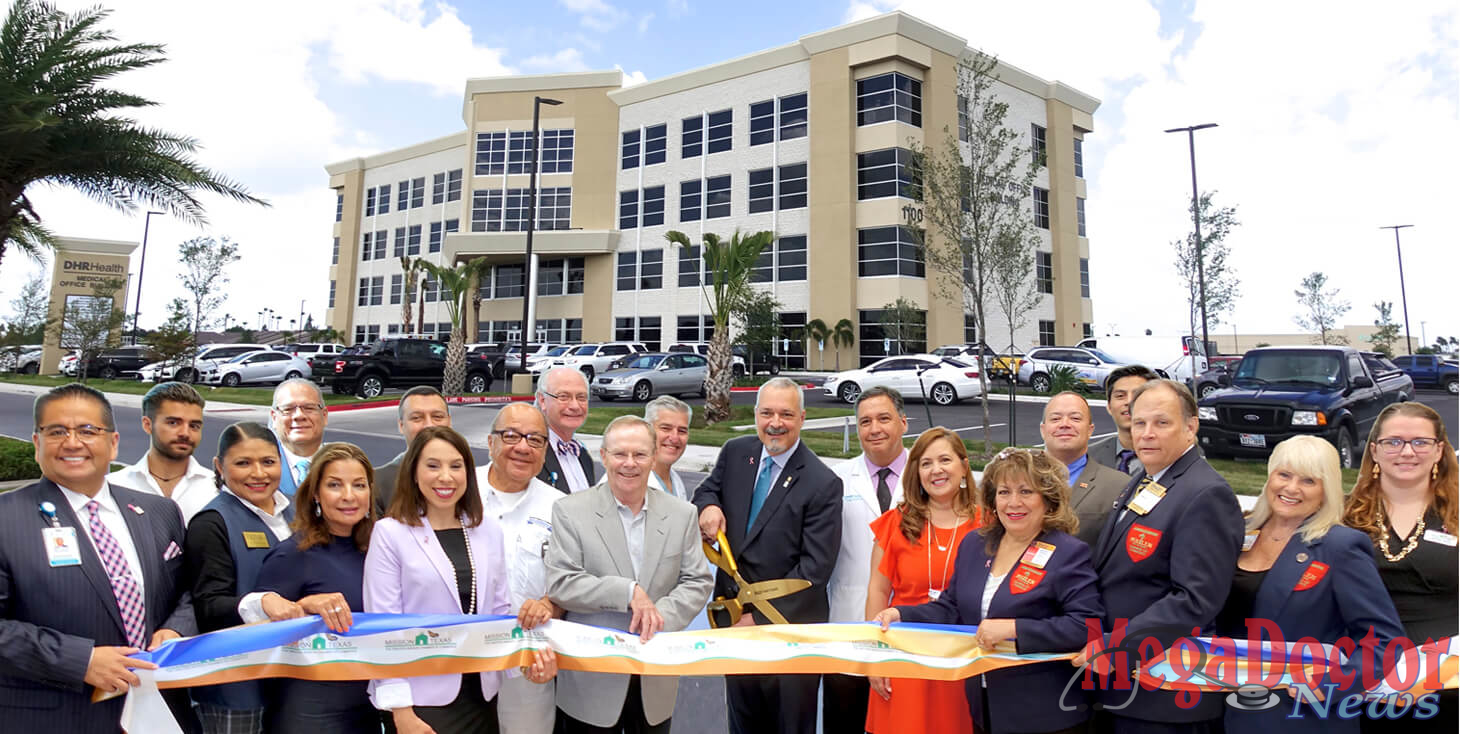 Mega Doctor News
By Roberto Hugo Gonzalez
The grand opening and ribbon cutting ceremony of the DHR Imaging Center at Dove completes an essential chapter in the medical community of specialties being built by Doctors Hospital at Renaissance. Marissa Castañeda, Senior Executive and Vice President of the healthcare conglomerate said, "Almost everyone in this room knows someone fighting who has been affected by breast cancer or a similar disease.
We are here to stand by these patients, so they no longer have to leave this area for care." She added that this facility will provide imaging studies, X-rays, and radiology studies to help diagnose disease so that patients can be treated efficiently.
Dr. Carlos J. Cardenas, the Chairman of the Board and Chief Administrative Officer, was also present and introduced Dr. Carlos Garcia Cantu to the podium. Dr. Garcia Cantu is a General Surgeon, Breast Surgeon, and Program Director for the imaging center.
"I'd like to start with some statistics on Breast Cancer, which affects approximately 12% of women worldwide, he said." The report given by Dr. Garcia Cantu caught the attention of a packed room of people.
"Cancer is the most common cause of death among Hispanics; this also includes white, Afro-Americans, and Asians." He continued to say that it represents about 16 percent of all female cancers, aside from being the most common cancer in women no matter their race or ethnicity.
He pointed out that 5 to 10 percent of breast cancers are inherited from parents; based on U.S. statistics more than 2.8 million women were affected by breast cancer. But it doesn't stop there, he said that more than 200,000 new cases of female breast cancer were reported last year and that more than 40,000 women died of female breast cancer in the United States. He said, "For every 100,000 women, approximately 125 new breast cancers are diagnosed."
- Advertisement -

Dr. Garcia admitted that the statistics present a new set of difficulties in the medical field, but he added that the treatment of breast cancer has changed tremendously over the past 15 years and it continues to evolve. "To think that a single person or a single physician will be able to take care of breast cancer by themselves is naive and outdated." He said, "It takes a team of doctors from oncologists, surgeons, plastic surgeons, pathologists, radiation oncologists, palliative care, and much more to do it."
Dr. Garcia added that it takes the sophisticated support of a research team and a group of dedicated healthcare workers to assist the needs of breast cancer patients. It is clear that what has been accomplished had taken the participation of visionaries and people who understand the needs of the community.
He said that a few years ago with the support of the hospital and the team involved, they made this a reality and sought accreditation from National Accreditation Program for Breast Centers (NAPBC) to create a Breast Cancer Center of Excellence.
The NAPBC represents a national organization of professionals dedicated to the improvement in the quality of care and monitoring of outcomes of patients with disease of the breast. "That's why it was necessary to have a multidisciplinary leadership representation and ensure that all the NAPBC standards were fulfilled."
According to Dr. Garcia, their objective is to obtain consensus, monitor compliance, reduce morbidity and mortality, improve screening of mammography and advocate for the participation in clinical trials as well as benchmarks comparisons with other centers.
Dr. Garcia Cantu also said, "The Center of Excellence belongs not only to a beautiful building with a state-of-the-art technology but also to a group of professionals with the sole purpose of providing the most comprehensive cutting-edge treatments which in the past was only given in large centers."
DHR Imaging Center at Dove with its accreditation represents the only NAPBC breast center of excellence south of San Antonio in the Rio Grande Valley. "We are proud to have it at Doctors Hospital at Renaissance," he said. Castañeda praised Dr. Garcia Cantu and Dr. Cardenas for their persistence and relentless efforts in getting this center open. "Also, for getting us to where we are today," she said.
McAllen Mayor Jim Darling was also present and recognized along with several dignitaries who came to show their support for this center that will make south Texas better. "Probably the most important group here are the ladies in pink." Castañeda said, "These are our mammographers. These women are in the trenches, delivering care 24/7 – 365 alongside our physicians."
At that time, Dr. Robert Martinez, the Chief Medical Officer and Chief Physician Executive for Doctors Hospital at Renaissance (DHR) in Edinburg and senior executive vice president of DHR Health was called to the podium to address the guests. "As you can see this is really one of the most exciting projects we worked on." Dr. Martinez said, "I'm excited for working together to address what the Rio Grande Valley.
He added, "We wouldn't be able to do what we want to do without the residents and medical education available here." Many of those new residents have been included in these projects. "Some of you may or may not know we are already incorporating a lot of those residents into jobs here. We've hired quite a few of them, and we are looking to hire a few more."
The ceremony couldn't be finished without the participation of Melissa Peña Flores, RT(R) CT. It was said that Peña Flores was instrumental and the captain of the ship that oversees 500 staff members. According to Castañeda, Peña Flores "works 24/7 and 365 nonstop".
Melissa Peña Flores is the EP and administrator over radiology services. She said, "We saw the need and administration helped us get this off the ground. We cover patients from Mission to Weslaco, and we see about 300,000 patients a year just in imaging alone. Over 50,000 mammography studies are performed and with the new facility, will probably double."
Dr. Robert Martinez concluded saying, "On behalf of Doctors Hospital at Renaissance, thank you for partnering with us and making these dreams a reality."