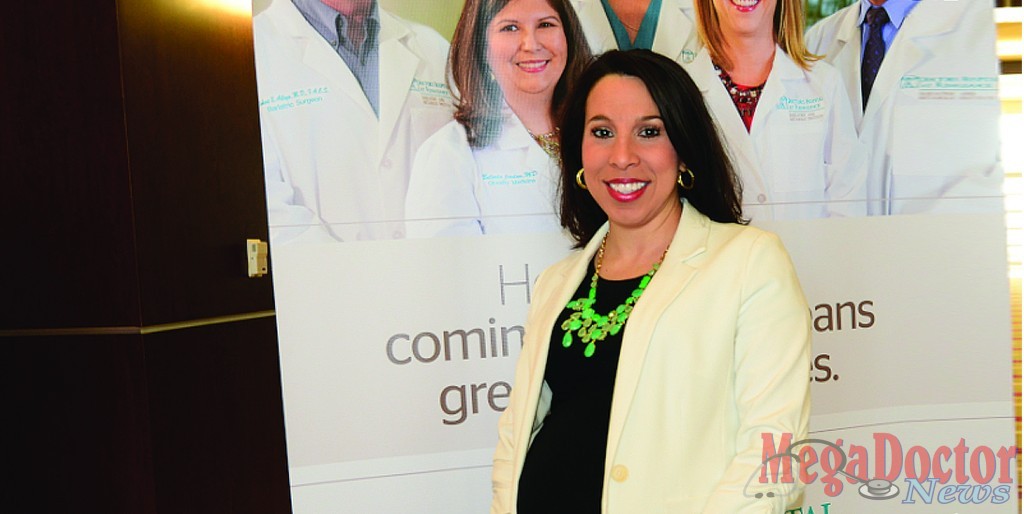 Mega Doctor News
- Advertisement -

The slogan for Mega Doctor News (MDN) is "We Bring Doctors Closer to People". The other promise is that we also talk to high ranking executives in the medical field that have made a huge difference in South Texas.
The perfect example is Marissa Castañeda the Chief Operations Officer, Senior Executive Vice President at Doctors Hospital at Renaissance.
MDN talked to her during a very special event. "Its a great synergy knowing today is another great day for Doctors Hospital at Renaissance now that we are announcing our affiliation with the Cleveland Clinic that didn't come easy and it didn't come by chance." Marissa also said, "Two great organizations, DHR fulfilling their mission of bringing the best and world class healthcare here to our patients at the Rio Grande Valley and Cleveland Clinic stepping up and saying "let's embark on this", its been a lot of work and preparation having to meet their rigorous standards, criteria and requirements."
Marissa has been with the hospital a little over ten years, and to this she said, "We had just opened our first thirty beds so yes, I'd like to say I've been with the organization since inception."
Marissa pointed out that at the time it was surreal to look back and to be in a boardroom where physicians were talking about these 30 beds were open.
She recognizes that they have had a great response from the medical community and from the patients being an underserved and under bedded area.  During one of those board meetings they discussed to embark on building a cardiac tower and that was ninety-six beds with five cathlabs. "We all looked at each other and thought this is really going to happen and how soon will this happen and sure enough we had that built and we opened our cardiac tower and almost immediately it was filled with patients who needed services so it was very enlightening," she said.
"Creating an access to care that wasn't here has been the most rewarding experience for me." She continued to say, "That soon led to talking about how can we offer a continuum of healthcare from the time someone is born to treating them at the end of their life." Sure enough they built the Women's Hospital at Renaissance serving women whether they were birthing babies to dealing with any kind of ovarian cancer, cervical cancer and caring for patients since they have opened the hospice facility at the end of life. "So I feel that we have truly accomplished every one of our goals," she said
- Advertisement -

Marissa said that their growth has been explosive adding that that's the only word that comes to her mind.  "We have high-high standards and expectations and I feel proud to be part of a team that has the same objective, we all have our eye on that ball."
She said that the major challenge have been the ever-changing face of healthcare.  "Obamacare in the last few years, legislative changes that affect reimbursement that make it more difficult to be able to treat patients and the uninsured epidemic in our area."
She continued to say, "I think most of the other challenges that I have had have been welcomed because they allow for opportunities for improvement and reassessment and recharging.  So I would say that some of the major challenges have been at times shortage of physicians and subspecialist, which DHR has stepped up to the plate."
Marissa pointed out that recently they recruited a pediatric urologist.  "He will be the first full-time pediatric urologist in the Rio Grande Valley, and also recruited Dr. Carlos Herrera a gynecologist oncologist which brings a great service to our area."
She also mentioned that they are recruiting a Urologic oncologist, and looking at subspecialists that were not here and that were hard to recruit.  "DHR is very creative and persistent in that pursuit as well."
A typically day for Marissa is hard to describe. She meets with physicians to understand their needs, she shares ideas, looks for ways to enhance programs before they roll out. "I always try to go to the folks that are in the trenches, that are at the bedside and those are the nurses, the healthcare providers and especially our physicians."
She said that these meeting are important to constantly measure outcomes whether it be in patient satisfaction scores, whether it be in quality outcomes, financial outcomes and performance efficiencies.  "We always look at ourselves in the mirror to understand where we can improve and we try to tackle any problems with solutions."
At the time this conversation took place, Marissa was told us that her baby was scheduled to be born in May, and so she did. A beautiful girl named Olivia Danielle. "My husband Oscar and I have wanted this." She also said, "My husband who is very supportive and allows me to do what I do and supports me every step of the way and really believes in what I'm doing here is for the greater good of our community."
"You were talking about challenger and I think probably my biggest challenge is motherhood.  I am very, very excited, Its our first child and we feel blessed and filled with joy and excitement for this," she finalized. MDN