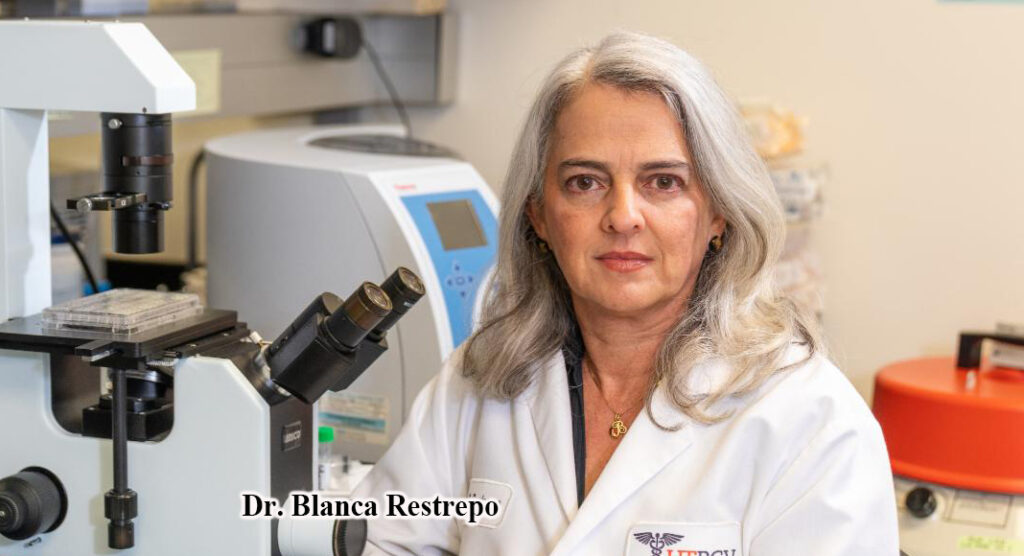 Mega Doctor News
By Karen Villarreal  
RIO GRANDE VALLEY, TEXAS – At UTRGV, Dr. Blanca I. Restrepo, Ph.D., is researching how tuberculosis in South Texas and adjacent border communities – where the disease itself and underlying conditions like diabetes are endemic – are complicated by COVID-19. 
Both COVID-19 and tuberculosis (TB) are infectious diseases that target the lungs, so healthcare personnel for TB essentially have had to act as first responders for their COVID-19 patients throughout the pandemic.
"We're fairly early in trying to understand how the pandemic is going to impact tuberculosis control," said Restrepo, who has a cross-appointment as an adjunct associate professor of Epidemiology for the UTRGV School of Medicine, its South Texas Diabetes and Obesity Institute, and has primary affiliation with the UT Health Science Center at Houston's School of Public Health in Brownsville.
"The initial predictions are that we're moving back in TB control by about eight years," she said.
Recent literature has addressed how the pandemic likely will increase the number of TB cases and deaths due to a strain on TB control programs, Restrepo said, but she and her research team additionally have observed the biological impact of COVID-19 on patients with diabetes.
"This definitely warrants continued investigation," she said.
Throughout the pandemic, she and her collaborators published their findings – a case series of patients with a chronic history of poorly controlled diabetes who experience an acute COVID episode, followed by the development of active pulmonary TB, a more chronic pulmonary infection.
The team hypothesizes that these individuals had been infected with the bug causing TB for some time, but a chronic history of diabetes combined with a recent COVID-19 episode triggered its transition from a latent, or "sleeping," state to a reactivated mode that causes active TB.
Restrepo believes it to be a consequence of compromised immunity due to the COVID-19 episode, plus poorly controlled diabetes.
"There's nothing reported like it," said Restrepo, who ranks among the top two percent of most-cited scientists worldwide. "We're following up, and if the data looks promising, we will prepare a grant for further study of the biological synergism between TB, diabetes and SARS-CoV2 infection."
TB CONTROL
TB is more prevalent in developing countries, and Mycobacterium tuberculosis is the microbial pathogen most responsible for deaths worldwide, with 1.4 million people dying of TB in 2019 alone.
"In the United States, we have done a very good job of controlling TB, but we have pockets of populations that are still at higher risk," Restrepo said. "The Texas-Mexico border is one of those regions."
Someone born in Mexico or another country where TB is highly endemic may carry the bug latently, meaning the disease is not active and the individual shows no symptoms.
"It's good for everybody to know whether they're positive for TB, but your physician won't recommend tests if there's no criterion for doing so," she said.
Her team has been studying diabetes as a risk factor for developing TB. Her findings suggest that TB testing for diabetic patients in the Valley who have had a recent episode of COVID-19 may be beneficial to beware of TB risk– especially those with a history of exposure to a TB patient, or who come from a TB-endemic country.
"Our findings suggest that if you develop COVID-19, you're now at high risk for reactivation of a latent TB infection to active disease," she said. "In this case, particularly if you have diabetes, it would be wise to be tested for it. You may be able to stop the progression to tuberculosis."
COVID-19 OBSERVATIONS
Restrepo and her collaborators observed that many patients at the TB clinics had all the signs and symptoms of COVID-19, including fever, malaise, loss of smell and taste, and a dry cough.
"All symptoms disappeared three to six months later – except the cough, which transitions to a productive cough. Patients started losing weight, having chronic fever and night sweats," she said. "These patients were coming down with TB, but it is likely their diagnosis was delayed because they were thinking these symptoms were due to COVID-19."
The research team also observed that patients who reported a COVID-19 infection three to six months before being diagnosed with TB also had a chronic history of poorly controlled diabetes.
Their hypothesis is that if diabetes is not well controlled, and a person develops COVID-19, both conditions will synergize to compromise the person's immune system – and that seems to be the turning point for TB development.
"The body cannot contain that latent bacterial infection and it progresses to TB," Restrepo said. "The world is collecting data on this, and we're trying to understand that interaction at the biological level between these two pulmonary pathogens."