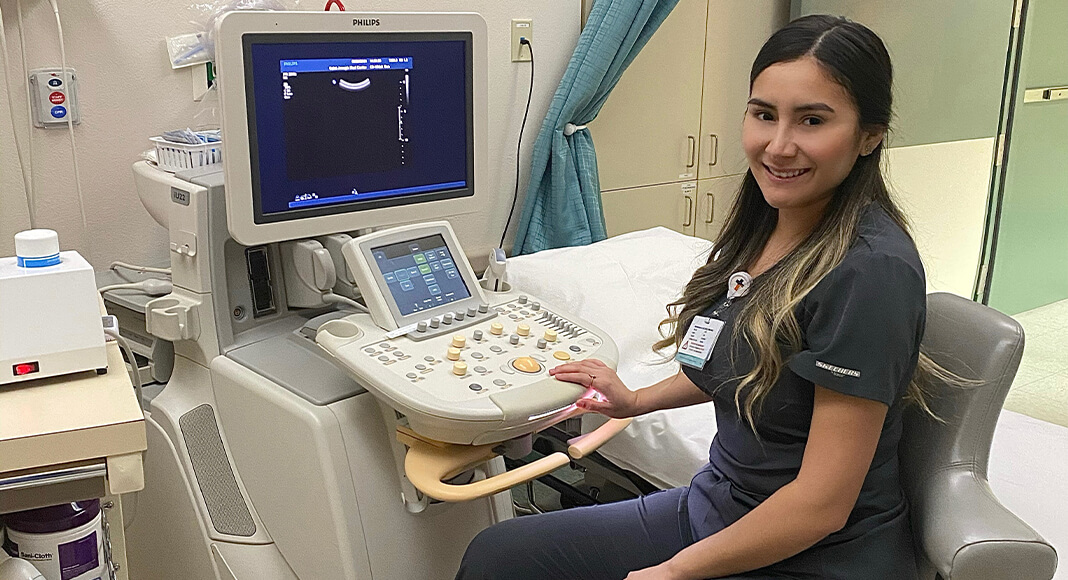 Mega Doctor News
BROWNSVILLE, Texas – Jacqueline Arguello gets to explore new places while doing what she loves as a traveling registered diagnostic medical sonographer.
Arguello said she is grateful for the opportunities that have come her way and she won't forget where it all started – Texas Southmost College.
The 23-year-old earned her associate degree in Diagnostic Medical Sonography in 2019 from TSC, making her the first from her family to become a college graduate.
An achievement that did not come easy.
"They (family) gave up so much to put me through college," she said. "And now I can say that WE are reaping the rewards. It feels great having a career that allows me to give back to them, because they have given me so much."
The Pharr native said her parents would drive her one hour to school and then home again every day in order for her to attend classes at TSC.
They also paid her tuition and when the commute began to take its toll, her parents and older brother helped her move to Brownsville and pay the rent – a huge sacrifice for a humble Rio Grande Valley family.
"The DMS program is very competitive and challenging. You have to be focused 110% of the time," said Arguello. "There's a certain amount of pressure to succeed, especially as a first-generation college student. My family tried to alleviate everything else around me so I could focus, and for that I am so grateful and thankful."
So, with the dream of pursuing a career in the health care field and the motivation to make those dreams a reality, Arguello dedicated herself to not only finishing college, but also establishing a career.
Arguello gained employment with Harlingen Medical Center immediately after graduating and passing her national licensing exam. Fast forward two years, she was presented with the opportunity of becoming a traveling sonographer. This is what she calls an opportunity of a lifetime.
With this new venture, she gets to travel and help patients across the country.
Currently, she is stationed in Montana with a two-month assignment and loving every moment.
"I only have these opportunities because of TSC," she said. "They gave me the training I needed to build a solid foundation in this field and be an asset everywhere I go."
Now, as a sonographer sharing her skills nationwide, Arguello is thankful for the structure and attention to detail that TSC's Diagnostic Medical Sonography program instructors ingrained into their practice.
"I was more than prepared to pass my licensing exams and enter the workforce," said Arguello. "The program gave me confidence in myself and my skills. Now I get to see the world, while doing the two things that I love: sonography and traveling. Everything has paid off."
The journey has been worthwhile for Arguello and her family, even though she says she broke her parents' hearts when she decided to leave.
"I'm proud of what I have accomplished, and I hope my parents are also," she said. "I know they did not want me leaving, but they have been nothing but supportive. They know this is what we worked so hard for, plus I still get to come home often between assignments."
Arguello plans on staying on the road for now, exploring new places and helping different people. Eventually, she plans on settling down somewhere in Texas and pursuing a bachelor's degree in health care management.
"TSC set me up for success," said Arguello. "It gave me my degree and a chance at a successful career. Where I go from here is up to me, and I plan on going far. It all started at TSC and I will never forget that it helped me achieve my dream."
For more information about TSC's Diagnostic Medical Sonography program, visit tsc.edu.
Registration for summer and fall 2021 began April 1.
About Texas Southmost College Originally established in 1926, Texas Southmost College currently offers the first two years toward a bachelor's degree, along with career and technical education leading to certificates and associate degrees, college preparatory studies to prepare students for college-level work, workforce training, and continuing education. TSC offers 50 programs of study leading to an associate degree or certificate.