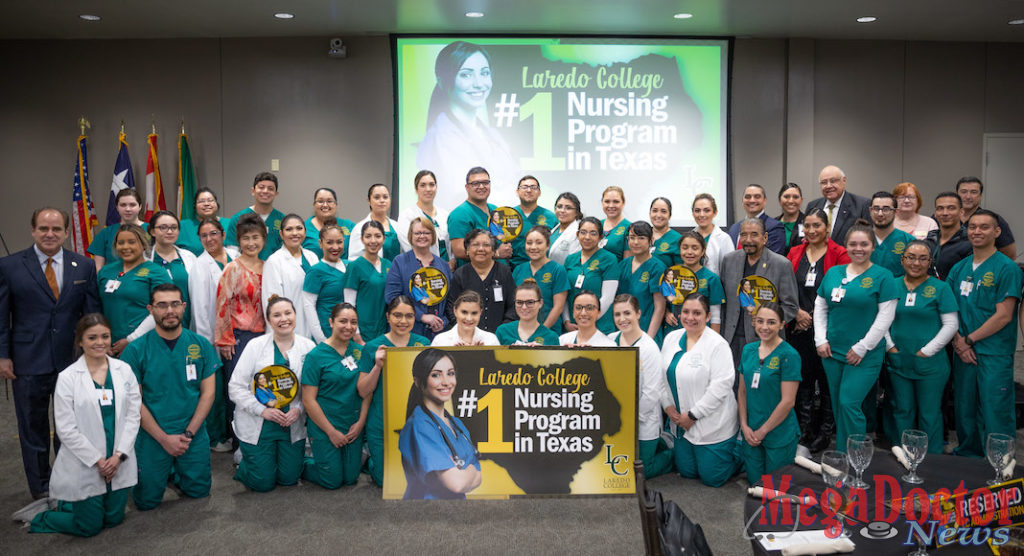 Mega Doctor NEWS
Laredo College anticipates 2020 to be the biggest year to date for its nursing and health sciences programs.
LC started the decade off strong, being named as the #1 Associate Degree in Nursing (ADN) Program in Texas for a third consecutive year.
NursingProcess.org, an online resource that simplifies access to nursing education and career information, found that LC excelled in its mission to provide aspiring nurses with different options to complete their associate's degree in nursing through clinical experiences and preparing them for the national licensing exam.
Previously, the institution had been ranked as the #1 ADN Program in Texas by RNCareers.org and RegisteredNursing.org. After nabbing this honor once again, LC has positioned itself as the top choice for students all around the state who are looking for a quality, affordable education.
This momentous accomplishment has been achieved through the diligent work of our nursing director, faculty and staff. These talented professionals have revolutionized the way healthcare industry professionals are being prepared for the ever-changing demands of the field.
Currently, the ADN Program team is comprised of six full-time and three adjunct faculty members. Competing against other two-year colleges with larger budgets and staff, LC has focused on providing top-level quality education along with as much hands-on teaching experience as possible.
While compiling the list of top contenders and their respective rankings, NursingProcess.org considered four factors in their methodology to rate each school. These are NCLEX-RN first time pass rates from the past four years, affordability, the nursing schools' reputation and academic quality. The latter category encompasses the school's acceptance rate, graduation rate, retention rate and student-to-faculty ratio.
Program graduates in the past four years have attained an impressive 100% passing rate in their licensing exams. This is higher than both the state and national averages for registered nurse candidates, according to information from the Texas Board of Nursing.
Dr. Dianna Miller, LC Dean of Health Sciences, said the quality of all of LC's nursing programs is based on team work. Students meet with a nursing advisor who discusses the different nursing professions and a retention specialist assists students in applying to the program. This helps the students determine the best career pathway for them.
In addition, the professors' nursing experience, knowledge level and dedication to the profession provides an excellent education for the students. A variety of learning strategies are incorporated in the theory, labs and clinical courses. For instance, the program has incorporated 25-40% of the laboratory time in simulation, skills lab and clinical courses.
The program uses a variety of manikins including 3GSim Mans/Nurse Annie Simulators, which present real-life situations for the students to respond to during their training. The maternity/pediatric courses have simulators for birthing moms, newborns and pediatric patients.
LC students receive a broader education with a greater depth of experience than can be found in an actual hospital setting.
In addition, the faculty members offer group and one-on-one weekly sessions to assist students through case studies, scenarios, understanding and practicing ways to improve on exams and much more.
BSN
The Bachelor of Science in Nursing (BSN) Program has also been a major accomplishment that will bear its fruits with the first graduating class walking across the stage in June 2020.
The purpose of the BSN Program is to provide the opportunity for nurses in the community with an associate's degree to further their education. The program's focuses on leadership, research, community and informatics.
The traditional ADN and BSN students take the same licensing exam. After completing the ADN Program and passing the NCLEX-RN, LC graduates can already begin working in the healthcare field while also pursing their BSN.
LC's BSN students are already registered nurses and the BSN degree provides students with a different nursing focus as well as a higher educational degree.
New building
Additionally, the South Campus College of Health Sciences Building will be opening its doors later this year with cutting-edge technology and state-of-the-art facilities for our students to have a great environment that is conducive to learning and honing their skills.
This building will also house a new Gateway Community Health Center clinic. This collaboration is the one of the first of its kind in the entire nation. Other colleges and universities looking to Laredo College as a model for this type of innovative partnership.
Full-time LC students will receive free dental services once a year. Medical services will also be available to qualifying students. Additionally, the clinic will moonlight as an on-site training facility for LC students completing their clinical rotations.
Dr. Miller said she is proud of the nursing team and for all of their collective efforts to provide effective and efficient nurses for our community.
"It is a great honor to be a pacesetter and we will strive to continue to be at the forefront of nursing education in Texas," she added. "We strive to be the best and to focus on the nursing profession changes which are occurring and to be the innovators required to assist students in meeting their goals and the community's needs."
If you or anyone you know is interested in becoming a nurse, contact the Laredo College Nursing Department at (956) 721-5252 to schedule an appointment to discuss the program requirements and career pathways.