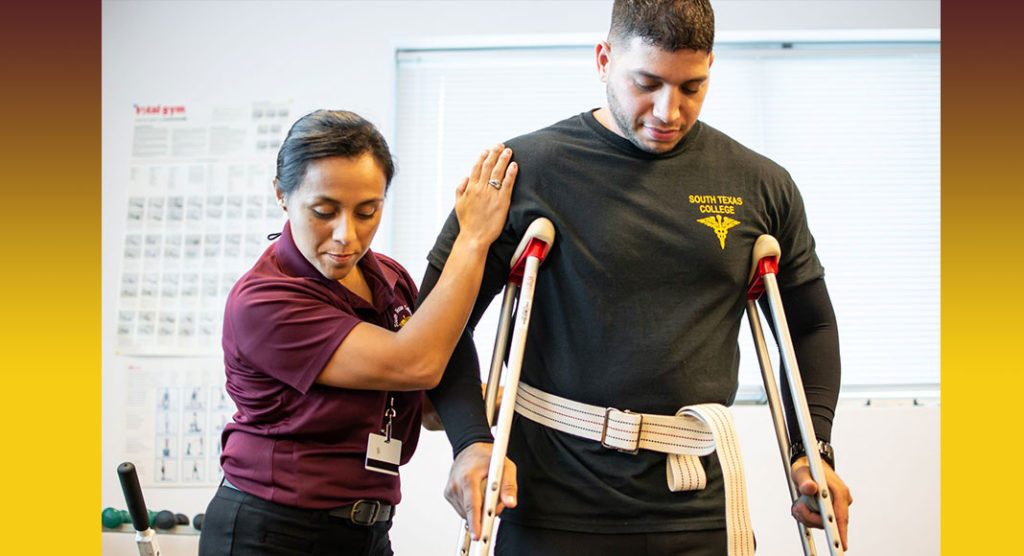 Mega Doctor News
McALLEN, TX – Grandma's chocolate chip cookies, laughing until your stomach hurts… and when the instructions work, IKEA furniture. Only a few things in this world even come close to perfection. But at South Texas College, the Physical Therapist Assistant (PTA) program really does have a perfect score.
From a flawless ultimate pass rate on the licensure exam to an unbeatable, 100-percent employment rate for grads within a year of passing, promising PTAs have been propping up STC's A+ average for 21 years straight.
"I saw that they had a 100-percent pass rate, and I heard really good things about it," recalls Valeria Gutierrez, proud grad from the 2019 class.
She discovered the field while working at a local outpatient clinic. Seeing firsthand PTAs' vital role in the physical therapy team, treating patients through exercise, gait and balance training, and other interventions, she was hooked. "I was like, 'This is awesome! And there's a program here at home!'"
Though she already had a bachelor's in exercise and sports science, Gutierrez saw that returning to earn her associate degree would put her on the fast track to a higher calling and a higher paycheck.
Though it might seem like swimming upstream, according to PTA Department Chair Diana Hernandez, transferring to the two-year program is the new trend. In this year's applications, says the chair, "I would say close to half have a bachelor's degree.
"People are realizing that… the opportunity and growth are tremendous."
In fact, PTAs are one of the top 15 fastest-growing careers in the country, according to Insider Monkey. The profession is flexing at 29 percent in Texas, much faster than the average for other industries. Meanwhile, Lone Star PTAs earn $67,000+, ranking #2 in the nation — even ahead of California.
Two decades of perfection doesn't come easy, especially on a grueling, four-hour, 250-question exam that 17 percent of PTAs nationwide fail.
"Somebody asked me," recalls Hernandez about the perfect pass rate, "what's your magic?"
It turns out that STC's super-secret exam-busting tips are not much different from how PTAs might counsel clients in the field: Make a plan, stick to it and work toward your goal steadily every day.
"You prep for it throughout your two years in the program," explains Gutierrez. In class, students develop their own professional plans for the next five years, with the first part dedicated to mapping out how they're going to ace the exam.
The test is a comprehensive assessment, covering body systems, use of equipment, safety and more. And the questions are no ordinary multiple-choice options — they are scenario-based questions that simulate clinical scenarios. It's a grueling mental workout that Gutierrez considers a trial by fire in the fast-paced field: "Once graduation is getting closer, they really prepare you with the materials you need to study."
In class and with their trusted study groups, students test, retest and drill to build their exam "muscles." By the time the exam rolls around, it's not exactly a breeze… more like a marathon that they've trained to win.
"I felt pretty confident going in because I knew that they had prepped us really well for it," says Gutierrez. Plus, a little healthy pressure always helps to hit the books: "They have a 100-percent passing rate, and you always think, 'I don't want to be that first person to fail!'"
What really fuels exam preparedness, according to Gutierrez? Learning how to deliver excellent patient care. On top of her studies, the STC grad says it was the practical, hands-on experience in the field that drove her to excel.
"I got three different settings for my practicums," recalls Gutierrez. From an outpatient clinic to a hospital and then pediatrics, she earned real-world training across three, six-week experiences encompassing 40 hours per week.
She says, "That was really cool that before I graduated, I got a little taste of all of those settings."
In fact, enjoying a variety of PTA placements has led Gutierrez to take on contract work and become her own boss.
"It's cool because I make my own schedule," beams the PTA, who works in the local school district, outpatient clinics, pediatrics, and home health therapy. "It's really fun. I get a mix of different settings all day."
Looking back on all of the healing how-tos, Gutierrez is also extremely thankful for the time management skills she gleaned at STC. "Especially now that I'm in charge of my own schedule," says the prolific PTA. "That has helped me out a lot."
But perhaps the most meaningful part of the program was the close connections she made in her small, 20-student cohort.
"Your classmates want to see you succeed," says Gutierrez. "Your classmates, your teachers, they literally become your family."
Her proudest moment in the program was the 2019 Pinning Ceremony, a unique PTA graduation celebration. On top of receiving special gold pins from professors, students also watched a presentation they had worked on throughout their two years in the program. "My whole family got to see a slideshow of the things we did," Gutierrez says. "It's something that I will never forget."
The magic didn't end with commencement. For Gutierrez, that family feeling remains strong. "I run into grads all of the time," she says. "I still keep in pretty close contact with some of my classmates, too."
STC-built PTAs can be found throughout the broad field, in pediatrics, sports medicine, nursing homes and more. According to the department chair, "That's why we create an environment where they learn to treat across the lifespan, anywhere from zero to 95."
The professor couldn't be prouder of the 21 years and counting of PTA professionals she's helped to cultivate, and she credits a large part of the program's success to the dedicated faculty.
"We joke that these are going to be our therapists someday when we're in the health care environment," says Hernandez. "We all share in the same drive to do the absolute best that we can by the students… We will do whatever it takes to help."
For Gutierrez, having close ties with the program chair was like having a "second mom," and she couldn't be more grateful. The only thing that would have made it truly perfect?
"I wish I had found this program sooner," says Gutierrez. "It's a wonderful program, with wonderful instructors.
"I'm just so thankful that I was able to be a part of it."