Valley Research Concluded Important to Evaluate Risk Factors and Take Preventive Measures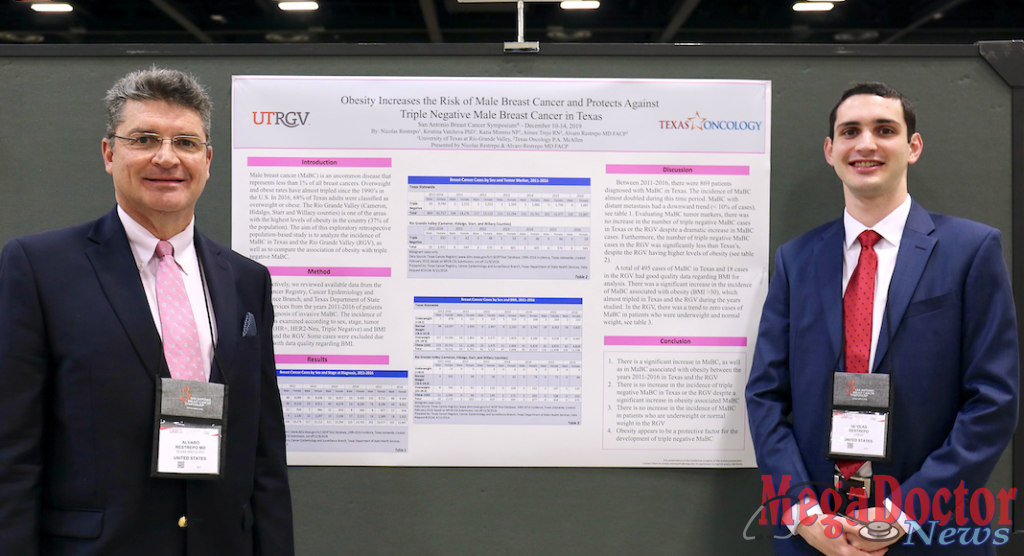 By Roberto Hugo González
As originally published by Mega Doctor News newsprint edition December 2019
According to Dr. Alvaro Restrepo, Oncologist Hematologist from Texas Oncology-McAllen. He and a group of dedicated researchers participated in the 2019 San Antonio Breast Cancer Symposium® (SABCS®), that took place this month in San Antonio, Texas.
Since 1977, the Symposium's mission has been to provide state-of-the-art information on breast cancer research. From a one-day regional conference, the Symposium has grown to a five-day program attended by a broad international audience of academic and private researchers and physicians from over 90 countries.
The research presented by Valley professionals led by Dr. Alvaro Restrepo, and his son Nicolas Restrepo, a UTRGV Pre-Medical Undergraduate Student. The vital collaboration of Statistician UTRGV Kristina Vatcheva, Ph.D. Also, Kathia Moreno, and Aimee Trejo being part of Texas Oncology.
According to Nicolas, the research was done by UTRGV and Texas Oncology. He also pointed out that that this project was accomplished without the need for third-party funding as data was collected from the Texas Cancer Registry.
Overweight/obesity is known to increase the risk of at least 13 different types of cancer, including breast cancer (CDC, 2019). Male breast cancer (MaBC) is an uncommon disease that represents less than 1% of all breast cancers.
The most extensive study done on male breast cancer looked at records from 1,473 men diagnosed with breast cancer and treated between 1990 and 2010 from nine different countries.
Dr. Fatima Cardoso, M.D., lead author of the study, found that 92% of male breast cancers in the study were estrogen-receptor-positive, 5% of the male breast cancers were HER2-positive, and 1% of the male breast cancers were triple-negative ("Male Breast Cancer is Different in Terms of Biology and Outcomes," 2015).
"Researching males with breast cancer is challenging due to how rare that form of cancer is for men," Dr. Restrepo said.
This exploratory retrospective population-based study aims to analyze the incidence of MaBC in Texas and the RGV, as well as compare the association of obesity with triple-negative MaBC.
Despite the high obesity rates in RGV and the higher odds of breast cancers in males, particularly in overweight and obese BMI cases in the RGV, there was no increase in the incidence of triple-negative MaBC in the RGV.
This result generates the hypothesis and future research question about the potential protective effect of obesity on the development of triple-negative MaBC in RGV and Texas. Still, more extensive retrospective or prospective studies are needed to support these suggestions.
"This study on male breast cancer, which is an understudied disease, is a great step forward in understanding the link between obesity and male breast cancer." Dr. Restrepo said, "It's important to understand the diseases that affect our community so we can take action to correct risk factors and take preventative action."
The concern is that obesity is a significant health issue, and consequences are multiple cancers, including male breast cancer. Dr. Restrepo added, "The obesity epidemic compromises our communities' quality of life, cost, and survival."
Kristina Vatcheva, Ph.D. and assistant professor at the School of mathematical and statistical sciences at UTRGV, Brownsville campus, said, "In the Rio Grande Valley (RGV) ranks as one of the areas with the highest levels of obesity (37%) in the country. Obesity increases the risk of developing breast cancer in pre- and postmenopausal women and negatively affects breast cancer recurrence." She continued, "Analysis of Texas Cancer Registry Data (2011-2016) showed an increasing trend of male breast cancer cases across BMI groups in non-RGV Texas region as well as 4.4 times higher odds of triple-negative breast cancer in males compared to females."
She added, "Despite the high obesity rates in RGV, there was no significant difference in breast cancer incidence and tumor type between males and females and across the BMI groups."
She continued, "These results suggest that obesity may have a protective effect on the development of triple-negative male breast cancer in RGV. Prospective studies would help corroborate these results."
The 2019 San Antonio Breast Cancer Symposium® (SABCS®) presented by UT Health San Antonio, the American Association for Cancer Research (AACR), and Baylor College of Medicine. It brings together breast cancer researchers and clinicians from around the world. It provides an ideal format to present new and late-breaking data as well as other pertinent information, including diagnostic developments.