Now, the Mission Regional Medical Center is beginning to be called the "Hospital with an Angel"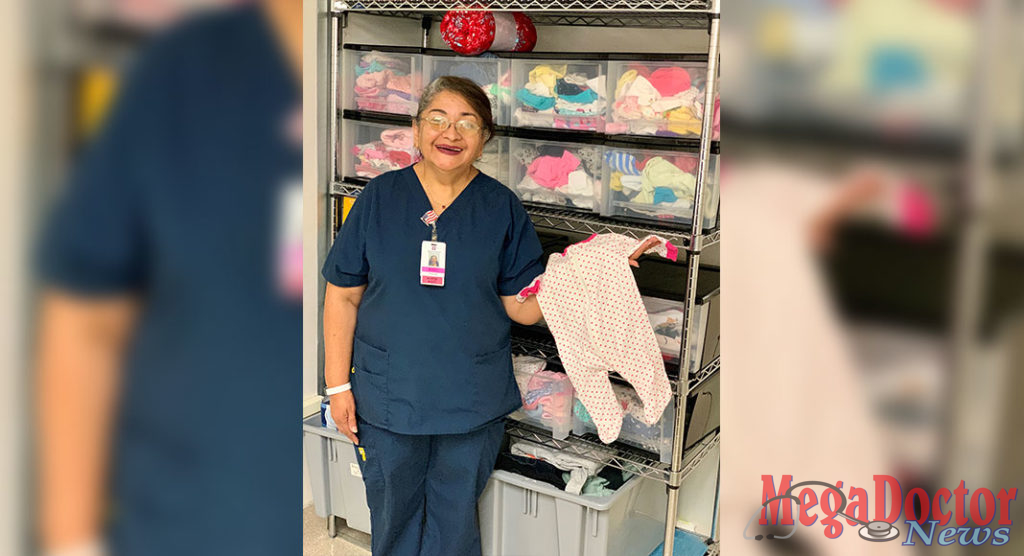 Mega Doctor NEWS
Belinda Gonzalez is a Certified Nursing Assistant (CNA) who began working at Mission Regional Medical Center (MRMC) four years ago. Two years ago, Belinda met a patient who gave birth at the hospital. Unfortunately, due to the lady's circumstances, the baby did not have any clothes to wear to go home in at the time. Belinda then began a project which would be known as "Belinda's Closet," where she would collect clothing for newborns from her friends, family, and staff.
The necessity grew incredibly, so she decided to host a baby shower in the hospital to collect more clothes for other patients. Belinda realized that this was going to be a monumental task and opted to ask the hospital's staff to support the noble cause. "I do not like seeing a baby go home with just a little gown," Belinda said.
The response was extremely positive; everyone worked together and began collecting new and gently-used baby clothes, as well as garments for mommies, toys, bags, socks, t-shirts, etc. "We have so much to give, let's do something for them!" Belinda exclaimed.
As time went by, the Mission Police Department and the MRMC Emergency Room asked her for help with clothes for patients in need. People's joy has brought awareness to this project; her closet has been growing more and more. She has all of the clothes sorted out by gender and sizes that range from preemie to sizes as large as 9-10 years, but the need for more clothing will always be there. "There are patients who will take 2-3 outfits," she explained. "It depends on if they will be traveling for more than three days to their destination. Each patient receives a bag that contains a blanket, socks, 2-3 outfits, towels, and bibs. We have to help each other out!"
This year Belinda made it to the hospital's WOW Award, she is a recipient for 2019 3rd quarter. The WOW Award is granted to outstanding employees who go above and beyond for their coworkers and patients. She is very humble and says she does it because it simply "comes out of her heart!"
Belinda is known to all for having a giving heart of gold. As far as they know, she is an Angel working in the hospital and doing a little bit more to help others. She plans to continue collecting clothes and enjoying the smiles of the people that received them.
If you are interested in donating new or gently used items, please contact Belinda Gonzalez at 956-323-9950 or send us an email to Plopez3@primehealthcare.com.