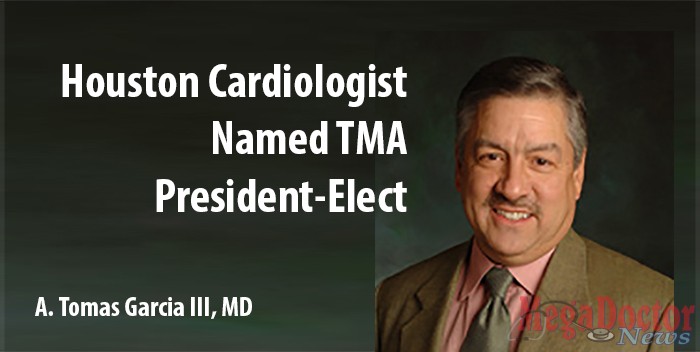 Mega Doctor News
- Advertisement -

The Texas Medical Association (TMA) has elected. A. Tomas Garcia III, MD, as its president-elect. TMA's House of Delegates, the association's policymaking body, elected Dr. Garcia today during the association's annual conference in Fort Worth. Dr. Garcia will serve as president-elect for one year, before becoming the association's 150th president.
The Houston cardiologist says, "This is an exciting and challenging time for our profession. With the challenges facing us, it is important to maintain focus on our vision: 'To Improve the Health of All Texans.' "
Dr. Garcia stressed that organized medicine must support its vision — to protect the patient-physician relationship and improve health care for all Texans — which TMA has worked so hard to do throughout the years. "By standing together, all of us will succeed individually if we work collectively as a cohesive body of professionals to the benefit of our patients," he added.
Dr. Garcia has dedicated more than 30 years to leadership in organized medicine. He has been chair and secretary of the TMA Board of Trustees, chair of TMA's Committee on Cardiovascular Diseases, and president of the TMA Foundation, the association's philanthropic arm. In addition, he has been a member of TMA's House of Delegates since 1995 and a district chair of TEXPAC, TMA's Political Action Committee.
Dr. Garcia also has served on TMA's Council on Legislation and Border Health Caucus. Over the years, Dr. Garcia has advocated for improving Texan's health by testifying before the Texas Legislature and visiting with lawmakers in Washington, D.C.
In Houston,Dr. Garcia served as president of Harris County Medical Society (HCMS) in 2008 and is currently a member of the Texas Medical Center and Gulf Coast Regional Blood Center boards. He has served in numerous HCMS leadership positions over the years, including chair of its delegation to TMA from 1999 to 2001.
On the national level, Dr. Garcia has served as the TMA delegate to the American Medical Association (AMA) House of Delegates since 1998. He also served on the AMA Special Advisory Group Extraordinaire in 2002.
- Advertisement -

Leadership runs in the Garcia family's blood; Dr. Garcia's sisters also are leading their respective organizations. A Corpus Christi attorney, Lucinda Garcia is president of her local bar association, and Lily Garcia-Bohnenkamp, DDS, a faculty member at The University of Iowa, College of Dentistry, is past president of the American College of Prosthodontics and current chair of the American Dental Education Association.
Dr. Garcia is a native Texan and a graduate of The University of Texas at Austin with a bachelor of science in pharmacy. He has practiced cardiology in Houston since 1981. He is an Eagle Scout and an active member of the Boy Scouts of America, Sam Houston Council. This year, he was presented with a National Outstanding Eagle Scout Award for Adults. Dr. Garcia and his wife, Alma, have been married for 43 years and have four adult children and two grandchildren. Dr. Garcia and his wife are long-time members of the St. John Vianney Catholic Church in Houston.