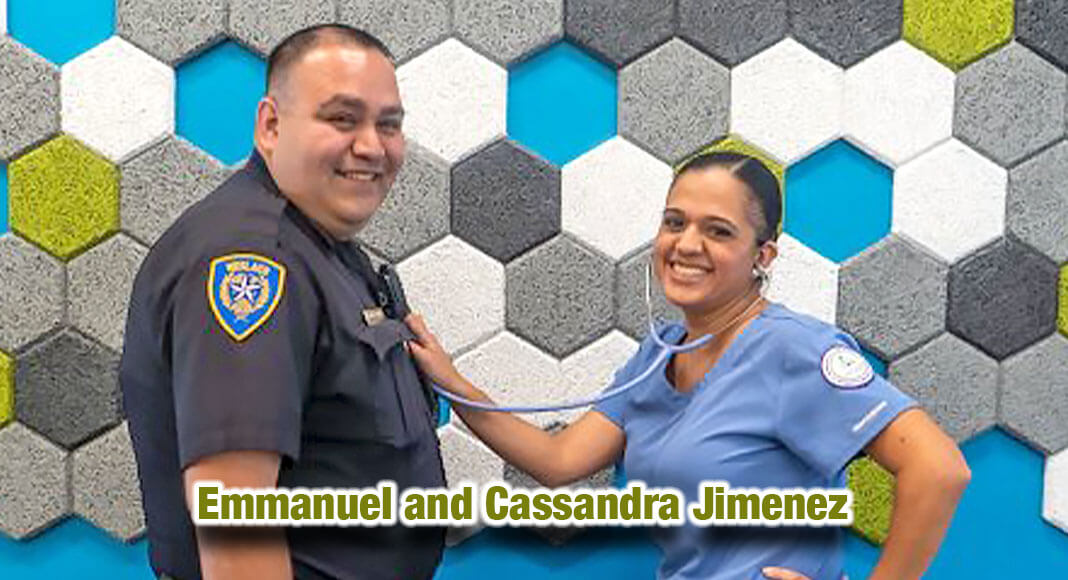 - Advertisement -

Mega Doctor News
McALLEN, Texas– Emmanuel and Cassandra Jimenez agree that all they have achieved and will achieve in the future has been rooted in a deep admiration and faith in each other.
Faced with roadblocks standing in the way of advancement in their careers, the Weslaco husband and wife speak of the critical moment they realized that the only way to move forward was through higher education.
And getting there would be among the hardest challenges they ever faced as a couple, both said.
"It's been very, very tough, especially since we have five kids, and I always knew I wanted to go back to get my RN, but I thought it was impossible," Cassandra said. "I needed to go back. He (Emmanuel) was saying the same thing. He needed to move up the chain of command and I needed to move up the ladder. But we both couldn't move up because we did not have a degree. We only had licenses so we couldn't go much further. So, we said 'Let's try STC."
Emmanuel has been a peace officer with the city of Weslaco for the last 10 years while Cassandra has been employed in an oncology unit as an LVN since 2008.
Now after years of hardship, both will receive their degrees together from South Texas College. Emmanuel will receive his Associate Degree in Law Enforcement and Cassandra will receive her Associate Degree Nursing (ADN) May 7.
Through their challenges both in their personal lives and at STC, the Jimenez's say their faith didn't waiver even when they decided to take a drastic step and sell their home and vehicles so Cassandra could finish her nursing degree.
- Advertisement -

"I didn't want to have her worried about bills," Emmanuel said. "We put the house on the market and it sold really quick, and we moved everything into the apartment, and I mean everything. It was us, and our five kids moving into a three-bedroom apartment from a four-bedroom home, but in the long run we knew that giving all of that up so she (Cassandra) could get her RN was going to be worth it."
The family also opted to sacrifice their vehicles.
Cassandra said she gave up her prized 2021 Chevrolet Tahoe Z71 for a 2009 Nissan Versa offered by an aunt. Emmanuel traded his 2020 Dodge Charger Scat Pack Widebody for a 2006 Mercury Mountaineer donated by his mother, he said.
"Materialistic things come and go but your degree is always going to stay with you and nobody can take that away," Cassandra said. "We are thankful for everyone who has sacrificed with us. And look at us now. We're graduating with our degrees and we're even moving into a new house this month. It's always a sacrifice before the bigger reward in the end. And honestly, that's what we're doing. That right here is where we're at."
The Jimenezes will walk the stage on Saturday and will be among the 3,100 graduates who will receive degrees during South Texas College commencement ceremonies May 6 and May 7. Graduation will be comprised of five ceremonies taking place at the Bert Ogden Arena.
"Here we are here with less than a week until we graduate. And, you know, we're both graduating together at the same time, same place. It's just an eye opener," Emmanuel said. "I told her (Cassandra) so many times that I never thought I could do it. I never thought I could get my associate degree. It never really was something that I wanted to do. It was just like, I started seeing that it was possible. And every class that I kept taking got me so much closer to that along with her pushing me."
Graduation ceremonies will be streamed live on both days.
For the link and more information, including requirements or dates and times, please visit www.southtexascollege.edu/graduation/.