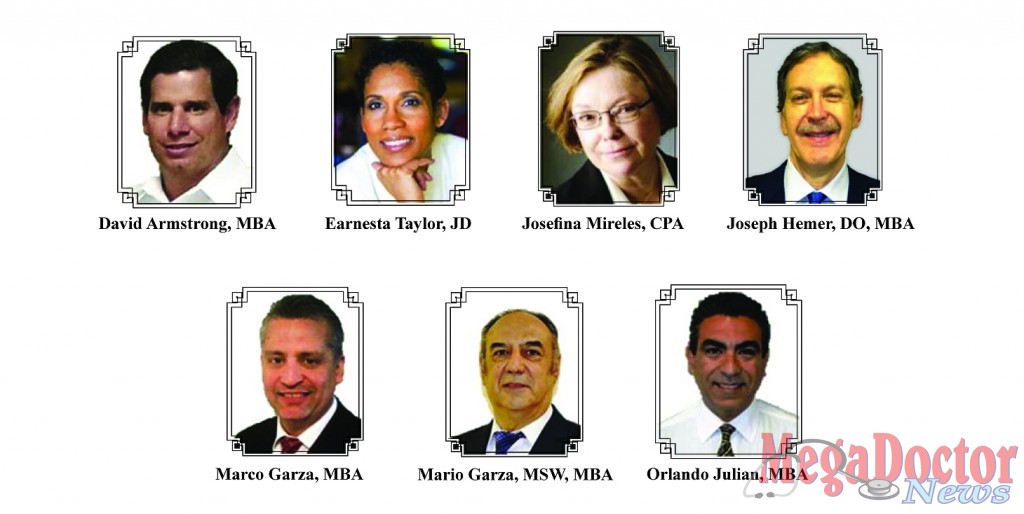 Mega Doctor News
- Advertisement -

This Executive Practice Management Certificate Program is designed for healthcare practice managers including but not limited to Physicians, PAs (Physician Assistants), FNPs (Nurse Practitioners), Pharmacists, and Mental Health Practitioners. UTPA Continuing Education at the UTPA McAllen Teaching Site offers this program.
The course objectives are as follow; Practice Management, Professional Responsibility, Financial Management & Accounting, IT & Business Operations, Human Resource and marketing.
"The training is divided into six modules and we are gearing up for the course offering in September of this year so call us for any information," according to Jayshree Bhat, MS, MBA Director of Continuing Education at the UTPA McAllen Teaching Site.
She also pointed out that Legal Issues and Risk Management topics are incorporated into each module to provide a full range of knowledge in all aspects of practice management.
This program is primarily designed for physician practice managers due to which the Continuing Medical Education (CME) credits are available for physician attendees who complete the assigned modules.
Upon completion of this program, participants would have attained knowledge to meet the following learning objectives: Develop an action plan for building efficiency in the medical practice, Develop skills to analyze and control practice overhead, debt, and equity, Define and summarize their leadership role, personality style and communication skills managing conflict as a practice owner and employer, Build a team that reflect and share the practice mission, vision and goals and Understanding the information technology issues as they relate to practice management and learn how to effectively select and implement the best practice management tool as well as EMR (Electronic Medical Records).
Participants need to complete all 6 modules listed above to receive the certificate of completion for the program. However, the program is flexible enough to allow people to register and attend any module that is of interest to them if they do not intend to obtain the certificate of completion for the entire program.
- Advertisement -

The Legal Issues and Risk Management are woven into each module to provide a full range of knowledge in all aspects of Practice Management.
Continuing Medical Education (CMEs) units for this program are approved by the University of Texas-San Antonio Medical School CME Department.
There is an early bird registration fee for the certificate program that physicians or interested participants should take advantage of because there are substantial savings. Call the UTP office at 956-665-2071 to learn more about the schedule.
Meet the Distinguished Instructors:
David Armstrong, MBA 
David Armstrong holds a BBA in Accounting and an MBA from the University of Texas-Pan American. Prior to opening his own business, he was a business counselor and then the director of the Small Business Development Center at UTPA, where he developed a passion for helping small local businesses. After 5 years in the private sector as the CFO of a large vehicle dealership, David started Core Business Solutions, a provider of office equipment and business services. One component of the company provides support for medical entities, such as the installation of EMR software packages and ongoing support of the network infrastructure; HIPAA compliance technology audits; and technology consulting.
 Earnesta Taylor, JD
Earnesta L. Taylor is currently a transactional attorney with Walker & Twenhafel, L.L.P. law firm in McAllen, Texas. She joined Walker & Twenhafel, L.L.P. 7 years after being admitted to practice in Texas and after accomplishing her long-held goal of operating a solo practice.
To keep up with the needs of her clients and the community, Ms. Taylor's practice evolved from immigration and employment law to primarily health law with a strong emphasis on physicians' contracts, sales and acquisitions of medical practices and related entities. Most recently, with the passing of the Affordable Care Act, many sweeping changes have been made and are being implemented that affect the practice of medicine.
One of Ms. Taylor's goals is to focus on the impact of these changes to physician practices and to assist physicians and other providers on adjusting to the new laws and regulations.
Josefina Mireles, CPA
Josefina is a partner with Burton McCumber & Cortez, L.L.P. She graduated Summa Cum Laude from Laredo State University with a B.B.A. in Accounting in 1986. She received her Master of Science in Accounting from Texas Tech University in 1987, and obtained her Certified Public Accountant certificate in 1989. Josefina has extensive experience in all aspects of physician practice management, including billing, accounts receivable management and productivity analysis. She also has provided services in the area of accounting, taxation and securing employee benefits and retirement plans to physician clients.
Joseph Hemer, DO, MBA
Dr. Joseph Hemer is the President of Valley ENT, a multi-location,  Ear Nose and Throat (ENT) group practice where he also provides consultation on Otorhinolaryngology, Facial Plastics, and Cosmetic Surgery. In addition to being the Doctor of Osteopathy, he has a Masters in Physiology, and MBA from University of Texas- Pan American. He currently serves as the Chairman of Utilization and Insurance Committees at Mission Regional Medical Center (MRMC). Being a Bronc Alum, Dr. Hemer is committed to the Healthcare Practice Management Certificate Program and brings a wealth knowledge from his clinical and business background which will tremendously benefit the physician attendees of the Healthcare Practice Management Certificate Program.
Marco Garza, MBA
Marco Garza is a proud native resident of South Texas and a lifelong learner. He earned his Bachelor's of Business Administration (BBA) with a concentration in Management, secondary concentration in Total Quality Management (TQM) from Texas A&M University – Kingsville, Masters in Business Administration (MBA) from University of Texas – Pan American, and is in the final stages of completing his PhD in Human Resource Development from Texas A&M University.
He currently serves as the Regional Director for UniqueHR, a Professional Employer Organization (PEO) that provides a full suite of Human resources outsourcing services including HR Services, Workers Compensation, Safety/Risk Management, Benefits and Payroll Administration. Prior to that, he served as the Director of Organizational Effectiveness with ARAMRK Healthcare and Executive Site Director for T-Mobile. He also served on the local workforce development for 7 years and holds adjunct faculty positions with University of Phoenix, McAllen Campus, Texas A&M University, Kingsville and University of Texas, Pan American.
Mario Garza, MSW, MBA 
A well seasoned, health care administrator with over 20 year experience, in hospital administration, physician practice management, home health, pediatric rehab, consultant and as an Educator – within the UTPA MBA program for physicians. Experiences from all of these settings, offers the Continuing Education student – a comprehensive, insightful, prospective to the local medical market place. He also has a track record of patient advocacy and lobbying to protect the rights and benefits of special needs populations. He has earned a Masters in Business Administration from UT Austin and also a Masters in Social Work from St. Louis University.
His teaching style utilizes a Harvard Case Analysis methodology – the establishment of basic concepts, which are then applied to analyze real life situations. Students are then ask to present their findings in both a small group setting and open class. Participants will evolve a broad range of managerial skills, to better administer, market and adapt to changing medical market conditions.
Orlando Julian, MBA
Orlando A. Julian is currently vice president of operations for Superior Health Plan in the Hidalgo service delivery area. He joined Superior Health Plan in late 2011 in order to prepare and assist the company with its expansion of operations into the South Texas region. Mr. Julian has a master's degree in business administration from UTPA and is also trained as a physician.
With over 15 years of experience in the administrative and operational aspects of health care, Mr. Julian has held important executive positions in multi-location physician offices, hospitals, home-health agencies, and managed care organizations in both Florida and Texas. Most recently the State of Texas' managed care expansion and the passing into law of the Affordable Care Act has brought about many sweeping changes affecting physician practices that either have already been implemented or are planned to take effect in the very near future. One of Mr. Julian's goals is to focus on the operational aspects of physician practices and how they must change in order to successfully comply with these new rules and regulations. MDN