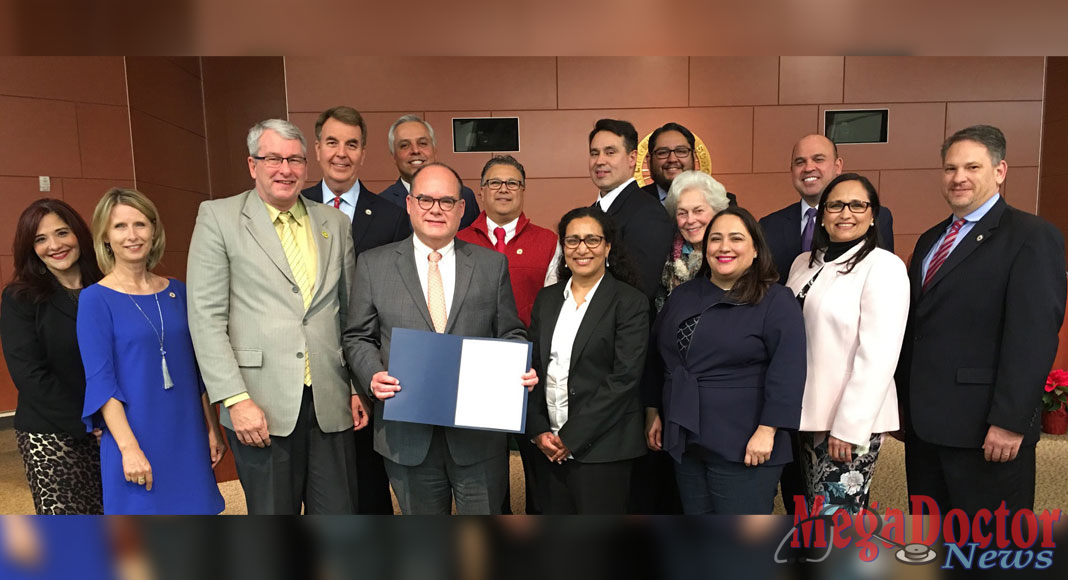 Mega Doctor News
By Jennifer L. Berghom
In an effort to cultivate more homegrown health providers, The University of Texas Rio Grande Valley is entering into a new partnership with the Harlingen Consolidated Independent School District.
UTRGV and Harlingen CISD on Tuesday, Dec. 11, signed a letter of intent to create a pipeline to help students in the Harlingen High School of Health Professions prepare for entering the university's Bachelor of Science in Biomedical Sciences (BMED) program and the UTRGV School of Medicine.
The university and school district are developing a memorandum of understanding that will define the relationship in greater detail.
"This exciting new partnership helps expand our mission to build a robust workforce in the healthcare sector and increase the number of Rio Grande Valley students enrolled in medical school and health professions programs," said Dr. John H. Krouse, executive vice president for Health Affairs and dean of the UTRGV School of Medicine.
"This partnership will provide a pathway for local students who are interested in careers related to medicine and other health professions to train and practice here," he said.
Under this initial agreement, UTRGV will work with Harlingen CISD to develop a robust curriculum and offer counseling and advisement to students so that they are well prepared to apply to UTRGV and the BMED program.
Dr. Saraswathy Nair is the associate professor and chair of the UTRGV Department of Health and Biomedical Sciences. She said UTRGVand Harlingen school district employees are still working out the details of the partnership. But the intent is to ensure that high school students who are interested in pursuing careers in medicine and healthcare have a strong knowledge of the science and mathematics required of those professions. 
Nair said she hopes this partnership also will help retain some of the top-performing students in the area, who often leave the Valley to pursue post-secondary education at Ivy-League schools or flagship institutions. She also hopes that, by having the university work with the schools, other promising students will become more competitive candidates for medical school and graduate programs in other healthcare-related fields.
"We would like to retain some of them in the hope that they will choose to practice on the border and that there will be more access to healthcare, addressing health disparities," she said. "The idea is really long-term in improving health disparities in the area."
The pipeline program will begin recruiting rising high school juniors in spring 2019 and expects to enroll about 20 students who are interested in attending UTRGV when they graduate high school for its first cohort in the fall of 2019.
Dr. Art Cavazos, superintendent of the Harlingen CISD, said the district is excited to expand its partnership with UTRGV and for the opportunities for students it will create.
"In collaboration with UTRGV, we are creating a pipeline that will prepare students for matriculation into a post-secondary medical program," Cavazos said. "The medical industry is one of the fastest-growing areas in the Valley, and HSHP was designed specifically with that in mind. This new program is just another way we continue to position our students at the front of the line for opportunities."