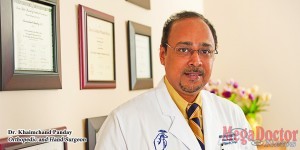 By Roberto Hugo Gonzalez
As originally published by Mega Doctor News newsprint Edition
Dr. Khaimchand Panday a specialist in Orthopedic Surgery and Hand Surgery based in McAllen, Texas, has had the opportunity to work not only in different cities but also in different countries.
Dr. Khaimchand Panday has worked around the world and holds medical licenses in Texas, Washington State, the United Kingdom, and Barbados in the West Indies. He started his medical career by receiving his preclinical medical training at the University of Ibadan in Nigeria.
It is important to note that a hand surgeon uses special techniques to work on hands – a unique area of the body with small bones, joints, ligaments, tendons, muscle and nerves that all need to be in good working order to function well together.
Dr. Panday went to the University of the West Indies to complete his clinical medical training. He also worked in several hospitals located in the West Indies and the United Kingdom.
In September of 1990 he began a Northern Region Post Graduate Orthopedic Training Program that is affiliated with The University of Newcastle upon Tyne, in the United Kingdom and approved by the Royal College of Surgeons and the British Orthopedic Association.
Dr. Panday pointed out that most hand surgeons are trained as general surgeons, plastic surgeons, or orthopedic surgeons, with hands as a subspecialty. Many also have expertise in problems with the elbow, arm and shoulder. Hand surgeons treat problems such as carpal tunnel syndrome; tennis elbow; wrist pain; arthritis; nerve and tendon injuries; and fractures of the hand, wrist, or forearm.
Dr. Panday's education through this training consisted of rotations through six teaching hospitals for six months each. During this time he specifically focused and gained experience in the areas of traumatic orthopedics. He then completed his orthopedic residency training at McMaster University in Canada.
His post-residency clinical fellowship was undertaken at the Hamilton General Hospital, which is the regional trauma center for the south-central region of the province of Ontario and is the second busiest level one trauma center in Canada. During this time he was a trauma team leader in the trauma program and was also involved in the teaching of residents and medical students in orthopedic and trauma care. After he completed the program and successfully completed the certifying examination in orthopedic surgery, the Royal College of Physicians and Surgeons of Canada awarded him the FRCSC Degree.
In 1998 he was recruited by Rio Grande Regional Hospital Texas and came to McAllen to provide hand and upper extremity surgery. He currently has a solo practice that is exclusively hand and upper extremity orthopedic surgery and he is the Chief of Orthopedic Surgery at Rio Grande Regional Hospital.
Dr. Panday was born in British Guyana, South America. "My father was Jag Panday a businessman and my mother Mangalawatie was a housewife. I have two sisters that now live, along with my mother, in Toronto, Canada," he told Mega Doctor News.
He says that one of the greatest challenges in his profession is to be able to accept that some patients have pain and disability that cannot be helped with existing treatments. "Following the process of relieving a patient of pain and returning them to their full activities brings me the most satisfaction," he said.
"What sets me apart from other surgeons is my staff. I have had the same office staff since December 2004. Every one of them gives their all to make our patients feel at ease. We strive to treat our patients like they are family. I commend my staff for going the extra mile."
Dr. Panday says that he has been a doctor in this field for the last twenty-eight years. "I gave up my personal life and sporting activities to pursue my career. I can honestly say that if I had to do it all over, I would not do anything different," he says.  "I would not you give up my medical practice to do anything else. I love what I do."
When he was a little boy, his grandfather suffered from Parkinson's disease and it inspired him to become a Doctor.  "From a young age, I wanted to do something to help him," Dr. Panday said.
Dr. Panday loves to get involved with the community especially with non-profit organizations. "I support the Food Bank, Comfort House, Mujeres Unidas, the USO, and the Red Cross," he said. He is married to Dr. Charmaine Browne, she is a dermatologist and they have a 7-year-old daughter.
"I met my wife when I was an intern and she was still a medical student in the operating room." He pointed out that she had the mask on while she was observing a medical procedure and saw lipstick behind her mask and he said to her, "This is a place for surgeons in training and not for budding Picassos." Dr. Panday said that Charmaine turned red.
Later on when he saw her again without the mask he saw how beautiful she was and felt flabbergasted because he didn't how to re acquaint her. "I apologized to her and invited her to have coffee and I needed to take the opportunity to explain myself," Dr. Panday said.
Dr. Panday pointed out that his patients inspire him to excel in his profession. "They are the ones with the struggles who keep me going to reinforce that I am doing the right thing. He said that the day that his patients make feel that he is not doing the right thing he would quit.
"My wife also truly inspires me because she has such an appetite for knowledge.  She strives to do things at the highest level that sometimes I feel that I do not do enough myself," he said.
He and his family love to travel, it is one of the activities that he does while not being a doctor. "I enjoy good music and play the guitar.  My future plans include volunteering in developing countries and under-privileged areas in the United States," he said.
Dr. Panday recently was recognized and honored by the RGV Hispanic Chamber of Commerce for his excellent skills, his ways of caring and superb bedside manner.  Dr. Panday serves as Sec./Treasurer, Medical Staff to the Rio Grande Regional Hospital and is the Team Physician of the Rio Grande Valley Killer Bee's. He is proud to have performed more than 10,000 surgeries in his medical field.
"I would like to be remembered as a physician who went above and beyond for my patients. A man who appreciates the blessings I was given, my family, and my staff, my friends, my health, and my vocation. I would like to be remembered as an unselfish, loving, tolerant, non-judgmental husband, father, boss and friend," he finalized. MDN
Written by Roberto Hugo Gonzalez the 2009 SBA Journalist of the Year Award Winner & The 2009 and 2012 Paul Harris Award recipient.