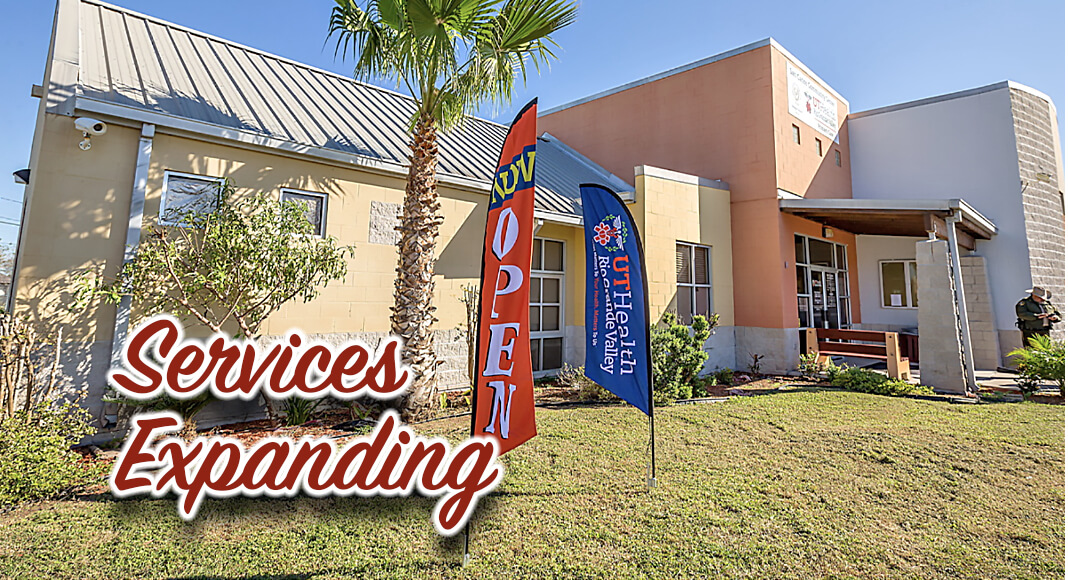 Mega Doctor News
By Karen Villarreal
RIO GRANDE VALLEY, Texas – Edinburg resident Maluisa Gonzalez has been a patient of UTRGV's mobile OBGYN project, Healthy Mujeres, for almost a year.
"No hay como la salud," she said. Nothing can replace good health.
Without a car of her own or the financial means for healthcare, she said, she is grateful that Healthy Mujeres – which operates once a month out of UTRGV's Area Health Education Clinic (AHEC) in San Carlos – is free of charge and only two buildings away from a bus stop.
"I get my annual – all the preventative checks – which I couldn't have afforded otherwise," Gonzalez said. "And they provide very good care. I tell everyone I can about it."
That's good news for Maria Aguilar, the program specialist for Healthy Mujeres, who assists with scheduling appointments for more than 30 patients on the days the OBGYN staff are at the San Carlos AHEC and UTRGV School of Medicine's UniMóvil mobile clinics.
Aguilar said she and the program's two community health workers find great satisfaction in providing information about services so people who need it can have access to care, like preventative screenings to identify cancer.
"Some of our patients have gotten their first-ever annual exam with us. For some women, it had been over 30 years," Aguilar said. "Our patients are survivors."
To further serve rural patients like Gonzalez, Healthy Mujeres is expanding its services and schedule, offering twice-a-month opportunities for free reproductive and prenatal healthcare at designated rural community sites via the AHEC clinics, as well as through UniMóvil.
A HISTORY OF CARE
Healthy Mujeres, a University of Texas System Population Health-backed project, since 2019 has worked to reduce neonatal morbidity rates in Texas ­– some of the highest in the country – by bringing professionals who can offer pregnancy testing, ultrasounds, and other preventative and reproductive health services to underserved and low-income communities.
"We first addressed it from the mom side of things," said ­Dr. Saul D. Rivas, medical lead for the Healthy Mujeres team and an assistant professor of Obstetrics and Gynecology at the UTRGV School of Medicine. "Healthier women tend to have healthier pregnancies and babies."
Rivas, joined by another physician and a nurse practitioner, would take UniMóvil to rural areas or set up at AHECs in community centers.
They soon found that their patients needed additional services to manage their reproductive health better, like gynecological screenings and family planning options.
To help fund those additional services, Rivas andHealthy Mujeres, in collaboration with Dr. Divya Patel, associate professor atUniversity of Texas System Population Health, were awarded $1 million from the Department of State Health Services.
Since September, they have helped more than 500 women with the additional funding.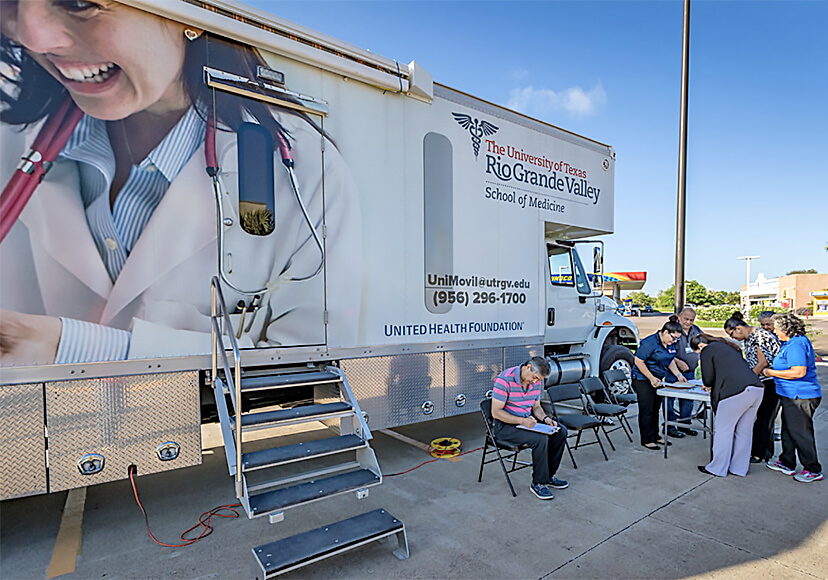 EXPANDING SERVICES
Fully operational after a pause during the COVID-19 pandemic, the mobile OBGYN team now offers free contraception, screenings for cervical cancer and sexually transmitted diseases (STDs), and mammogram referrals.
"We're just about full scope now," Rivas said. "We do screening and counseling and refer patients for mammograms services when needed. We can help them navigate getting follow-up care, too."
Contraceptive options available to women who want them include birth control pills, condoms, rings, injections, andlong-acting reversible contraception (LARC) options like the implant and IUD.
During a visit, a nurse practitioner and medical assistant talk to patients about their options and carry out procedures, like inserting/ removing the LARCs or giving injections, on-site at the UniMóvil and AHEC clinics.
"We've established consistent services and a trustworthy staff, so we've had a very positive response from the community," Rivas said.
Rivas said that in addition to providing services, they have been able to bring on students from the UTRGV School of Medicine to get valuable experience. Astudent in their first four years of medical school can observe and take patient histories, while a medical resident, having completed medical school, does patient interviews and examinations – still under observation of Rivas and the other physician on staff.
"Depending on what skill they're learning, we integrate them into the process," Rivas said. "Helping with the procedures encourages the next generation of physicians to dedicate time and effort to their studies."