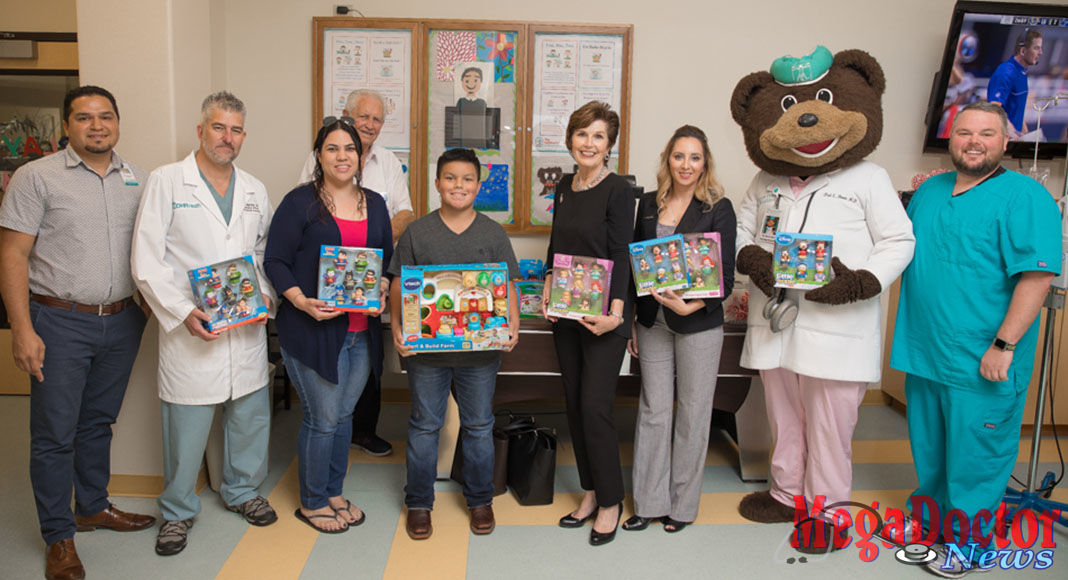 Mega Doctor News 
Edinburg, TX — Edgar Barajas was just 10 years old when he was diagnosed with an unusual form of leukemia. When he was contacted by Make-A-Wish® Rio Grande Valley, he decided to use his wish to help brighten the spirits of kids like him. On October 5, 2017, Edgar and Make-A-Wish® stopped by the Children's Center at Renaissance to donate gifts that Edgar picked out during his shopping spree.
As a former patient at the Children's Center at Renaissance, Edgar understands the struggle kids go through while receiving treatment and hopes these toys can provide them with an escape.  "When I was here, Nick (my nurse) would play with me to keep me busy," states Edgar. "I wanted to get kids something to play with when they are in the hospital."
When the Child Life Program began at DHR Health, Edgar was a patient at the Children's Center at Renaissance. Nick Gonzalez, the Child Life Specialist at DHR Health, remembers how Edgar really enjoyed the games and toys that were in the playroom. ""We had an opportunity to hang out a lot and play while he was here," states Nick Gonzalez. "One day, I was speaking with Edgar's mom and mentioned that the majority of the toys were donated. That's when she thought of doing a drive or fundraiser to give back."
Edgar's mother, Kimberly Hernandez, remembers when Edgar told her he wanted to use his wish to purchase toys for the playroom. "He told me that he wanted to use his wish to buy toys and give back to the kids. And I thought 'that's a good idea,' because we remembered our time here and how it would help him," states Hernandez. "It helps keep kids busy while they are going through treatment and it cheers them up."
The Child Life Program at the Children's Center at Renaissance is dedicated to helping kids and their families during their stay in the hospital. Child Life Specialists work with the patients to help them cope with their condition, educate them in an understandable and kid-friendly manner, and encourage them to participate in activities that promote the healing process.