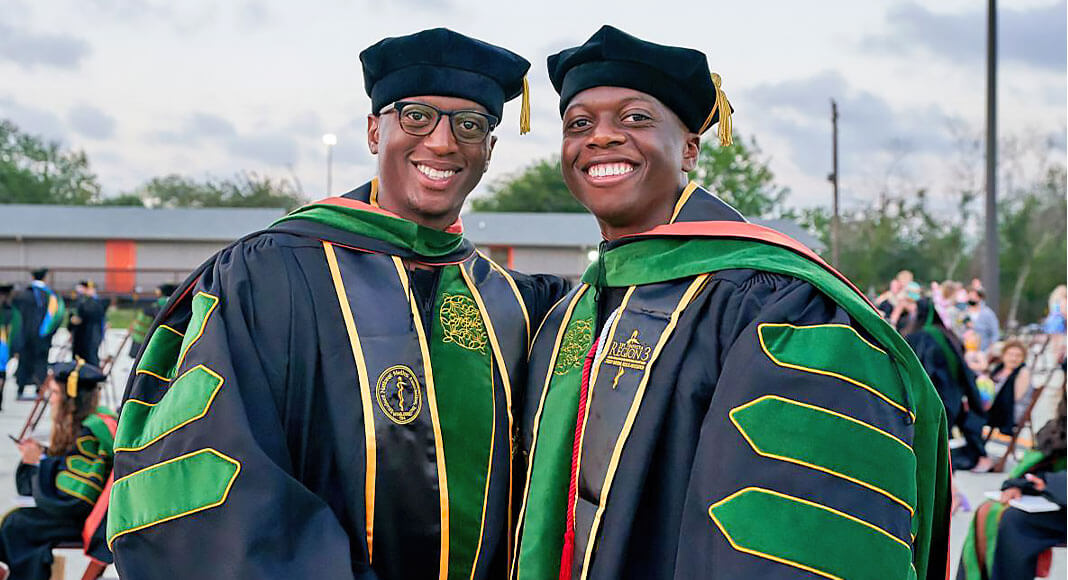 - Advertisement -

Mega Doctor News
By Saira Cabrera
RIO GRANDE VALLEY, Texas – Just one year ago, Dr. Patrick Ojeaga was a medical student at the UTRGV School of Medicine, anxiously waiting to know what residency program he would match.
Today, the McAllen native is a resident physician at the University of Texas Southwestern Medical School, pursuing a medical career as an orthopedic surgeon.
"UTRGV was an incredible time in my life," Ojeaga reflected. "I had a phenomenal experience there and met some of the most important people in my life.
"I feel like the medical program did a fantastic job preparing me for this residency – through medical knowledge, clinical skills and clinical experience. UTRGV was a fantastic experience."
Ojeaga, a former UT System Student Regent, is from a family of health professionals – including his brother, Macaulay Ojeaga, who is now a resident physician at the University of Kansas School of Medicine, doing his otolaryngology residency. They kept it in the family, attending The UTRGV School of Medicine together and graduating together in the Class of 2021.
"Attending medical school with my brother, Mac, was truly an unforgettable experience," Ojeaga said. "It was great to pursue our goal of becoming physicians together. We had each other as a support system for four challenging years of medical school. That was a major bonus."
- Advertisement -

A FIRM FOUNDATION
Overall, he said, his experiences at the UTRGV School of Medicine were a rock-solid foundation for the challenges he faces today during his residency at UT Southwestern Medical School.
"As a resident now, I have to rely on the wide-ranging skills I learned in medical school," Ojeaga said. "I feel like UTRGV did a great job teaching my classmates and me how to be a great clinician, how to treat and serve patients."
A TIGHT-KNIT GROUP
Each year, the UTRGV School of Medicine admits 50 students to each entering class, so medical school experiences can vary greatly, he said.
At UTRGV, with smaller class sizes, instruction opportunities are much more personalized. That doesn't happen at all medical schools across the country where programs tend to have more than 400 students per graduating class, he said, so one-on-one communication with faculty can be very difficult.
The UTRGV School of Medicine Class of 2021 was extremely cohesive, he said, and he was grateful for the camaraderie.
"I feel like we were a tight-knit group. Our faculty and staff were a part of the small family that we have at UTRGV," Ojeaga said. "Everyone was very supportive and welcoming. The faculty had an open-door policy. So, we were welcome to come in anytime if we needed something or further explanation or instruction, which is incredibly valuable."
UNIQUE LOCATION
Also, of great value for Ojeaga was UTRGV's location in the Rio Grande Valley. As a Valley native, it was important for him to be close to home and family as he continued along his journey.
Because it is located at the southernmost tip of Texas, the UTRGV School of Medicine taps into the multifaceted uniqueness of its proximity to Mexico and, according to Ojeaga, lends itself to serving and treating diverse communities.
DIVERSITY AT UTRGV SCHOOL OF MEDICINE
Because of its unique location, the UTRGV medical school creates opportunities to help underserved patients, which appeals to medical students.
"The SOM's diversity is incredible. I don't know of another medical school in the country with diversity such as ours," Ojeaga said. "We had students from all sorts of backgrounds, communities, and from all over the country."
UTRGV School of Medicine's Class of 2021 student demographics prove out its cultural diversity:
There were 28 male students to 22 female students.
13 percent of them were Asian/Indian.
18 percent were African American.
22 percent were Caucasian.
47 percent Hispanic.
According to the Association of American Medical Colleges, AAMC, the national average for medical school graduates by race and ethnicity across the nation in 2018-2019 were 21.6 percent Asian/Indian, 6.2 percent African American, 54.6 percent Caucasian and 5.3 percent Hispanic.
PIPELINE PROGRAMS
In an effort to provide future medical students with even more opportunities for success, UTRGV has established a series of pipeline programs designed to recruit and retain a diverse group of medical students.
Through programs like the joint admissions medical program and pre jamp, Vaqueros MD, and the UTRGV SOM Early Decision Program, the university emphasizes attracting the best and brightest from the Rio Grande Valley and well beyond.
Dr. Michael B. Hocker, dean of the UTRGV School of Medicine and senior vice president for UT Health RGV, said programs like these are instrumental in making medical school, and careers in medicine, accessible to all, especially for historically underrepresented communities like the Valley.
"High school and college students from South Texas now have an excellent path to become future physicians through admission and completion of early decision programs like Vaqueros MD," Hocker said. "You don't have to be one of 7,000 applicants. These programs help diverse, talented, aspiring physicians reach their goals close to home."
Hocker also said creating more opportunities for Valley students can help entice more diverse student populations to apply.
"These programs are about creating diversity and training the best medical students, so they will be success stories like Dr. Ojeaga and many of our other outstanding graduates," Hocker said. "These programs were created to make medical school and medical career pathways accessible to all."
FUTURE OF MEDICINE
Ojeaga believes that diversity taps into the future of medicine – into the training of a highly diverse group of medical students and future physicians to serve a diverse patient population and the varied clinical settings and approaches needed.
"I believe UTRGV is at the forefront of medical education in our country because of its emphasis on serving our community and recruiting diverse medical students to attend our medical school," he said. "That all contributes to innovation, to high-quality, patient-centered care."
The orthopedic resident says he is thankful for his time at the UTRGV School of Medicine.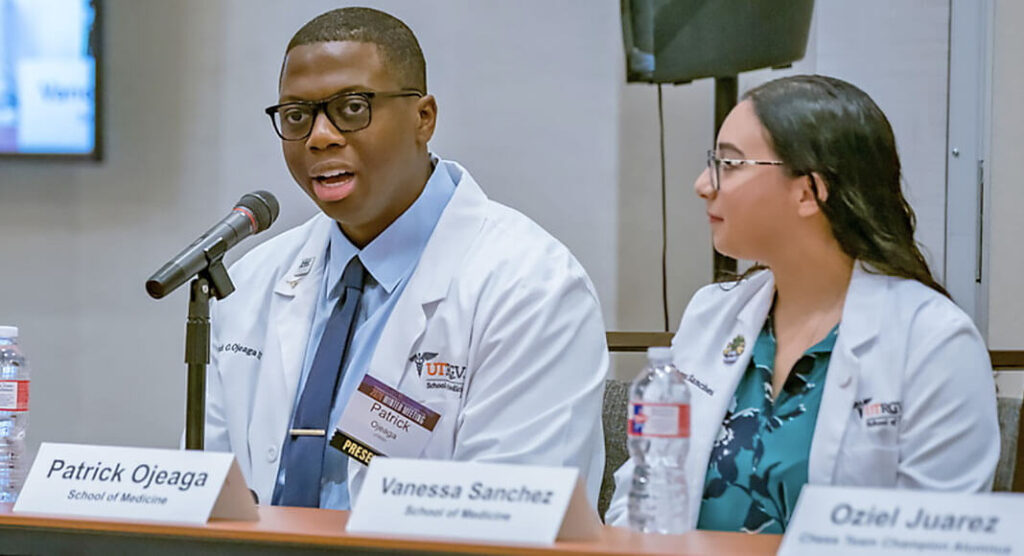 "Residency has been great. Being an intern is a wild experience – it's like drinking through a firehose," he said with a smile. "As I learn how to be a doctor, I see the amazing job UTRGV did in teaching me and my classmates how to be great clinicians."
For more information on the UTRGV School of Medicine or about pipeline programs in South Texas, visit the UTRGV SOM Diversity Programs: Student Pipeline Programs website.