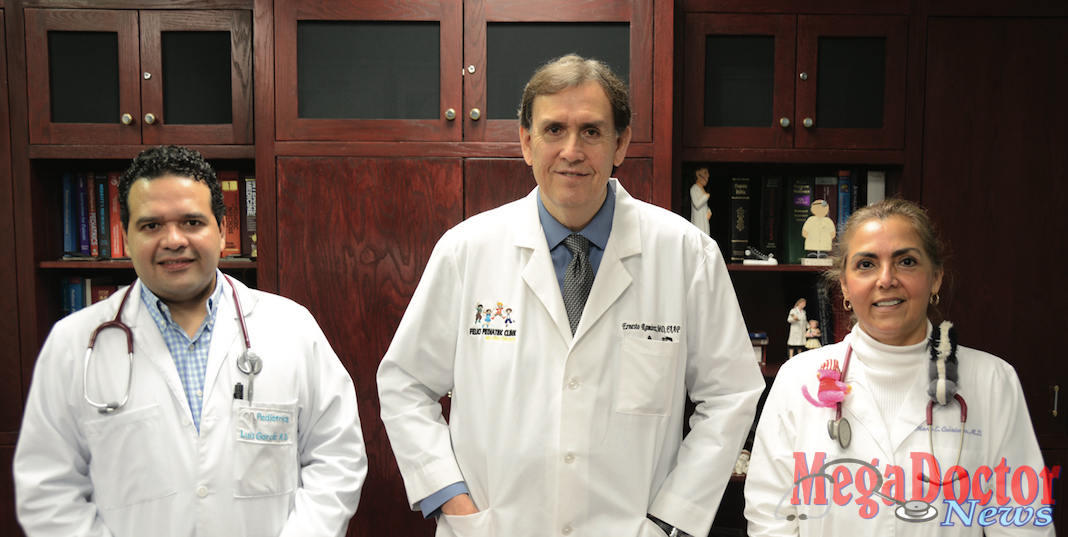 - Advertisement -

By Roberto Hugo Gonzalez
As originally published by Mega Doctor News in its newsprint edition March 2017.
The Felici Pediatric Clinic is familiar to many families in the region. Many of the Moms and Dads having children today, were patients of the clinic at one time. In those days, pediatricians were limited.
Today, Felici Pediatric Clinic prides itself in offering quality care by three dedicated and board certified medical doctors. These doctors have expressed that they have a unique passion for serving the children of the area.
It is important to mention that Dr. Alberto Felici, now retired, founded the clinic. Two of the pediatricians have been with the clinic for twenty years. Doctor Maria Quinteros, MD FAAP, has been practicing for 26 years in the field, and Doctor Ernesto H. Ramirez for 29 years. Just recently, Dr. Luis E. Garcia, MD FAAP joined the medical team; he has five years in the field.
At Felici Pediatric Clinic, their goal is to prevent children getting sick, by scheduled examinations for preventive care. Their main goal involves providing medical care to patients ranging in age from newborns to young adults. They are responsible for examining, diagnosing, and then treating children with any number of injuries and illnesses.
The doctors at Felici Pediatric Clinic agree that in today's world, children can live healthier, safer lives if their parents plan regular visits to the pediatrician.
Dr. Quinteros told Mega Doctor News that prevention is part of their daily program. "Since the child is born, we start with the immunizations and guidelines to parents on how to prevent them getting sick."  She went on to say that they also offer guidelines to parents for feeding and everything they are required to know to keep their child healthy. "When the children get sick, we diagnose and treat the child to get him better." She stated.
- Advertisement -

Dr. Ramirez studied medicine in Lima Peru at the University of San Marcos. "I did my training in pediatrics in New York," he stated.  Dr. Garcia is originally from El Salvador and did his medical residency in New York.
These doctors now concentrate on the flu season. They said that it is important for parents to take notice of this and give their children a chance to get the flu immunization.
"Sometimes, some parents overlook it and don't proceed to immunize their children." Dr. Quinteros added, "Parents hear some news about the side effects and then they are afraid to do it."
Some people are under the idea that flu immunization has side effects. The three doctors said that rarely side effects show up in the form of a mild fever or the most frequent is just inflammation on the side of the injection; this is considered a minor side effect.
Pediatricians also administer the many immunizations that are available to protect children from diseases such as hepatitis B, diphtheria, polio, measles, and the mumps. Routine check-ups are also part of their everyday tasks, with the intent of monitoring a child's growth and development from birth to young adulthood.
Another important factor of Felici Pediatric Clinic is that the team of doctors, work in close collaboration with other healthcare professionals to provide children with medical care to the fullest extent possible. The doctors at Felici Pediatric Clinic believe that each child is unique and their care should contribute to the child's healthy growth and development.
Another important part of their job revolves around working with patients' parents or guardians to guide them on how to provide proper care to their children. This may include tips on: improving childhood eating habits, promoting regular exercise, and improving personal hygiene.
Felici Pediatric Clinic has more than four decades in the field of pediatric medicine and provides valuable services to the children of the Valley.
You can call (956) 686-2229 to set up an appointment and you may visit them at 6900 North 10th Street, Unit 1 in McAllen, Texas. MDN