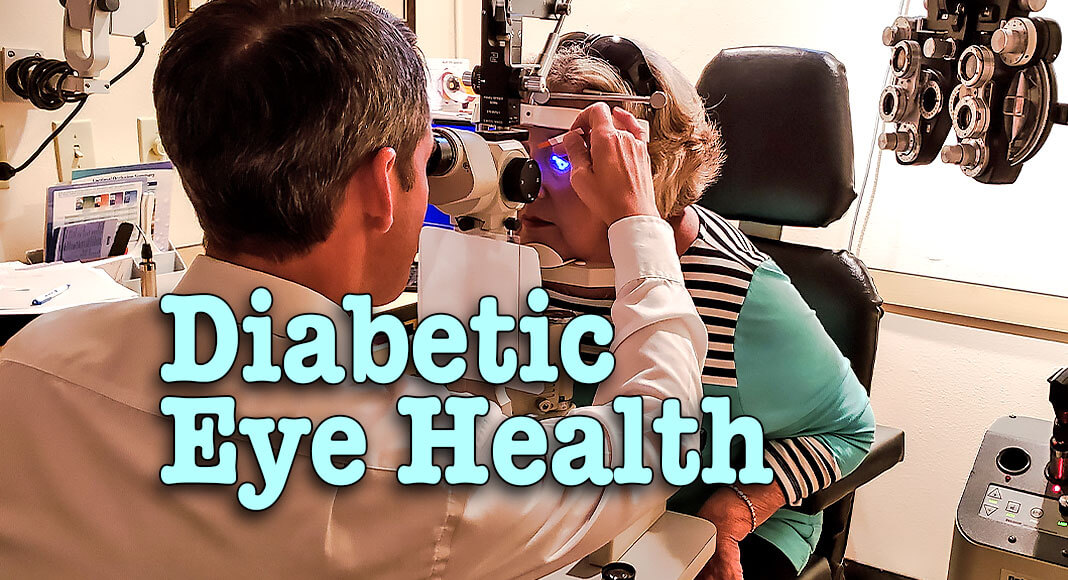 - Advertisement -

Mega Doctor News
CDC – Optometrists and ophthalmologists are eye care specialists who play a key role in the early detection and timely treatment of diabetes-related eye diseases such as retinopathy, glaucoma, and cataracts.
These conditions can be avoided or delayed with annual dilated eye examinations and treatment if needed.
Take These 5 Actions to Help Your Patients
1. Know the risks of vision loss and eye diseases for people with diabetes.
Although people with diabetes are at a higher risk of vision loss and eye diseases, 60% do not get annual eye exams.1
In the United States:
People with diabetes have a 25 times higher risk of blindness than people without diabetes.2
Diabetic retinopathy is the leading cause of blindness in working-age adults.3 Glaucoma, cataracts, and other eye disorders occur earlier and more often in people with diabetes.4
Diabetic retinopathy is projected to affect 16 million people with diabetes by 2050.5
More than 90% of vision loss caused by diabetes can be avoided with early detection and treatment.6
Intensive management of blood glucose levels can reduce the risk of diabetic retinopathy by 27%.7
2. Understand how diabetes can change eye health and encourage your patients to monitor their vision.
- Advertisement -

At each health care visit, tell your patients with diabetes about the signs of eye problems. This will help them be aware of changes in their eyesight when they start. Make sure your patients understand the information by asking them to repeat back what they heard.
3. Ask your patients questions about their eye health at each health care visit.
For example:
Do you get a comprehensive eye exam with dilated pupils at least once a year?
Do you know how diabetes can affect your eyes?
Do you know what to do if you suddenly have a change in your vision?
You can refer your patients to an eye health specialist or ask them if they want more information about recommended eye care for people with diabetes. You can base this action on how your patients answer your questions and any other concerns they share during their visit.
4. Remind your patients to keep their blood glucose, blood pressure, and blood lipids within normal levels for optimum hearing health.
Use the following discussion points to help you talk with your patients about their self-care habits and their feelings about managing diabetes:
Promote the ABCs of diabetes (A1C, blood pressure, cholesterol, and smoking cessation) and a healthy lifestyle.
Ensure that patients have access to health coaches, patient navigators, and community health workers when possible.
Ask your patients what other health exams they are getting, including regular ear health checkups.
Assess symptoms that might require referral to a specialist.
Follow up with your patients to track how well they are managing their diabetes and connecting with their health care team.
Assess socioeconomic factors that can affect health, such as food insecurity, housing insecurity or homelessness, financial barriers, and lack of social support. Use this information when you make treatment decisions.
Refer patients to local community resources when available.
5. Refer your patients to diabetes self-management education and support (DSMES) services.
DSMES services help people live well with diabetes. Whether a person has just been diagnosed with diabetes or has had it for years, DSMES services will make it possible for them to:
Work with a diabetes care and education specialist to set and track goals.
Practice how to fit diabetes self-care behaviors, like healthy eating and problem-solving, into all parts of their life.
Learn how to use knowledge, skills, and tools to build confidence and emotional strength to manage diabetes.
Find ways to get support (in person or online) from family, friends, their community, and their health care team.
Learn more about DSMES and encourage your patients to find a DSMES programexternal icon that is recognized by the American Diabetes Association or accredited by the Association of Diabetes Care & Education Specialists.
Information Source: CDC