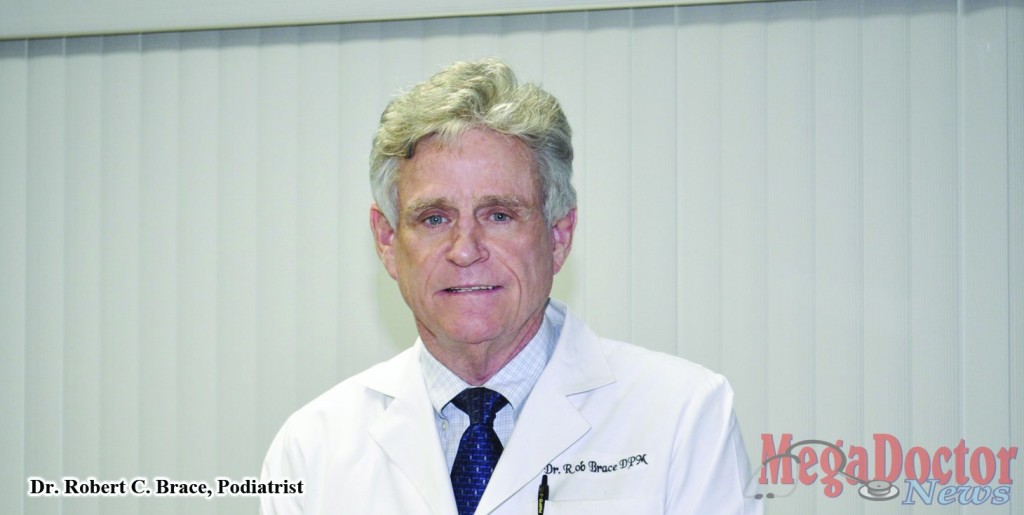 - Advertisement -

Mega Doctor News – 
By Roberto Hugo Gonzalez,
Dr. Robert C. Brace is a podiatrist board certified in foot and ankle surgery in McAllen, Texas with almost 39 years in practice.
Podiatry, his specialty, is the treatment and diagnosis of foot ailments, foot diseases, and foot trauma. "I see things like deep grown toenail, heel pain, Plantar Fasciitis, heel spurs, athletes foot, Tinea Pedis, bunions, hammer toes, neuromas, anything that can go wrong with the foot pretty much is what we do," he told Mega Doctor News.
Dr. Brace The first school in his field was in San Francisco in 1973. "I graduated in 1976 from the San Francisco School of Podiatric Medicine and after that, I went directly into practice in Austin, Texas and lasted approximately a year and a half." He continued to say, "I practiced with my brother at that point, and then I decided to leave Austin and come to the Rio Grande Valley."
He was born and raised in Aruba, Caribbean. "My father retired from the island, and we came to the United States to live in New York State, and then to California."
His father Russell Floyd Brace was an industrial specialist MD and worked for Exxon Oil Company in Aruba. He said, "He went during the war and came back 35 years later."
- Advertisement -

Dr. Brace said that his father instilled in him something simple, "Don't do anything embarrassing, stay out of trouble, get home on time and get up early."
His mother Marion Collins Brace, who was educated in Canada, a registered nurse (RN), went to Aruba when she got married and then retired with his father to upstate New York.
What did she instill in you? "That's a tough one. She always thought we were going to be better than we ever were, always had a lot of confidences in us." He said, "I grew up very idealistic because of her so life teaches you other things. Basically, reputation is what precedes you and be careful how you handle it."
Dr. Brace is married to Sally Hardwick Brace; they have been married approximately 31 years. He said, "We have one child together. I've had two children from a previous marriage. We met in Water Walk in McAllen, and from there we just got together and stayed together."
Would you say it was love at first sight? "Attraction at first sight for sure," he said.
His daughter Tatum Brace is presently in podiatry school going into her fourth year.
Dr. Brace said that the new thing in podiatry has to do with surgery. "We do a lot of floor foot surgery at Renaissance Hospital, almost 100 percent of my cases go there," he said.
He said that the way medicine is going today, more and more of his cases are now coming back into the office. "We are using technics called minimal incision surgery where through a very small incision less than half of a centimeter, we are able to do a lot of the procedures that used to be five or six centimeters long." He said, "That's the old form of surgery that I was doing it back in 1981, 82. We got away from it and now we are coming back to it. Life is a circle. It really is. You start out and then you come back to what you used to do a long time ago."
Do you have any plans to expand your services? "It's kind of up in the air. I've approximately been practicing since 1976. I'm not sure how much longer I'm going to practice. I'm waiting to see what my daughter is going to do if she may decide to come back to the valley, and if so, I might hang on until she establishes herself. If she selects to go somewhere else then more than likely, I'll just slowly fade away."
You can visit with Dr. Robert C. Brace at 533 Pecan Blvd. McAllen Texas or you can call for an appointment at 956-682-4187.  MDN