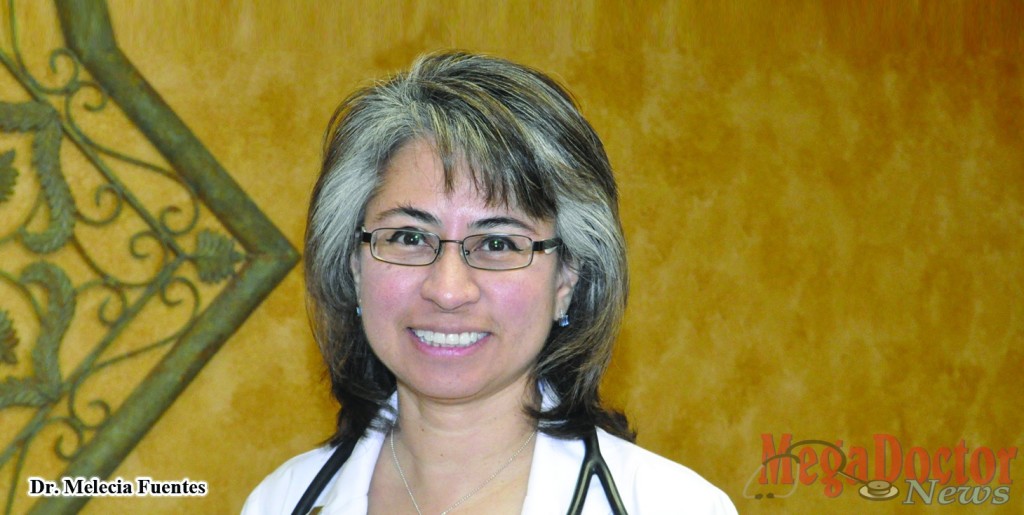 - Advertisement -

Mega Doctor News – 
By Roberto Hugo Gonzalez,
There is no doubt that physicians in the Rio Grande Valley have been shown to be dedicated to patients under their care. In the case of Dr. Melecia Fuentes, she goes the extra mile as well. She is a medical doctor certified by the American Board of Family Medicine and has been practicing for the last nineteen years. Her approach to medicine in her solo medical practice in Weslaco, Texas is very popular with patients and she has now added Adrienne Casciato (Nurse Practitioner), to the team to meet demand.
Her career has been highlighted because of the way she works treating her patients. "I believe that I am more focused on being thorough with patients." She also pointed out that she spends a lot of time with them dealing with their medical problems, making sure that all their questions are answered.
"We deal with all the concerns that the patient may have plus I also feel that my office staff is probably among the better ones in this area. They are very friendly, I get positive comments about them from patients and people that visit our office."
She told Mega Doctor News that when she was in a Texas Academy of Family Practice (TAFP) course a couple of years ago, in preparation for her boards they were asked, "How we would treat someone with a heart condition and we all said, 'Refer them out'.   The instructor said "No! No! No!… You answer with what our philosophy as Family Practice Physicians tells us we can do:  Anything! Cradle to grave, sniffle to heart/lung transplant, the Family Practitioner can do it all."
Yes, indeed the family physician is sort of the first responder, they see and treat just about everything, but when it is best for the patient, they do refer to the correspondent specialties.
- Advertisement -

What worries Dr. Fuentes the most about her patients is that they might forget what she advises them to do. She said, "That's one of the biggest issues we have, and I face. We talk about it, we resolve all the issues, and I ask do you have any more questions? They say no. They leave, and then later on the next visit, they either misunderstood, or didn't quite understand what we had discussed before, and that is what I think is the biggest issue… the biggest thing that I have."
Dr. Fuentes was born and raised in Weslaco Texas. Her parents, Herelin and Elida Fuentes were both in the medical field. "My father was an orderly in the operating room for many years, at least 30-plus years. My mother was in the surgical floor as a unit secretary, and she just retired last year after working 30-plus years also."
Dr. Fuentes' husband, James "Jim" Moore is a Ph.D. engineer (not a "real doctor", except by marriage) and currently is developing software applications for Population Health Management (acoware.com) and also, on occasion, can be found in the doctor's office carrying the sacred torch of office management (a highly rewarding position that he recommends all people do… once).
Dr. Fuentes said that her parents instilled in her to work hard. "They said don't worry about washing the dishes or cooking.  Just study hard and up to this day I don't cook. Somebody else does that for me," she said.
Her academic background is as follows: From 1986-1990, she obtained her Bachelor of Science degree with a major in Biology from the Southern Nazarene University, in Bethany, Oklahoma. From 1991-1996, she attended Ohio State University College of Medicine, in Columbus, Ohio and obtained her Medical Doctorate with a specialty in Family Practice. From 1996-1998, she did her residency at the University of Texas Health Sciences Center in San Antonio, Texas.
You can visit with Dr. Melecia Fuentes (drmelecia.com) by calling (956) 447-8377 for an appointment at 1315 E. 6th St., Suite 12 in Weslaco, Texas. MDN