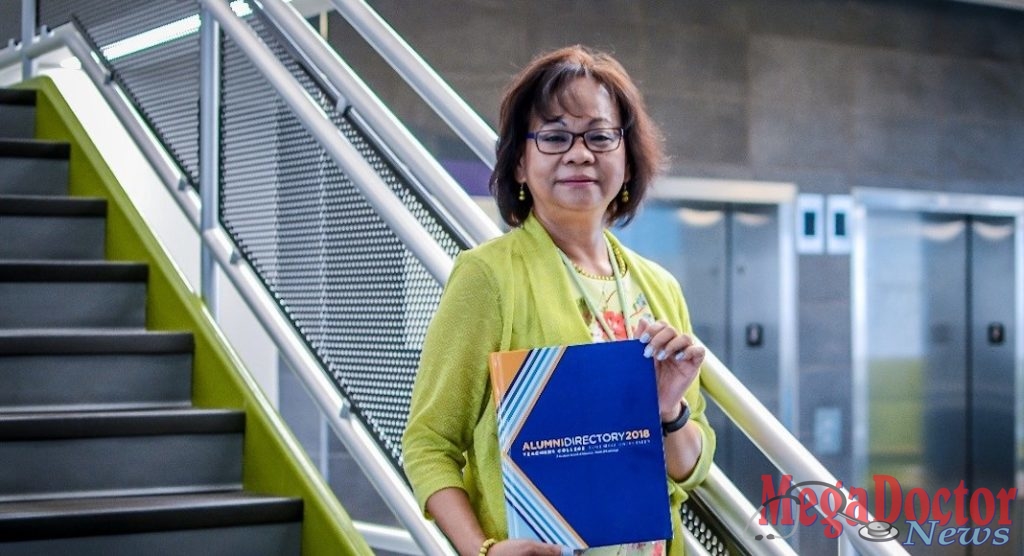 Mega Doctor NEWS
MCALLEN, TEXAS – Thirteen years into her career at South Texas College, Dr. Christie Candelaria, says you can't put a price on being a part of a student's success.
As the Department Chair for the Associate Degree Nursing Program, Dr. Candelaria says being a role model for student success is her priority.
"I feel that a part of me is with that person, even if it's only one semester that I touched that person's life, I'm a part of that," expressed Dr. Candelaria. "The self-fulfillment and legacy that I see in the people that I have educated is priceless."
"We have graduates who advance their education to be nurse practitioners and certified nurse anesthetists. Some of them are working in management positions now and then they look back and see me, and say 'Hi, you were my professor,' and that is a legacy."
Despite her many successes, Dr. Candelaria says she will always stay grounded and remember her roots in the Philippines. Being raised in a family of ten, in a third world country, Candelaria said there was no financial help available for an education.
"Our parents would send us to school and pay money out of their own pockets," explained Dr. Candelaria. "I've always wanted to be an alumnus of something great other than the schools that I've been to."
Dr. Candelaria started her academic journey in the Philippines where she spent five years studying to be a bachelor's prepared registered nurse. With a vision to attend an Ivy League University, she refused to let her struggles bring her down.
"I realized that it wasn't impossible. I applied to come over to the United States," said Dr. Candelaria. "My primary goal was of course, to work and to help my family out, but the second goal was to go to school."
With bags in hand ready to board a plane to New York, Dr. Candelaria says Columbia University was in her sights.
"My goal was set, Columbia University, and why? It was my chance to fulfill a dream."
In the process, Dr. Candelaria said she was eager to pursue her master's degree in nursing education at the Teachers College of Columbia University which has graduated more than 13,000 nurses since its founding in 1982. The University is also well known for attracting international students like Dr. Candelaria.
Upon acceptance into Columbia University, Dr. Candelaria said she wasted no time in starting classes. She was delighted to see that the class sizes were small because there was more one-on-one experiences with professors.
"What helped me out was the fact that the class sizes were only about 12 students," explained Dr. Candelaria. "Since classes were small, everyone was always engaged in the conversation so it was hard not to talk or participate. The professors were very encouraging and excellence is the norm."
Dr. Candelaria says moving from a university in the Philippines to Columbia University was very different as classes were structured differently.
"At Columbia, I was expected to be more focused on evidence-based practice and research," said Dr. Candelaria. "We did not adhere to textbooks. We were given autonomy to choose our projects, most of which focused on the community."
"Attending Columbia University was challenging since it is a huge university," expressed Dr. Candelaria. "However, it felt amazing to be in a university where I was surrounded by students and faculty from all over the world."
With Columbia University now under her belt, Dr. Candelaria says she looks to share the lessons she has learned with students and staff of STC. She encourages students never to settle in their education.
"I want the students to always keep moving forward and to keep learning," expressed Dr. Candelaria.
"STC recognizes talent and graduates about 250 students with ADN degrees annually," explained Dr. Candelaria. "I never stopped being a real nurse by being an educator. Come to think of it, when I'm working at the bedside, I am only one RN. But by being an academic nurse educator, I am helping produce more qualified RNs for the various healthcare facilities in the RGV."
With hard work and dedication, Dr. Candelaria has been the recipient of many accolades including the Distinguished Teaching and Learning Award for South Texas College Hall of Fame, National Institute of Staff and Organizational Development Award (NISOD), and the Jaguar award.
Much like caring for a patient, Dr. Candelaria says she will continue to keep the nursing program at STC healthy and vibrant for years to come.
"I do the best that I can every day in whatever capacity I am in when I come to work. The knowledge, skills, and attitudes I obtained at Columbia University is the foundation of who I am at STC."