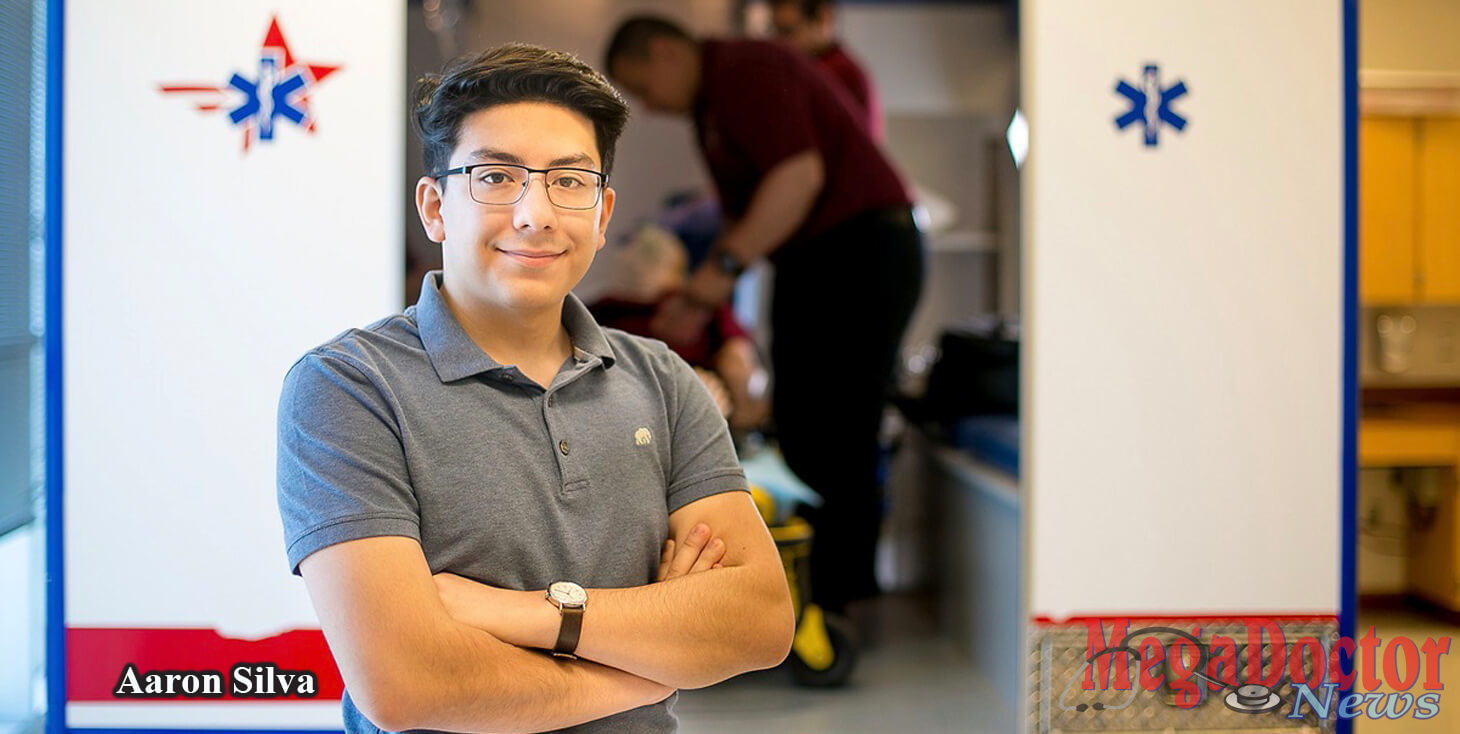 Mega Doctor News
As originally published in Mega Doctor News newsprint edition August 2018
McAllen, Texas – Entering medical school has always been a dream for Aaron Silva. "I had a strong interest ever since I was eight or nine years old to enter a career in medicine. I knew I wanted to be a doctor, I just really didn't know how I would go about becoming a doctor," Silva said.  "Once I got to high school, I communicated with my mom that I felt like I needed to do something other than just complete my undergrad. So, she suggested that I do 'the whole ambulance thing'."
'The whole ambulance thing' would open a door to possibilities that Silva had always wanted to achieve. "We didn't know anything about it then, but I did some research online and found out that STC actually offers it (Emergency Medical Technology Program – EMT). That's when I went into the program," Silva said.
As a senior in high school, Silva completed the first portion of the paramedic program while taking night classes at South Texas College (STC) and obtained the Emergency Medical Technician (EMT) Basic Certificate. After graduating high school in 2014, Silva took a year off to work and gain experience in the field. His initial job as an EMT was conducting inter-facility transfers among hospitals, clinics, and residences.
"I was just kind of getting a feel for what it is to interact with a patient, gathering information on history, and things like that; I was really putting my new skills to the test," he said. "The exposure I had was fantastic, and it encouraged me to just keep on going."
When Silva returned to STC in 2015, he entered into the Advanced EMT portion of the program formally known as the EMT Intermediate Certificate. It was where he learned to perform intravenous access, advanced airway techniques, and specific medication administration. Silva received his certification after one semester and then began working for a 911 provider out of Alamo, Texas in the summer of 2015.
Driven by his desire to continue helping others, Silva obtained his EMT Paramedic Certificate one year later by in the summer of 2016and is currently working as a paramedic in the Hidalgo County EMS.
In his case, the EMT program became a springboard to a future medical career. Silva is currently preparing to take the Medical College Admission Test (MCAT) and plans to take a semester off before potentially entering medical school. Silva is currently in the process of completing his pre-med degree at the University of Texas Rio Grande Valley and will seek acceptance into medical school.
The Emergency Medical Technology Program at South Texas College prepares students not only for entry-level work as EMTs, but also provides Advanced EMT, Emergency, and First Responder level instruction. The Emergency Medical Technology program boasts of accreditation with various agencies like the Commission on Accreditation of Allied Health Education Programs and the Committee on Accreditation of Educational Programs for the Emergency Medical Services Professions.
"The EMT Program has been continuously committed to provide the best trained and most competent EMT's and Paramedics to serve the needs of Hidalgo and Starr Counties," said EMT interim program chair, Carlos Tello. "The EMT Program at South Texas College has kept up with the highest quality EMS equipment for training and feature ambulance simulators housed within our buildings at the Nursing & Allied Health Campus in McAllen and the Starr County Campus including 2 ambulances used for operations training, and a simulation center that mimics the feel of a hospital where our students are able to work inter-collaboratively with other healthcare programs.
"The EMT Basic Certification can be completed in as little as 4 months which provides the opportunity for our students to begin working with an EMS Provider," Tello said. "However, most of the students in our program continue with their education and strive to acquire the Associate of Applied Science in Emergency Medical Technology. Mr. Silva's knowledge in emergency care will certainly provide a solid foundation in achieving his dreams to become a surgeon specialized in critical care." A student graduating with an EMT Certificate or Associate of Applied Science degree is prepared to fill positions in emergency medical services, private ambulance companies, air ambulance services, industrial settings, and hospitals.
"I really encourage anybody who is interested to go through the program. The staff and faculty are phenomenal. I've had nothing but great experiences in interacting with them, being their student, and eventually co-workers with them," Silva said. "I have no regrets. I'm just really satisfied with the person I've become and the skills I've gained through the EMT program."
Students who are interested in the EMT program at STC can visit https://nah.southtexascollege.edu/emt/index.html or call 956- 872-3178 for more information.