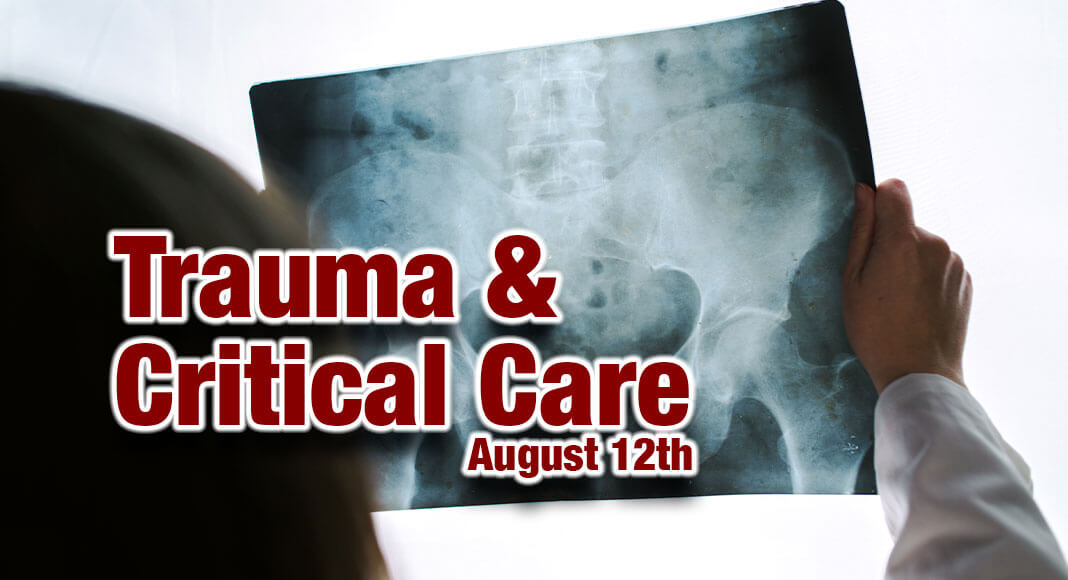 Mega Doctor News
It may come as a surprise: Approximately 6 in 10 men and 5 in 10 women in the United States will experience at least one trauma in their lives, with trauma the number one cause of death in Americans aged 1-46, according to Centers for Disease Control and Prevention (CDC).
In the event of a traumatic accident or injury, the swift, well-informed, and efficient medical treatment provided on the scene and in-hospital can save a life and prevent damage to your organs, making continuing education and training imperative for those working in the medical field.
To help keep local healthcare and emergency response personnel up to date on the latest information on relevant trauma and critical care topics such as pre-hospital trauma care, damage control, and burn resuscitation, South Texas Health System McAllen will host its annual South Texas Advanced Symposium on Trauma & Critical Care on Friday, August 12. Taking place at the Embassy Suites Convention Center, the conference will feature nationally renowned trauma experts presenting evidence-based and clinically relevant information for participants to use in their daily practice such as current trauma trends and critical care principles for practical healthcare application.
"This is an incredible opportunity for Valley's medical community including first responders, to gain invaluable training and insight on current trends related to trauma and critical care, while gaining continuing education credit," asserts Dr. Carlos Palacio, MD, FACS, Trauma Director, South Texas Health System McAllen, the first Level II trauma center in Hidalgo County. "Attendees will have the opportunity to learn from trauma and critical care experts from across the nation. This education means they will be able to provide better emergency and trauma care to our community."
This year's keynote speaker is Robert Maxson, MD, FACS, Surgeon-in-Chief, Arkansas Children's Hospital. He is joined by:
Bellal A. Joseph, MD, FACS, the Martin Gluck Endowed Professor of Surgery, professor of neurosurgery, chief of the Division of General Surgery and chief of the Division of Trauma, Surgical Critical Care, Burns, and Acute Care Surgery at the University of Arizona
Jonathan P. Meizoso, MD, MSPH, trauma surgeon and the Medical Student Clerkship Director – Trauma, Acute Care Surgery, and Surgical Critical Care with the University of Miami Health System
Ryan P. Dumas, MD, Assistant Professor at UT Southwestern Medical Center who specializes in trauma surgery and critical care
David Kashmer, MD, MBA, FACS, Associate Dean for Simulation & Technology/Discipline Chair for Surgery at Edward Via College of Osteopathic Medicine (VCOM)
The event has been approved by the Texas Medical Association and the Louisiana Nurses Association for continuing education credit. The cost to attend is $99 for physicians, family nurse practitioners, and physician assistants; $50 for registered nurses and licensed vocational nurses; $15 for emergency medical services personnel; and $10 for healthcare students.
In addition, pre-symposium continuing education courses including Advanced Trauma Life Support (ATLS), Prehospital Trauma Life Support (PHTLS), Mental Health First Aid, and Stop the Bleed are available on Wednesday, August 10 and Thursday, August 11 for an additional charge.
For a complete schedule of presentations and speakers and to register, visit STHSTraumaSymposium.com. For additional information, please contact Julieta Piando at (956) 385-3473 or Julieta.Piando@uhsrgv.com.
Who: South Texas Health System McAllen
What: South Texas Advanced Symposium on Trauma & Critical Care
When: Friday August 12, 2022, registration starts at 7 a.m. with lectures running from 8:00 am – 4:00 pm; additional pre-symposium courses are available on Wednesday, August 10 and Thursday, August 11
Where: Embassy Suites Convention Center, 800 Convention Center Blvd., McAllen, TX 78501