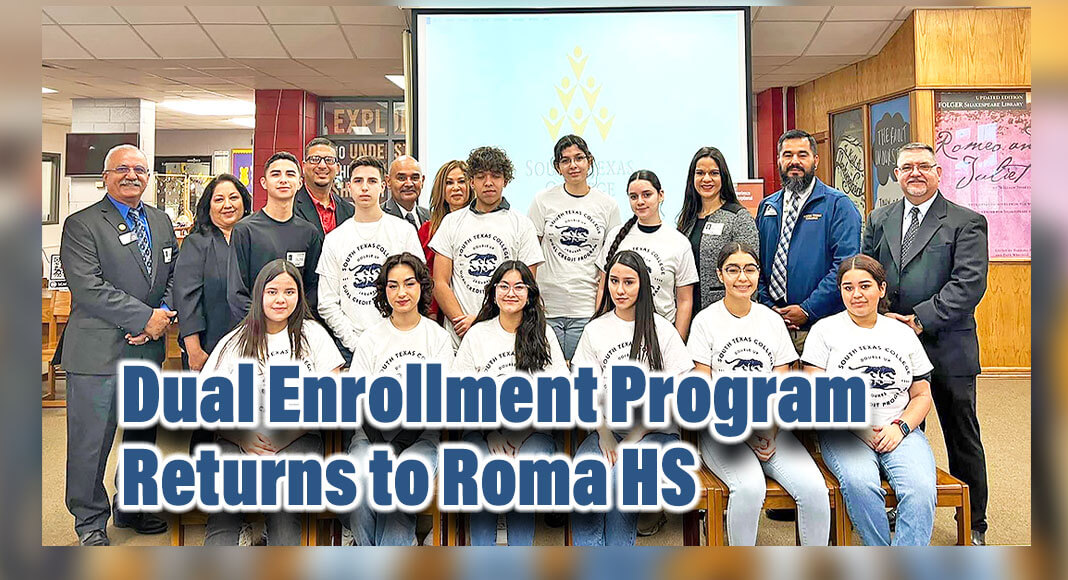 - Advertisement -

Mega Doctor News
By Clarissa Martinez
ROMA, Texas – South Texas College's Dual Enrollment Medical Science Academy (DEMSA) program has made a return to Roma Independent School District and the new members of the 2023-2025 cohort were celebrated recently with an induction ceremony.
STC's DEMSA program is a two-year, year-round dual credit program developed for high school juniors and seniors who are interested in entering the health care profession. The program provides college coursework and health-related opportunities in fields like medicine, pharmacy, dentistry or nursing.
Leonardo Castañeda, director of STC Academies and Career Technical Pathways, said the last group from Roma High School to complete the DEMSA program was the 2020-2022 cohort. The students persisted through the majority of the pandemic, but recruitment during that period became challenging, he said.
"I think the pandemic greatly impacted our students and our community and had a long-lasting effect on people," Castañeda said. "Many students had personal loss and other experiences that impacted them, and I think that really reflected in the recruitment cycle last year."
But the partnership between STC and Roma ISD rallied and introduced different opportunities for potential DEMSA students to visit the Starr County campus and learn about the program.
- Advertisement -

"We tried some different recruitment tactics, and with the strong support of counselors, the students were able to complete their applications," Castañeda said. "I think that is a strong indicator of the support that is being provided to students, and also speaks volumes about the strong partnership South Texas College has with Roma. There's a lot of history here in Starr County for the Dual Enrollment Academies because it actually started here at Starr in 2005."
At the reception, STC Board of Trustee Chair Rose Benavidez said she has "learned firsthand just how passionate the students in the academy are."
"Each one of you is already showing a massive leadership role in your school," Benavides said to the students. "The fact that you're here today tells each one of us in this room that you have what it takes. And choosing a career in medicine is probably one of the most important things you're going to do because it is a field that is going to continue to grow."
Felix Tamayo, a DEMSA alum who earned his associate degree in Biology in 2022, was invited to speak at his alma mater about his experience with the program. Tamayo said he was able to earn both his associate degree and his Patient Care Technician certification by the time he was 17 years old, thanks to STC.
Tamayo is now pursuing a bachelor's degree in Biology from the University of Texas Rio Grande Valley and reassured the students that the connections they create will follow them even after the program.
"I'm not an STC student anymore," Tamayo said. "I moved on to get my bachelor's degree in biology, but even now, I still have people from STC helping me. I still have that networking because of these two years of experience."
Yahir Tamayo is a sophomore at Roma High School and following his older brother's footsteps. Tamayo said he is excited to also have his foot in the door for his future career.
"I joined this program because it helps students achieve what they're trying to become," Tamayo said. "When I was younger, my grandma became sick with cancer and I was always interested in how the doctors worked on her. Now, I have a head start on my education and get to see what it's like to be on a college campus."
New DEMSA student Kasey Cavazos said she's excited to begin her classes in-person at the STC Starr County campus this summer and is looking forward to the variety of courses and experiences she will have during the program.
The DEMSA participants earn college hours, but also participate in community service activities, in addition to year-round seminars, mentorship opportunities with local health care professionals, field trips to health science educational institutions and more.
Cavazos said she knows that college courses are key to her future, because of her mother's own educational journey.
"I saw my mom go through a physician assistant program and during the summer I watched her work with her patients," Cavazos said. "It was just amazing and definitely inspired me."
Benavidez said in the long-term, the academy will help students find work in a well-paying job but will also lead them to a fulfilling career.
"Most importantly, you're going to be able to pass it forward and help people," Benavidez said. "At the end of the day, we measure success by what we did with our lives and how we make other people's lives better."