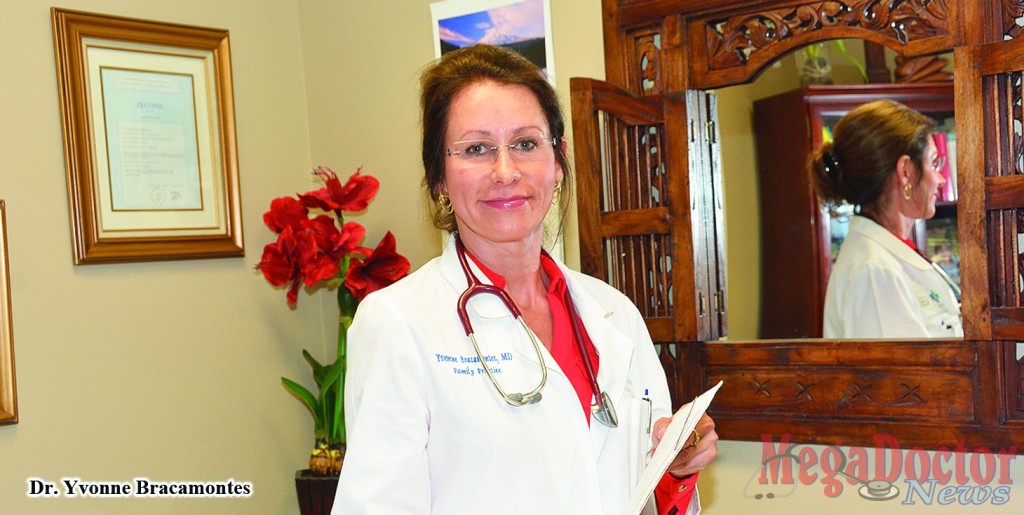 Mega Doctor News
- Advertisement -

By Roberto Hugo Gonzalez
Since the time Mega Doctor News started in 2008, we have featured physicians that have come from all over the world, however, never from Germany. Today, our readers have the opportunity to meet Dr. Yvonne Eva Krasowski Bracamontes. Dr. B, as her patients and associates call her, was born in Olsztyn, Poland where she finished elementary school and later moved to West Germany along with her parents. Having been born in a communist country gave her a different perspective on many aspects of life.
It was in Germany where everything started for her. She was educated in the best universities in the area. It was always a great priority in her life to better herself through education.  This choice later brought her to America.
She is the loving mother of two promising young men whom she adores. "I have a son named Gaston 21, and Diego 18," she said proudly. Gaston is already in college and Diego is about to start. She said, "I have always been working part time because of my children; now I can dedicate more time to my medical practice."
Dr. Bracamontes, is board certified in Family Practice and Anti-Aging Medicine and currently works at Texas Gastroenterology Institute (TGI) based in McAllen, Texas. TGI is headed by Dr. José Rodríguez, a gastroenterologist who is recognized and respected in the medical community and shares Dr. B's passion for preventive medicine.
In order to understand her extensive academic background, it is important to mention that she graduated from high school in West Germany. From 1986-1993, she attended and graduated from the Medical School University Bochum and also from University Essen, both in West Germany.
She came to United States because of her love of medicine. From October 1992 to February 1993, she attended an Elective Internship at the Texas Heart Institute in Houston, Texas. The successful culmination of many years of medical studies was evident by October 10, 1993 when she celebrated her graduation from Medical School from the University Essen in West Germany.
- Advertisement -

A few months later, in December 1993, she moved to the City of Mission, Texas and in that same month, her first son was born. This gives you an idea of how strong, determined and intelligent she is. While being a new Mom, she was accomplishing and meeting the demands of medical classes in the U.S.
A few years later, in August 1995, she passed the United States Medical Licensing Examination Step 1 (USMLE) on her first attempt. This examination is a multi-part professional exam sponsored by the Federation of State Medical Boards and the National Board of Medical Examiners.
In 1996, Dr. Yvonne Bracamontes took Step 2 and passed again the USMLE on her first attempt. She obtained high scores on both exams. In June of 1997, she gave birth to her second son and she couldn't be happier again for the experience.
In 1998, she started her residency in Family Practice here in McAllen and had the opportunity to work with a lot of great doctors from this area "I know most of the doctors here; we have some outstanding physicians."
In 2001, she completed her residency at the McAllen Family Residency Program and received her Board Certification by the American Academy of Family Practice. Her dedication to the dream of becoming a doctor, a dream she had had since she was in tenth grade, became the reality that she aimed for.
Her passion for more knowledge geared her to an extensive training in Cosmetic Dermatology including Laser treatment, Botox and Cosmetic filler injections and lately a vast education in Anti-Aging Medicine. She holds a Board Certification by the Board of American Academy of Anti-Aging Medicine. "To my knowledge, I am the only doctor who is certified in anti-aging medicine in the Valley." She said, "This opens the door to a different kind of medicine, where prevention and health maintenance is on the forefront. Bioidentical Hormone Replacement Therapy and weight reduction are two of my many tools in achieving optimum health."
Dr. Yvonne Bracamontes is fluent in English, Spanish, German, and Polish.
There is more on Dr. Yvonne Bracamontes and we hope that in the near future Mega Doctor News will have an opportunity to tell more of her story. You can reach her for an appointment at 956-686-2626 or visit with her at: 1021 Zinnia Ave., McAllen, Texas 78504. MDN