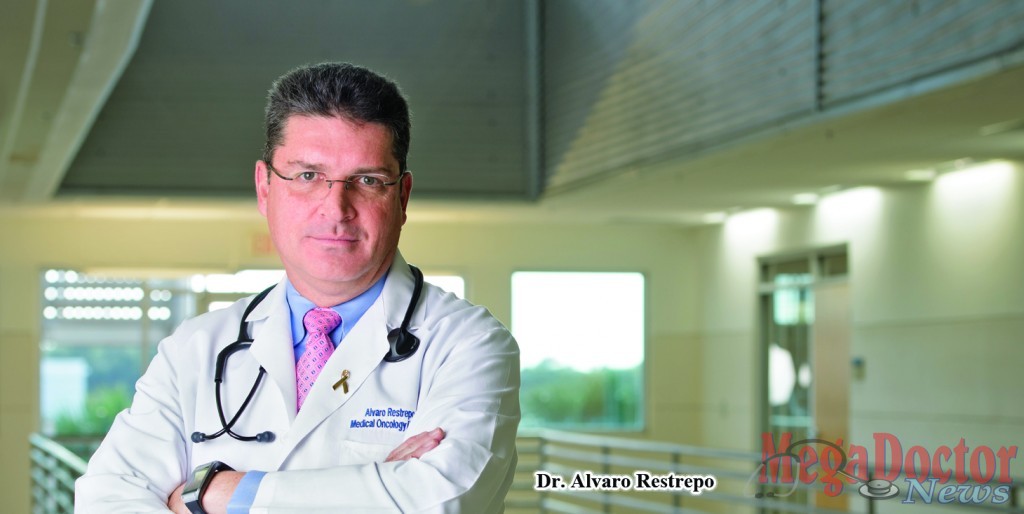 By Roberto Hugo Gonzalez, Publisher
As Originally First Published in Mega Doctor News newsprint edition
Many times we have reported about Dr. Alvaro Restrepo, and the important work that he does in the fight of breast cancer.
He is a physician that is constantly looking for ways to help his patients, now as he moves up in his career as the new lead researcher for Texas Oncology –McAllen, he has the opportunity to dive into the complexity of one of the worst enemies of man kind.
During his long professional career, Dr. Alvaro Restrepo has taken advantage of scientific medical research in order to fight cancer side by side with his patients. Dr. Restrepo explained, "Research is very important and is present in all aspects of the medical decisions made on a daily basis." He explained that everything we do today is based on yesterday's research, and tomorrow's medical treatments will be based on today's clinical trials.
He indicated that research is a careful study that is done to find and report new knowledge about something. "In Oncology, clinical trials are research studies that examine how patients respond to different medical approaches for various types of cancers." In this issue you will read more about him and the importance of research.
WellMed Medical Group has announced that Dr. Hiram Tavarez joined the Medical Group.
This announcement is a big thing because Dr. Tavarez has been servicing patients for almost 5 decades. There are few physicians in the Rio Grande Valley left that have been able to accomplish a long and distinguished career like him. Read more about this addition to WellMed's and also meet Dr. Tavarez' PA Daniel Tamez.
On another matter, by now you have heard about Proposition 1 (Prop.), which relates to creation of a Hospital District. Find in this issue numerous interviews with leaders of this community. All are convinced that a Hospital District is needed in order to sustain the new medical school among other benefits.
There are so many great events happening in the Valley that sometimes is difficult to assimilate or even describe what is happening. But Dr. Guy Bailey, the founding president for the New University of Texas Rio Grande Valley found a way to describe the recruits of 22-person research team, which creates the South Texas Diabetes & Obesity Institute and he said, "This is the closest I will ever come to having that feeling of winning the lottery."
With the 22-person research team comes Dr. Sarah Williams-Blangero, a nationally renowned genetics and infectious disease expert, and she becomes the inaugural director of the University of Texas Rio Grande Valley (UTRGV) South Texas Diabetes & Obesity Institute. Dr. Williams-Blangero is now the former chair of the department of genetics at the Texas Biomedical Research Institute in San Antonio. You will enjoy reading more about this event.
The McAllen Hispanic Chamber puts out a yearly event called "Think Pink' Breast Cancer" which gives an opportunity to several physicians to address a large group of women. The discussion is about breast cancer and how to detect what could be the early prevention of it. Find more about the physicians that are passionate about helping to prevent this disease.
On another matter, Mega Doctor News met with David Garcia an academic teacher and owner of Nine Dragon Tai Chi & Wushu Institute. He brings a holistic and unique approach for different health issues, specifically with Parkinson's, post stroke and hypertension to name a few of the conditions.
I know that you will enjoy this issue! MDN