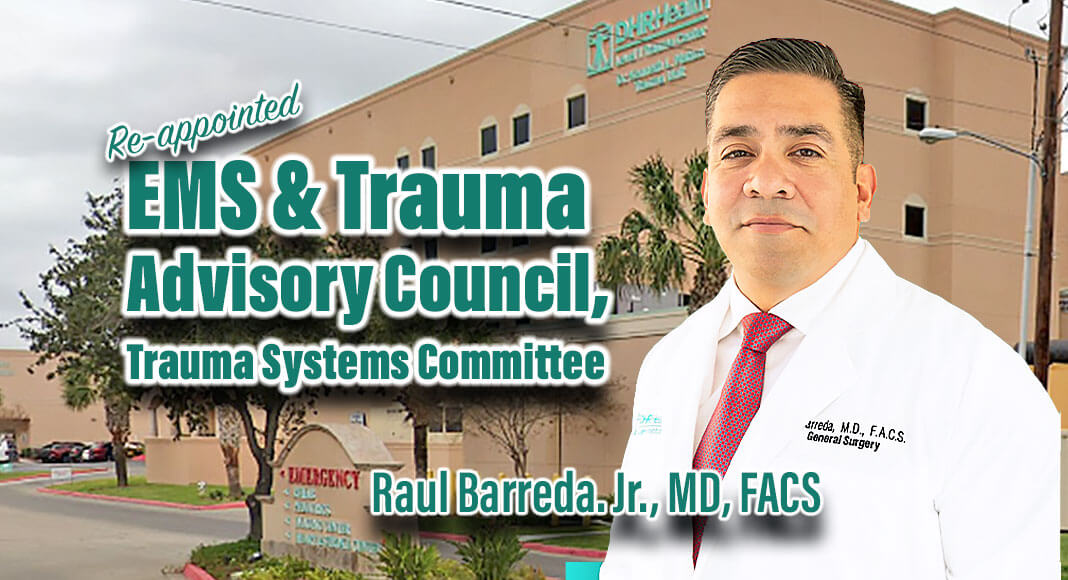 - Advertisement -

Mega Doctor News
EDINBURG, TX – DHR Health announced the recent re-appointment of Dr. Raul Barreda, a board certified general surgeon, to the Texas Governor's EMS and Trauma Advisory Council, Trauma Systems Committee.
Dr. Barreda was first appointed to the council in 2019 and will serve this new appointment until December 2025.
In 1999, Sunset legislation authorized the establishment of the Governor's Trauma Advisory (GETAC) to advise and make recommendations on the development and implementation of Texas Emergency Healthcare System rules.
An emergency healthcare system refers to the care rendered after a traumatic injury or illness, where the optimal outcome is the critical determinant. According to the strategic plan for the Texas Emergency Healthcare System provided by the Texas Department of State Health Services, the system works best when EMS, cardiac, stroke, and trauma care entities work in conjunction with Regional Advisory Councils and plans of care, prevention, and preparedness should be developed, evaluated, and improved on a continuous basis with the advisement and recommendations of the GETAC council.
Governor Greg Abbott appoints the fifteen-member council. Dr. Barreda is the only council member from the Rio Grande Valley.
Dr. Barreda is board certified in general surgery, providing surgical care for a broad range of diseases and disorders. With more than a decade of experience, Dr. Barreda specializes in trauma, vascular, biliary, colorectal, breast, hernia, and minimally invasive surgery. He is a key member of the DHR Health Level 1 Trauma Center team and was instrumental in helping the hospital achieve the highest level of emergency care in the state.
Dr. Barreda received his medical degree from the University of Texas Medical Branch in Galveston with general surgery residency training at Texas Tech Health Science Center.